The Hardest Part Of Filming Peaky Blinders Season 6 Will Break Your Heart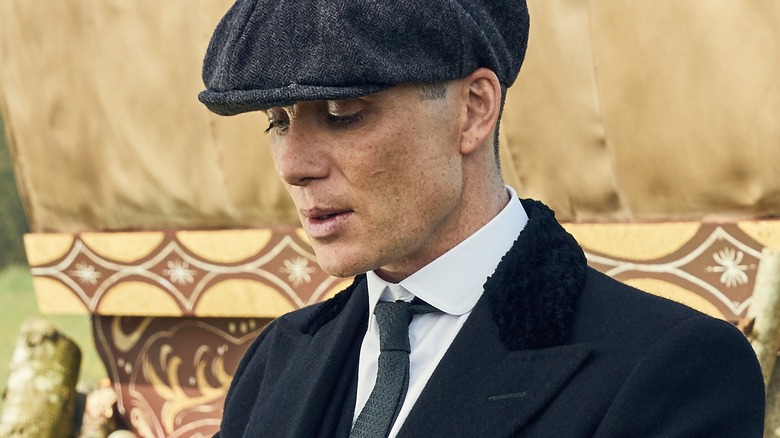 Robert Viglasky/Netflix
Though chatter continues about the possibility of a "Peaky Blinders" movie, the tale of Tommy Shelby (Cillian Murphy) and his merry band of Manchester underworld cohorts has come to a bleak and brutal end — at least for now. Behind a breathless run of 36 episodes spread over six seasons, the post-World War I gangster drama stands as one of the best, best-loved, and yet oddly underrated shows to hit the airwaves in the past decade. That last qualifier is genuinely surprising too, given the level of talent behind "Peaky Blinders," which was created by "Eastern Promises" and "Spencer" scribe Steven Knight, and features not only the talents of Murphy, but also Tom Hardy, Helen McCrory, Finn Cole, and Anya Taylor-Joy, among others.
With that sort of pedigree, "Peaky Blinders" should've been the poster child for prestige television. Though it's reveled in well-earned critical raves (per Rotten Tomatoes), and a devout legion of fans, the show has somehow never quite earned the pop culture esteem it so richly deserves. Having just wrapped its run with a powerhouse final season, it seems likely it never will. If you've already binged that final season, you know it's a legit bruiser. And in a recent interview with Esquire, Murphy himself admitted the production took a toll, claiming, "It wasn't a very pleasant shooting experience," before adding, "for loads of different reasons." Here's what the actor claims made the final season of "Peaky Blinders" so hard to shoot.
Carrying on in the absence of the late Helen McCrory was difficult for Cillian Murphy
According to Cillian Murphy's comments to Esquire, part of the difficulty in shooting the final season of "Peaky Blinders" was that the material itself was extremely dark. Couple that with production occurring under the cloud of pandemic lockdowns and heavy COVID-19 restrictions, and you can understand some of what the cast and crew were struggling with. What they were struggling with most, however, was the absence of longtime co-star Helen McCrory, whose breast cancer kept her away from the Season 6 production, leading Steven Knight to re-write much of the narrative (per ETCanada).
Murphy claims he and the "Peaky Blinders" crew learned of McCrory's death midway through shooting the finale episodes, which only made things harder. Per Murphy, "We were just reeling throughout the whole thing. She was a dear, dear pal and she was the beating heart of that show, so it felt very strange being on set without her." Clearly still grieving the loss of his friend and co-star, Murphy went on to lament that, had COVID lockdowns not delayed the shoot, McCrory and her "Peaky Blinders" family likely would've been able to end the show completely on their own terms.
McCrory, of course, portrayed Polly Gray, the fiery, steel-willed aunt to Murphy's Tommy on "Peaky Blinders." The actor's and the character's impact on the show simply cannot be overstated. McCrory's impact on her castmates was clearly just as profound, with Murphy adding, "I still can't believe she's not here. It doesn't make sense. I've never lost anyone like that ... She was an absolutely magnificent person." 
Needless to say, Helen McCrory's absence left a void during the final season of "Peaky Blinders" that was never quite filled. Seems the real-life void will remain just as unfillable.