The Funniest Moment In CSI Season 10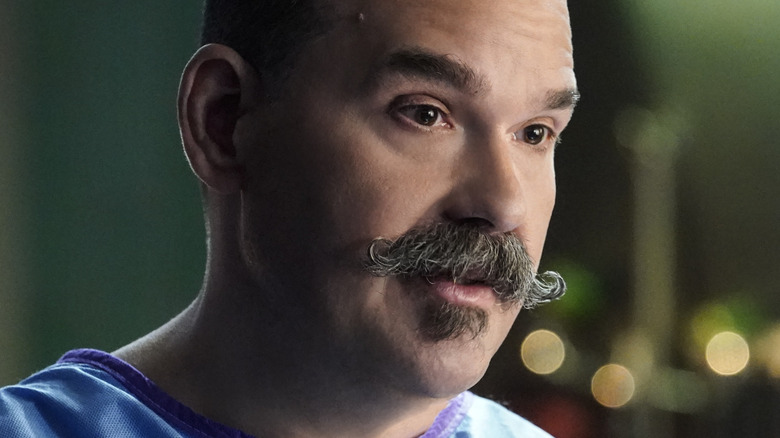 Robert Voets/CBS
Like the previous ninth season of the hit CBS drama, "CSI" Season 10 saw several changes to the CSI team as a result of cast members leaving the series. Lauren Lee Smith and Laurence Fishburne had joined the cast to make up for the loss of series lead William Petersen (via The Hollywood Reporter), as well as Gary Dourdan's exit (via THR). However, Smith's character, Riley Adams, was written out of the show in the Season 10 premiere. Raymond Langston (Fishburne) remained the lead on "CSI" until the end of Season 11, while Wendy Simms (Liz Vassey) and David Phillips (David Berman) became main cast members (via Cinema Blend).
Despite the show's ensemble shake-ups, "CSI" continued to deliver gory murder investigations often associated with Las Vegas culture and locations. The writers also still knew how to come up with darkly funny one-liners and situations for the characters. However, this Season 10 episode is considered by some fans to be one of the funniest "CSI" adventures ever.
The Season 10 episode Appendicitement is darkly hilarious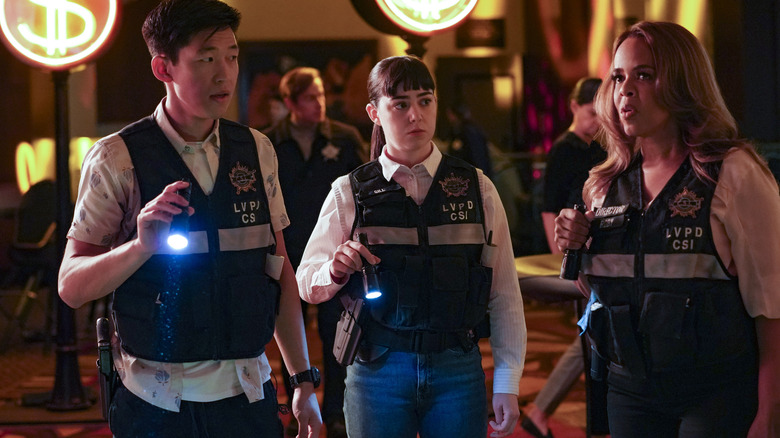 Sonja Flemming/CBS
When an r/csi post asked fans what the funniest "CSI" episode was, Season 8's "Two and A Half Deaths" came up, as did "Rashomama." But u/furstyandmiserable also cited Season 10's "Appendicitement," calling it "one of my favorite episodes of 'CSI.' The BBQ staff are brilliant."
In the very unconventional installment, it's Henry Andrews' (Jon Wellner) birthday, and to celebrate, Nick Stokes (George Eads), Greg Sanders (Eric Szmanda), and David Hodges (Wallace Landham) surprise him with a visit to legendary BBQ joint Harry's Hog Hideout. However, things go wrong for the team members quickly. Bad enough that they get run off the road by a car in the wrong lane, and their automobile gets flipped. But then, when they get to the restaurant, they don't just find that the place is closed for a supposed hepatitis outbreak. Inside, they discover a corpse with a raccoon attached to the face.
"Appendicitement" is a truly funny episode that puts the team in a nasty, over-the-top situation, complete with cannibalism, murder, and treachery. Hard to forget the scene where Henry tries a series of excuses to stop a woman (Rebecca Wysocki) from coming onto him, including that he's married and has syphilis. Somehow, her only response to Henry for each reason is "Me too!"