The Sex And The City Fans Don't Hold Back On Their Opinions Of Carrie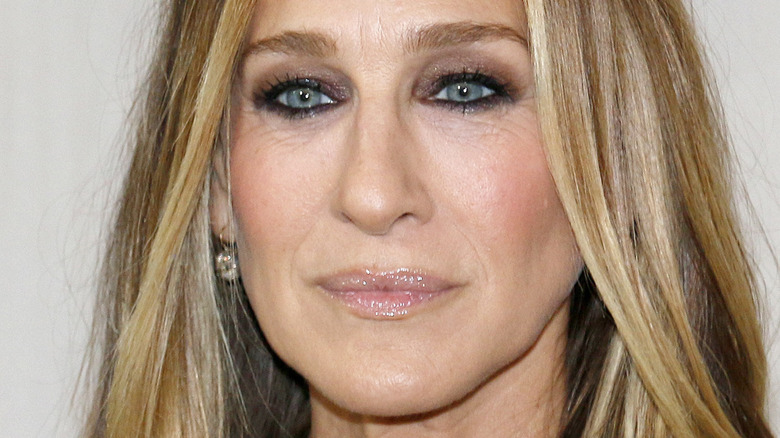 Tinseltown/Shutterstock
Though "Sex and the City" ended its original run almost twenty years ago, the story remains relevant (via IMDb). And that isn't just because of the HBO resurgence or even the famous bus city tour where you can visit the hottest spots from the series (via Travel + Leisure). Something about Carrie Bradshaw (Sarah Jessica Parker) and her New York friends remains true. Carrie may have been obsessed with luring the illustrious Mr. Big (Chris Noth) into a relationship, but the series celebrated being single in your 30s. 
In the HBO continuation "And Just Like That..." Carrie finds herself single at 55 after Big's devastating heart attack via Peloton (per Entertainment Weekly). Carrie's friends in "And Just Like That..." are characters that viewers have stuck with through thick and thin (sans Kim Cattrall, who elected not to return for the reboot.) And with her questionable addiction to cigarettes and Manolo Blahniks, fans want to ensure their opinions about Carrie are known.
A surprising amount of fans come to Carrie's defense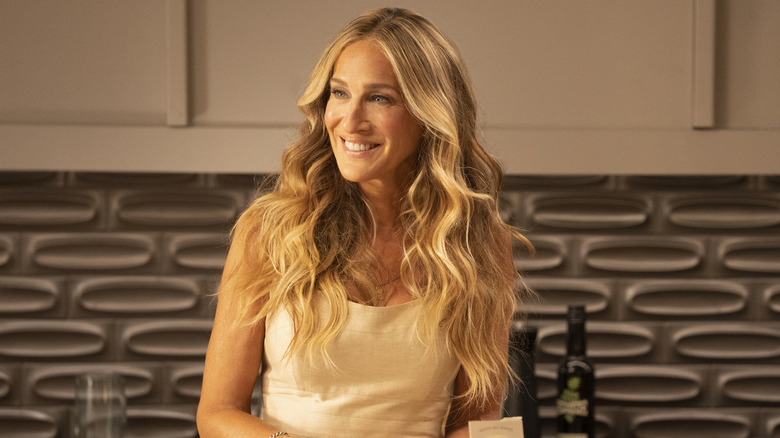 Craig Blankenhorn/HBO Max
Carrie has undoubtedly made her fair share of mistakes. In the early days of "Sex and the City," she misuses Aiden (John Corbett) and pines after Big when he demonstrates no interest. Many of her actions are based on her insecurity of being alone, as many Redditors noted.
"She overanalyzes every little thing and turns it around, making her seem like a victim whether it be with Big, Aiden, or her friends. Anybody else feel the same way?" asked u/sdesire93. This opinion was often circulated on Reddit, and no one can argue that Carrie has these qualities. But even so, fans watch the series for a reason. And since Carrie is the protagonist that brings viewers into the world, many had an interesting take on her decisions.
"[Showrunner] Michael Patrick King has said that he wrote Carrie as like a cautionary tale and like you say, she represents the mistakes a lot of us make," noted one Redditor. More people agreed and rushed to Carrie's defense. On another thread, one user acknowledged that the point of the series is that the characters are not always perfect. U/ActualCatRedditor reasoned that despite how badly they treat each other, that is essentially the series' thesis. Anyone who doesn't understand that is missing the point. Though not consistently tolerable, characters making mistakes are true to life.
Carrie's quirks are the point of the series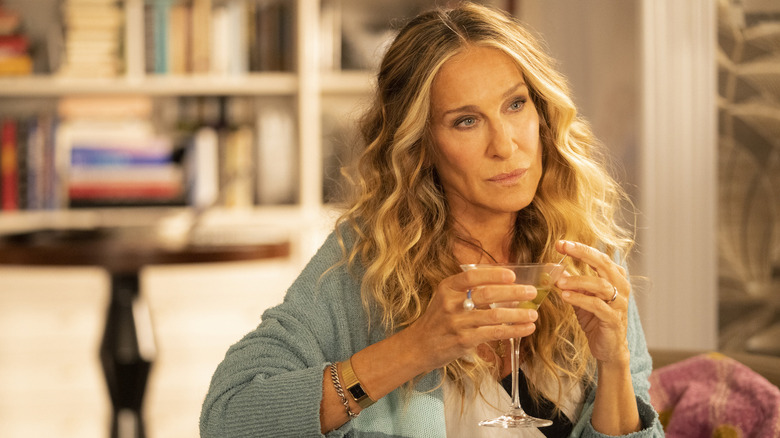 Craig Blankenhorn/HBO Max
Carrie's trials and tribulations have been trademark stories for "Sex and the City," but she is not the only one who missteps along the way. At some point, all the ladies in the series have crossed a line into what is frowned upon. In the continuation, Miranda (Cynthia Nixon) has a pitfall after cheating on her husband with podcaster Che (Sara Ramírez). Writer Julie Rottenberg explained to Deadline the significance of that storyline.
"[W]e're all living breathing things, and sometimes we do things that don't make sense and aren't necessarily right ethically," Rottenberg revealed. "These are flawed characters. That's why we love writing them because they're not always virtuous." It is human nature to make mistakes; that doesn't change just because you have gotten older. That was important to the writing team, who gave Carrie her biggest challenge. Though many have rooted for the Carrie-Big relationship throughout the series, Big's death was necessary for Carrie's journey.
"Carrie fell down on the runway and got up, kept going ... She's gotta get up and keep going. And how we do that with the help of her friends is really the journey," showrunner Michael Patrick King told Entertainment Weekly. These obstacles are just another part of life. And as Carrie states in the "And Just Like That..." trailer, no matter your experiences, you are still you at the end of the day.