Lennie James Joins Fear The Walking Dead As Series Regular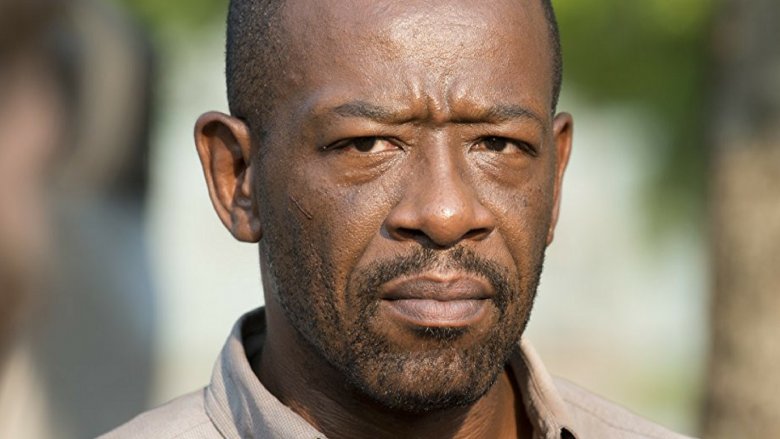 The Walking Dead crossover character has been revealed. Sunday night's episode of Talking Dead showed that Lennie James' Morgan Jones will make the leap to Fear the Walking Dead. According to Entertainment Weekly sources, he'll be sticking around for a while as a series regular on the show's upcoming fourth season.
Walking Dead creator Robert Kirkman first teased the crossover at New York Comic Con in October, and since then, fans have been theorizing about which character could connect the two shows. James' Morgan was not frequently mentioned; the main theories rested with Michael Cudlitz's Abraham and Kim Dickens' Madison.
James said that he starts filming his scenes for Fear on Monday after concluding his filming for Walking Dead a few days ago. "From the very first moment the whole suggestion of Morgan going over to Fear the Walking dead, the hardest part of that, from beginning to now, has been leaving The Walking Dead," James said. "Leaving that cast, leaving that crew. I've said my goodbyes to the cast and I've said my goodbyes to the crew... That show stands or falls on the back of that crew. And I'm going to miss them very much."
Showrunner Scott M. Gimple said in a statement read by Talking Dead host Chris Hardwick that Morgan's season eight arc put him in prime position to join the prequel series. "It was also important to see Fear's world and characters through new, yet familiar eyes," he said. However, Gimple promised that Morgan "still has a lot of story left on The Walking Dead."
James joins other new Fear cast members Garret Dillahunt and Jenna Elfman, both of whom will be series regulars. Fear the Walking Dead lost its showrunner Dave Erickson after the dramatic ending of season three, with Once Upon a Time's Andrew Chambliss and Ian Goldberg taking over for season four alongside Gimple as an executive producer.