The Walking Dead To Cross Over With Fear The Walking Dead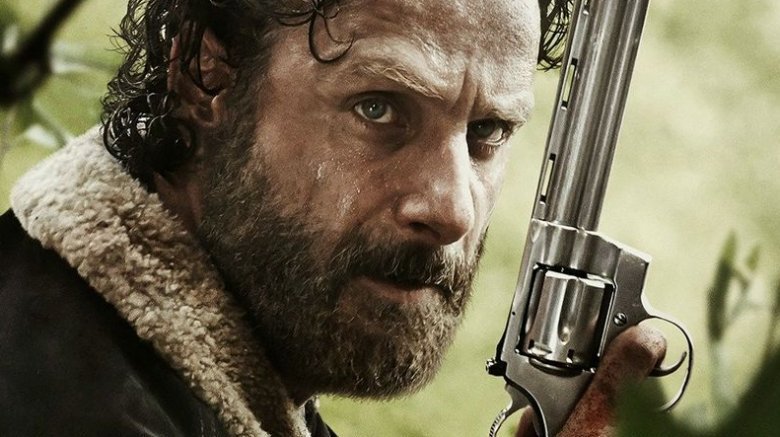 The Walking Dead and its spinoff series Fear the Walking Dead are finally going to collide. 
During The Walking Dead panel at New York Comic Con on Saturday, it was announced that a crossover event between the two hit AMC shows is in the works. The Walking Dead comics creator Robert Kirkman addressed the crowd of adoring fans, hinting at a question that viewers have asked since Fear the Walking Dead debuted in the summer of 2015. 
"There is one character that is going to go from one show, that I will not name, to another show, that I will not name," Kirkman said (via Deadline). He added that the crossover, which is expected to occur sometime in the next year, is "a huge event in the world of The Walking Dead." He kept specifics on the down-low, but did dish up a few details to spark fans' interest. "We've finally gotten to a place [with Fear the Walking Dead] where we can play with some things," he said (via Entertainment Weekly). 
The prospect of a Walking Dead/Fear the Walking Dead crossover is super interesting, especially given the fact that Kirkman noted at San Diego Comic-Con in July that "Fear the Walking Dead takes place roughly around the time of season 1 and beginning of season 2 in The Walking Dead. Walking Dead season 8 is taking place with the theoretical Fear the Walking Dead season 7... [so] right now the timelines are so different that it's impossible" (via EW). It seems that things have changed in the months since then.  
The show's panel comes a little over two weeks before The Walking Dead returns for its eighth season. Cast members Andrew Lincoln, Norman Reedus, Melissa McBride, Lennie James, Tom Payne, Katelyn Nacon, Austin Amelio, and Jeffrey Dean Morgan were in attendance alongside executive producers Gale Anne Hurd, Kirkman, Greg Nicotero, and David Alpert. 
The Walking Dead will return for season 8 on October 22 on AMC. Fear the Walking Dead is currently in its third season.