How Real-Life Military Spouses Feel About Netflix's Purple Hearts
Hopper Stone/Netflix
The film "Purple Hearts" focuses on Cassie Salazar (Sofia Carson), attempting to become a professional singer while working as a waitress and managing her diabetes without health insurance. After reuniting with her friend, Frankie (Chosen Jacobs), Cassie is introduced to a conservative marine named Luke Morrow (Nicholas Galitzine). Trying to inject as much realism into the movie as possible, Netflix's "Purple Hearts" got permission to film on a real military base. While the pair do not get along due to their opposing political ideologies, they fraudulently wed as a way for Cassie to have health care benefits and for Luke to receive extra money. The fake couple soon realizes their romance may not be a sham. 
While speaking to CBS Mornings in July 2022, Carson, who also served as the movie's executive producer, shared that she believes the film is essential due to the country's current political climate. "It's a love story with deeply important social-political messages," shared the "Descendants" actress. "It's a story about two people from two different worlds, one red, one blue, who were taught essentially to hate each other, and through the power of love, they come together to form, I guess, this beautiful shade of purple. And in this divided world we live in, this feels like the message that we need to share, now more than ever."
Military spouses shared their thoughts about Purple Hearts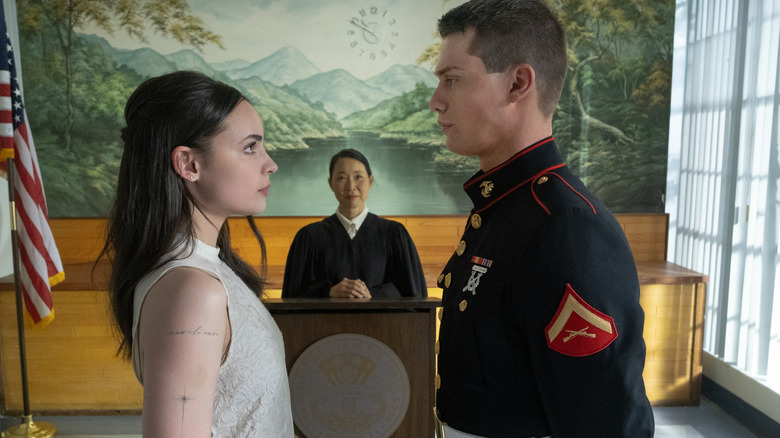 Mark Fellman/Netflix
While Sofia Carson believes "Purple Hearts" (which changed the movie's ending for the better) will have a positive impact, some military spouses have expressed their dissatisfaction with the film. Today reported how a woman named Emma Tighe let her Facebook followers know her feelings about the film's poster depicting Luke's friends lifting Cassie to the bus window so she can kiss him goodbye. The military spouse noted that she believed this was a disingenuous portrayal of deployment as Cassie looked too put together. "Anyone who is a military spouse knows that the only acceptable way to send your husband off to war is in a messy bun, pjs, puffy eyes, and a bad attitude because it's the third time you've dropped him off after the unit forgot to schedule a bus or plane or something is missing, or someone is missing or just because they said so," read a portion of the post.
While speaking to Today, Tighe also shared that she does not believe the film is representative of military spouses' lives. Alyssa Clark, who is married to a member of the Navy, shared similar comments and asserted that the film poeticizes the military lifestyle. However, military spouse Bailey Cummins informed the publication that she appreciated "Purple Hearts" and explained that she felt the film's premise was realistic. "The really sad reality is many spouses do marry for benefits — maybe not a contract marriage like in the movie, but choosing to marry someone they have a connection with faster than normal because of things like needing health insurance or wanting to live together but the soldier is enlisted and can't move out of the barracks unless married," shared Cummins.