How Netflix Completely Changed The Ending Of Purple Hearts For The Better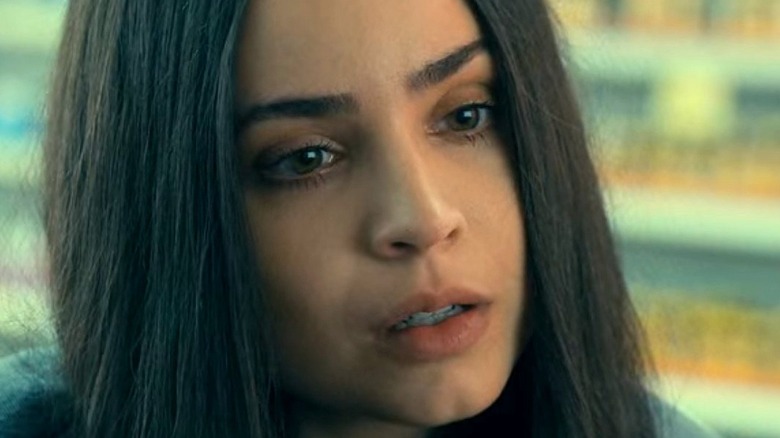 Netflix
"Purple Hearts," Netflix's newest romantic drama, is one with a specific message. Made for the rollercoaster ride that is modern times, "Purple Hearts" takes on socio-political themes from the American health care system to the military. Sofia Carson may look familiar to fans of "Descendants" as Cassie, an artistic liberal who struggles to treat her diabetes when she meets her future husband Luke (Nicholas Galitzine). A proudly conservative, yet troubled military man, the two strangers could not be more different in their contrasting ideals. But once they marry for convenience, they find that love is not too far off while they double down on their fake relationship scheme.
Netflix was also behind "To All the Boys," a film series that starts out as a fake romance between Lara Jean (Lana Condor) and Peter (Noah Centineo). However, where the latter is a teen comedy for the most part, "Purple Hearts" veers into devastating real-life issues. Cassie and Luke must contend with battle injuries as well as the inevitable fallout when it comes out that their marriage is a sham. With such high stakes present in the film, drama is a given. But Netflix wanted to make sure that viewers got the ending that they deserved.
Despite being a romance, Purple Hearts almost didn't get a happy ending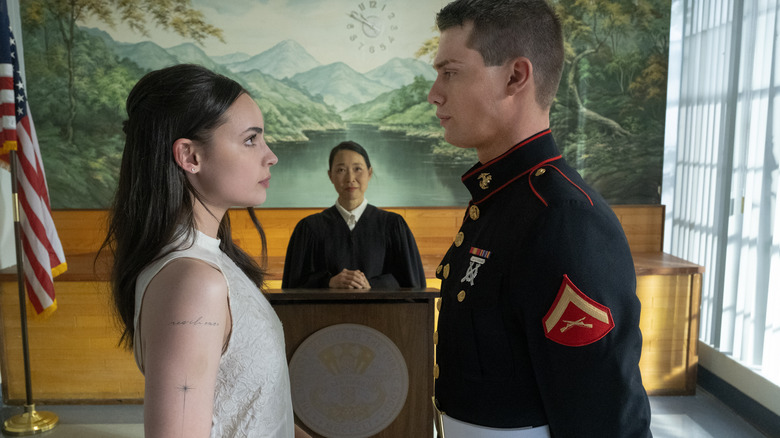 Mark Fellman/Netflix
Real-life consequences come for Cassie and Luke in "Purple Hearts," and Luke bears the brunt of the responsibility. He and Cassie are separated after he is tried by the country he once held so dear, putting a significant kink into the newfound love that he has found with his wife. This dour separation and Luke's prison sentence did not leave Netflix executives totally satisfied, and they made the ending appeal to a wider audience. In an interview with Remezcla, Sofia Carson explained the slight change that was insisted upon.
"We had finished the movie with the ending of Luke being taken to prison and Cassie waiting for him at the gate, hoping he comes back home," Carson explained. She said that Netflix now wanted audiences to see Cassie and Luke reuniting after the latter serves his sentence. In this case, the "Descendants" actor would have to agree. Instead of leaving the ending open-ended with no established hope of Luke's return, additional scenes were added to give more of a well-rounded conclusion to the film. Fans ultimately got to see Cassie and Luke together again, arguably the entire reason for the film.
"It was so cathartic and so beautiful to see them together because you really fell in love with them," Carson added. "And it's such a beautiful feeling to see the happy ending that they've never had."
Not everyone was impressed with the end result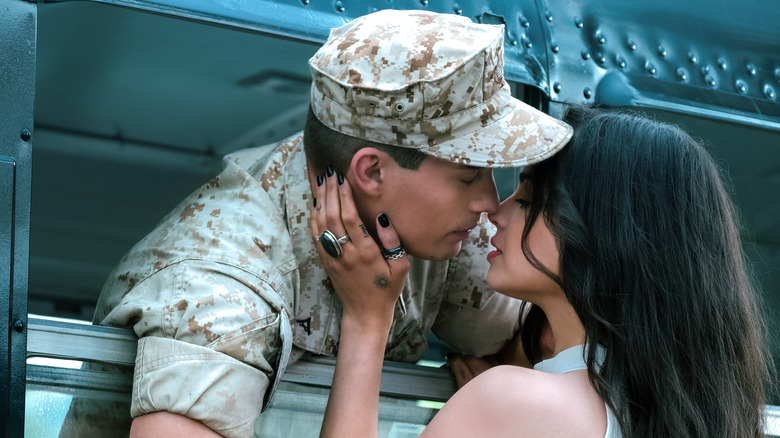 Mark Fellman/Netflix
Though viewers have been watching "Purple Hearts" for a staggering amount of hours, the backlash to the film might make you think differently. Outlets such as Vox pointed out that "Purple Hearts" has become a success on Netflix, but that doesn't negate its problematic issues. The main reason that Cassie and Luke clash at first is their differing values. Luke's patriotism is a problem for Cassie, who sees the military as a villain. In order for the relationship to survive, they both must sacrifice their ideals. Match made in heaven. Or at the very least, a broken health care system. 
It wasn't just the politics that some fans had an issue with. Even viewers heavily invested in the military called out "Purple Hearts" for its inaccuracies. More specifically, many military spouses felt that Cassie seeing her husband off was heightened for dramatic purposes or not something they personally had experienced.
"Anyone who is a military spouse knows that the only acceptable way to send your husband off to war is in a messy bun, PJs, puffy eyes and a bad attitude because it's the third time you've dropped him off after the unit forgot to schedule a bus or plane or something is missing or someone is missing or just because they said so," wrote one military spouse on Facebook. No matter what side you're on, you can't please everyone.