How Netflix's Purple Hearts Got Permission To Film On A Real Military Base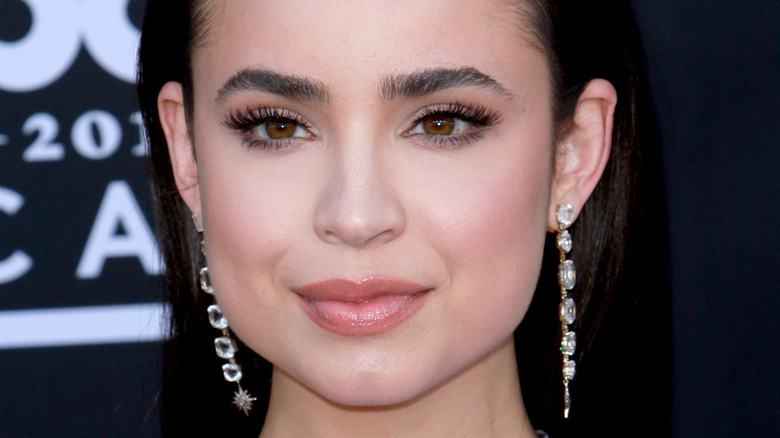 Kathy Hutchins/Shutterstock
When producers of the new Netflix film "Purple Hearts" needed a military base for a filming location, their first choice was about 90 miles south of Hollywood: Marine Corps Base Camp Pendleton, the West Coast's largest training center for Marines.
"Purple Heart" is a romantic drama with a military twist. The story stars Sophia Carson as Cassie, a bartender and singer-songwriter who marries Luke, (Nicholas Galitzine), a U.S. Marine, all so she can get medical benefits to pay for her Type I diabetes medication. Much of the story takes place after Luke returns home from deployment in Iraq, when he's stationed at a military base.
So, it makes sense Camp Pendleton is one of "Purple Hearts'" filming locations. Not only is it a real military base, it's been used to film more than 20 movies and TV shows since it was founded in 1942. The 1949 John Wayne war film "The Sands of Iwo Jima" was filmed there, for example, with the camp's hilly terrain used to simulate the volcanic island locale of the World War II battle.
The Marine Corps often allows film and television projects to use its facilities because it promotes the military. "[Working with the entertainment industry] gives us an opportunity to showcase assets and capabilities that are available to production companies," said U.S. Marine Corps Master Sgt. Katesha Washington, Entertainment Media Liaison Office (EMLO), which is based at Camp Pendleton. "It allows us also to accomplish our mission of telling the story of Marines" (via We Are the Mighty).
However, just because a script is about the Marines is no guarantee the Corps will allow a production to use Camp Pendleton. The Marine Corps actually rejected "Purple Heart's" request at first. Here's how producers got permission to film at the legendary base.
When making a military movie, it helps to have a respected military advisor in your corner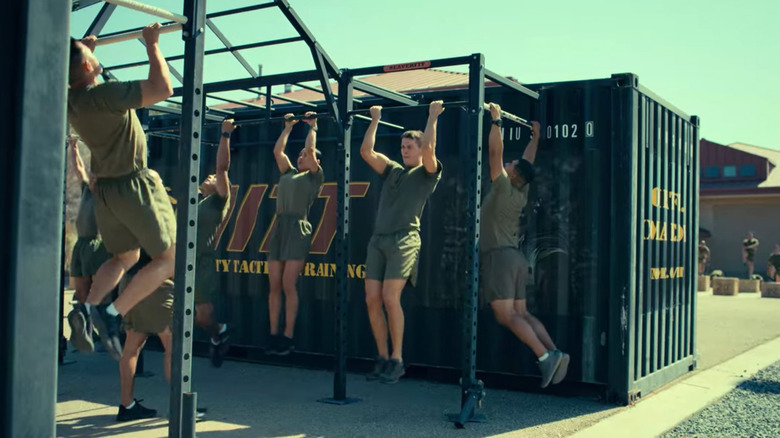 Netflix
Obviously, "Purple Hearts" and its depiction of a marriage based on false pretenses is touchy subject matter for the Marine Corps. When director Elizabeth Allen Rosenbaum and the her producers approached Camp Pendleton, they were initially turned down.
In stepped James Devers.
He served as the film's technical advisor. A 25-year Marine Corps veteran who retired in 1998, Devers' film credits include "American Sniper," "The Last Full Measure," "The 15:17 to Paris," "Captain America: Civil War," "Letters from Iwo Jima," "Flags of Our Fathers," "Jarhead," "We Were Soldiers" and "Heartbreak Ridge," and his TV credits include "Westworld" and "For All Mankind."
"When James came on board, he gave it another try," Rosenbaum explained. "He sent them the script. I think we may have sent a letter; I can't remember exactly. He just knew the right people to ask."
Rosenbaum added that the script was revised to please the Marines. Initially, the script included Marines who used "slurs." In subsequent revisions, Rosenbaum and company added more "educated" characters to "balance how Marines are depicted (via Military.com).
In the end, Devers' assistance and the script revisions were enough to add "Purple Hearts" to the long list of movies and TV shows filmed at Camp Pendleton.