Aaron Paul Never Expected To Return As Jesse Pinkman On Better Call Saul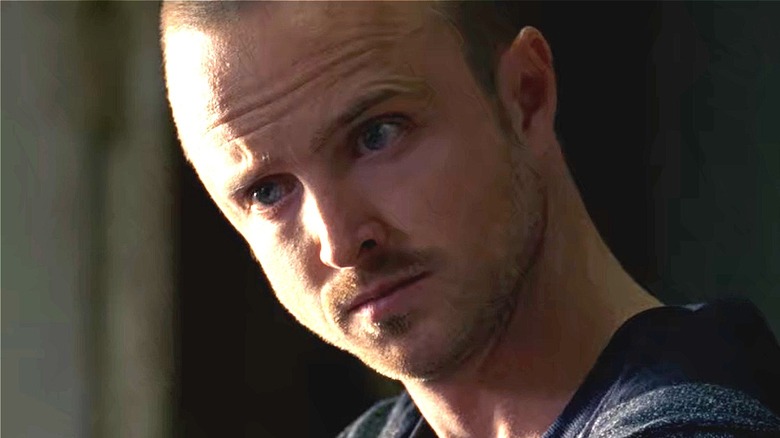 AMC
The sixth and final season of "Better Call Saul" tied the "Breaking Bad" prequel back to its roots by delighting audiences with new scenes featuring Bryan Cranston and Aaron Paul in reprisals of their celebrated roles as Walter White and Jesse Pinkman, respectively, from the original series. With the last handful of episodes set after the events of "Breaking Bad," White and Pinkman appeared in flashbacks to Jimmy McGill's (Bob Odenkirk) time as the crooked lawyer Saul Goodman.
When the pair of drug cooks first meet Goodman in "Breaking Bad," it's because they've kidnapped him. The pair drive Goodman into the desert and hold a gun to his head over a freshly dug grave. "Better Call Saul" recreated the scene, adding some riotously funny new material in which the motormouthed lawyer quickly weasels his way into riding shotgun on the drive back to town. White and Pinkman each appear independent of each other, as well, with the latter bumming a cigarette from Kim Wexler (Rhea Seehorn) in a scene that truly brings "Better Call Saul" full circle to the events of "Breaking Bad."
Paul has already been called back to active duty in the "Breaking Bad" universe once before, when he starred in the direct-to-streaming sequel film, "El Camino: A Breaking Bad Movie," for Netflix.
In a newly published interview, Aaron Paul dished on why he never expected to return as Jesse Pinkman on "Better Call Saul," and how he felt when he found out he'd be back for one last hurrah.
Getting cast on Better Call Saul was a welcome surprise for Aaron Paul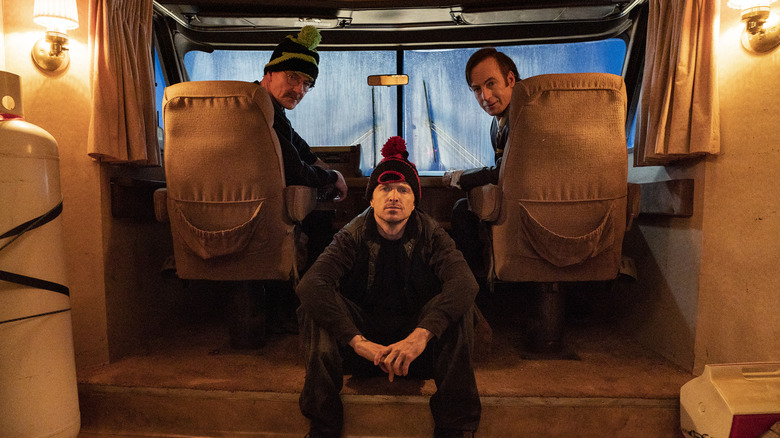 Greg Lewis/AMC/Sony Pictures Television
In a new interview with The Hollywood Reporter, Aaron Paul revealed that his reprisal of Jesse Pinkman on "Better Call Saul" came as a surprise to him, albeit a welcome one, much as it did for fans of the show. Because the "Breaking Bad" prequel is set before Saul Goodman ever crosses paths with Jesse or Walt, Paul didn't foresee how his character would fit into the narrative. "I did not expect to join 'Better Call Saul," Paul said. "I'm such a huge fan of the show, but I didn't see how they were going to do it."
Not only was the casting unexpected, Paul was also behind on "Better Call Saul," not having viewed the most recent half a season. But when he got the call asking him to return to New Mexico, Paul was on board, trusting showrunners Vince Gilligan and Peter Gould knew what they were doing. "I said, 'Yeah, they figured it out. They know how to do it.' So it was truly a dream to be back in this universe that Vince, Peter, Tom, and all the writers created."