Why You Probably Won't See Jesse And Walt Again After Better Call Saul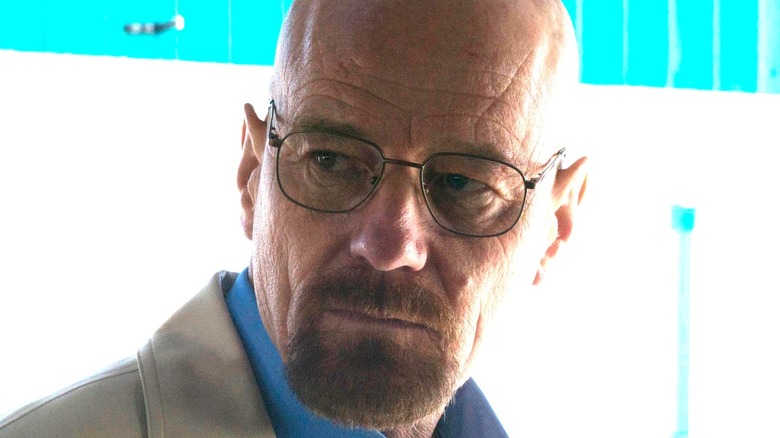 Ursula Coyote/AMC
From 2008 to 2013, Bryan Cranston and Aaron Paul played chemistry teacher Walter White and White's former student Jesse Pinkman, respectively, on the acclaimed Vince Gilligan-created drama "Breaking Bad." The series, as we all know by now, sees Walt descend further and further into the role of a ruthless criminal, dragging Jesse down with him. For most of "Breaking Bad," Walt and Jesse are aided by Saul Goodman (Bob Odenkirk), a shady criminal defense lawyer, who, like Jesse, manages to escape Albuquerque alive at the end of the series — and as we see in the prequel spinoff series, "Better Call Saul" (created by Gilligan and Peter Gould), that Saul moves to Omaha, Nebraska to work at a Cinnabon and is now going by the name Gene Takovic.
"Better Call Saul," thought mostly being a prequel to the original show, has allowed for many characters who died in the original series to show up again. And of course, fans have been wondering if Walt and Jesse will make an appearance before the series ends. Well, lucky for us, Gould confirmed last month that Walt and Jesse will show up in the sixth and final season. The news may have sparked some fans to wonder if their "Better Call Saul" appearances may be opening up the door for other reprisals of the characters, whether it be in another spin-off series or another connected film such as 2019's "El Camino."
However, the actors have confirmed that this will not be the case, and here is what they had to say about why.
Cranston and Paul would love to collaborate again — but playing new characters
AMC
During an interview with Rolling Stone, Bryan Cranston and Aaron Paul briefly discussed their highly anticipated upcoming appearances on "Better Call Saul," including the hilarious lengths that AMC went to in order to keep their presences on set a secret until they were ready to confirm the cameos. Overall, however, they couldn't reveal much about what to expect, except to say that fans will be excited to see how the characters show up. Writer John Lonsdale then asked Cranston and Paul if they had any plans to reprise their roles in another capacity, possibly another spin-off series or even another "Breaking Bad" movie to follow "El Camino."
Firstly, Cranston joked, "Actually, it's funny you should mention that," Cranston says, "because Aaron and I are going as Walt and Jesse on Dancing With the Stars." In response, Paul simply laughed and said, "Oh my god."
Cranston then gave a serious answer, revealing that the two would love to collaborate again — just not as Walt and Jesse. Cranston said, "We need to let those characters go so that we can take on new ones."
The actor also made it clear that, at the moment, the two are more focused on their growing mezcal business, Dos Hombres, so it may be awhile before we get to see the two of them on screen together again — apart from their mysterious upcoming appearances on this season of "Better Call Saul," that is. And if they do star in a future project together, they most likely won't be doing so as Walt and Jesse again.