Why Tom Brady's Absence From Training Has Masked Singer Fans' Eyebrows Raised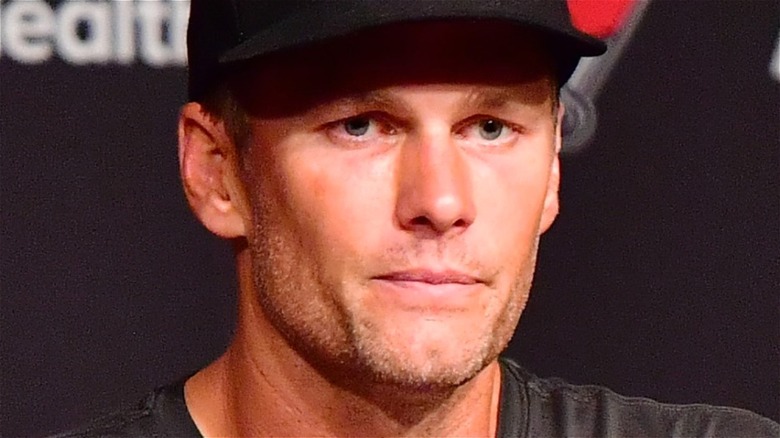 Julio Aguilar/Getty
The reality television show "The Masked Singer" follows a format that sees celebrities don outrageous costumes and masks while engaging in high-production karaoke. The show's premise is that the judges, who consist of Ken Jeong, Robin Thicke, Nicole Scherzinger, and Jenny McCarthy, vote for their favorite performers. These results are further augmented by the votes from the audience, and the contestant with the least amount of votes is forced to remove their mask and reveal their identity. This usually leads to moments of absolute shock, which probably proves why the show is so popular. According to TV Series Finale, Season 7 of "The Masked Singer" averaged around four million viewers per episode — a truly astounding number when it comes to live television. So who else could the show possibly get?
For those who don't follow sports, Tom Brady is a legendary football quarterback. Brittanica notes that Brady has a record seven Super Bowl victories and has been considered the Most Valuable Player, or MVP, five times between 2002 and 2021. These are tremendous accolades for an individual player, and Brady is easily one of the most recognizable figures in football. However, it seems as if there is speculation surrounding both Tom Brady and "The Masked Singer," but why?
Fans think Tom Brady will be appearing in The Masked Singer
One of the greatest draws of "The Masked Singer" is attempting to figure out who is behind the fantastical masks, and the series goes to extreme lengths to make sure that the proverbial beans remain unspilled. However, a recent theory circulating on Twitter has created a rather frenzied discussion and questions on whether or not Tom Brady will be joining the cast of the show. USA Today's For The Win reports that social media is in an absolute tizzy with theories, and these theories are based around Brady's absence from training camp, leading some to believe that he will soon be making an appearance on "The Masked Singer." Sporting News clarifies some of this equation by showing that the Tampa Bay Buccaneers, Brady's team, had veterans show up to camp on July 26, 2022, though Brady has been strangely missing from some practice sessions.
Over on Twitter, users can't stop talking about this rumor, with @JCrabs84 saying, "I saw an interesting theory last night and this is he's filming Masked Singer right now. It's a show in Fox and believed to be part of his mega contract he just signed with Fox. That would also explain the non-committal timeframe, depending on how far he advances." @byDavidGardner has also entertained this theory, and stated, "There's an amazingly thorough Reddit thread speculating that Tom Brady is missing Bucs camp because he's filming The Masked Singer. I pray that this is true." Either way, if Brady is indeed appearing on "The Masked Singer," he'll have a hard time hiding his presence.
We'll just have to wait until the next season of "The Masked Singer" airs to know why precisely Brady was playing hooky from practice.