Sex Education Season 4 Adds A Schitt's Creek Star We've All Missed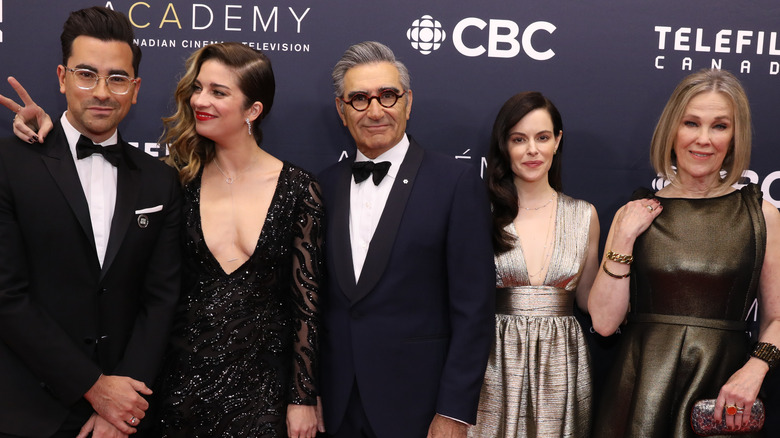 Shawn Goldberg/Shutterstock
Seems like only yesterday we were just getting to know the industrious Otis Milburn (Asa Butterfield) and his eclectic cast of sex-curious classmates. In fact, it's been a few years since Otis began his educational side hustle in the halls of Moordale Secondary School. And over the course of the show's ensuing three season run, things have gotten exceedingly complicated for most of the central players on Netflix's low-key hit dramedy "Sex Education." It's safe to assume they'll only get more complicated moving forward.
That's in large part because Moordale officially closed its doors at the end of Season 3, leaving Otis and his mates to seek educational prospects elsewhere, and thus ensuring an influx of new characters for the already green-lit fourth season of "Sex Education." As fans of the show know, new faces will be more than a little necessary as a handful of series stars will not be returning for the new season (via Deadline). Those fans can take heart knowing the "Sex Education" casting team is pulling out some serious stops in bringing new blood to the series, and have just tapped one of the stars of the smash-hit, Emmy-winning comedy "Schitt's Creek" for a recurring role in Season 4. Here's which one.
Schitt's Creek star and creator Dan Levy is joining the cast of Sex Education for the upcoming season
According to The Hollywood Reporter, the "Schitt's Creek" star who's about to make their "Sex Education" debut is none other than Daniel Levy. And yes, "Sex Education" will mark his first live action small screen appearance since "Schitt's Creek" ended its own lauded, six season run. Levy, of course, co-created "Schitt's Creek" with his father, beloved comedic actor Eugene Levy, serving as a producer, writer, and frequent director on the show during its tenure. Given all that Levy undertook on "Schitt's Creek," its understandable he'd want a little downtime once the show wrapped. He even admitted in a 2021 Today interview that stress from the show forced him into a neck brace for a brief time.
Save for a downright hilarious American Express ad campaign, Levy has barely been seen since his standout appearance opposite Kristen Stewart in the 2020 holiday rom-com "Happiest Season." Seems it's finally time for Levy to get back to work, and a recurring role on a Netflix hit like "Sex Education" could not be a better fit. The actor won't even need to affect a British accent for the show as THR reports he's slated to portray Thomas Malloy, a Stateside Ivy League tutor to Emma Mackey's Maeve Wiley, on the series. Season 4 of "Sex Education" is reportedly now filming in the UK. While no release date has been set, with talent like Daniel Levy coming aboard the new season cannot get here fast enough.