Biff Tannen Has A Hilarious Musical Response To All Of Your Back To The Future Questions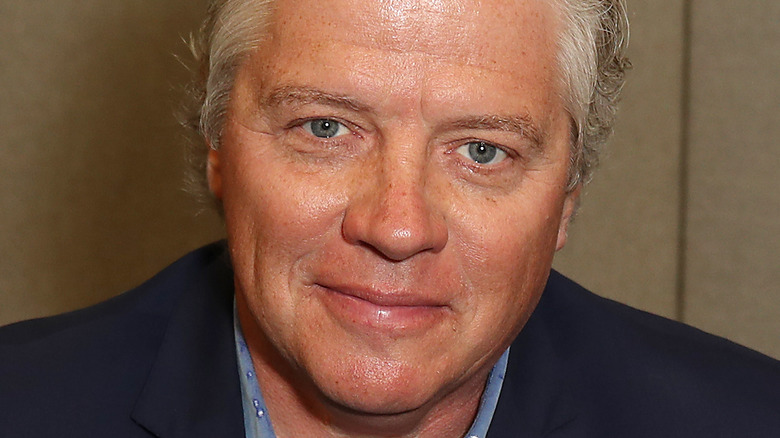 Neil Mockford/Getty Images
It's tough being an actor known for a specific role, especially when that role is the villain. Christopher McDonald knows that firsthand, as the actor has been associated with his role as Shooter McGavin ever since "Happy Gilmore." But McDonald got some relief because there were no sequels to "Happy Gilmore." Hugo Weaving embodied Agent Smith's smarmy villain so well in "The Matrix" films, but luckily his role as Elrond in the equally successful "Lord of the Rings" franchise kept him from being recognized solely as that villain.
While "Back to the Future" is one of the most beloved and successful film franchises, the name Thomas Wilson probably doesn't ring a bell for a lot of people. But mention his alter ego — Biff Tannen — and you'll get an entirely different response. "He is the underrated star of the trilogy. His different versions of Biff/Griff/Mad Dog are all believable," u/DelGriffiths said in a "Back to the Future" subreddit. But despite Wilson having a resume with 143 credits, ranging from "SpongeBob Squarepants" and "Freaks and Geeks" to DC's "Legends of Tomorrow," he's still mainly thought of as Biff (via IMDb). In response to being asked the same "Back to the Future" questions over and over, Wilson came up with a little song.
Thomas Wilson wrote Biff's Question Song to answer all Back to the Future questions
While getting recognized by fans is a thrill for many actors, being recognized for almost 40 years for one specific role you played may, occasionally, get a tad annoying. So in response, Thomas Wilson decided to write a song called "Biff's Question Song," which he used in his stand-up routine for years. A sample of the lyrics includes: "When I'm flying in a plane, or I'm on the street, there's a lot of friendly people that I like to meet. They shake my hand but never ask my name, and they start asking questions that are always the same." The questions deal with everything from what Michael J. Fox is like, to whether the manure was real. "It's a movie!" he sings. "Stop asking me the questions."
While Wilson hasn't been doing much stand-up comedy lately, he's written a book called "The Masked Man," which he reads chapters from on his YouTube page. His IMDb page also says he's been busy voicing the characters in "The Patrick Star Show" and "SpongeBob Squarepants." He may never be able to escape being Biff, but at least he's found the humor in it.