She-Hulk: Attorney At Law Recap: Not All Hulks Are Created Equal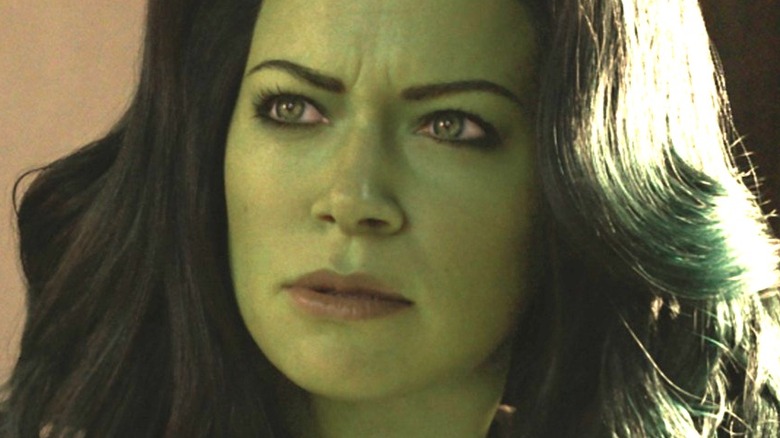 Marvel Studios/Disney+
Warning: Contains spoilers for "She-Hulk: Attorney at Law" Episode 1
"She-Hulk: Attorney at Law" marks the seventh live-action series in the Marvel Cinematic Universe and the last that we'll see in Phase 4. The Tatiana Maslany-led show is only the second series in the MCU to contain nine episodes, following in the footsteps of the highly lauded "WandaVision" from early 2021.
Episode 1 makes it clear that "She-Hulk" is like no other MCU series to come before it, serving as a legal comedy that wastes no time throwing out punchlines. Maslany shines as Jennifer Walkers, aka She-Hulk, as does the ever-charismatic Mark Ruffalo as Bruce Banner. The debut episode delivers everything we expected — the revelation of how Jennifer gets her Hulk powers, her Hulk training with Bruce, and the introduction of another MCU villain that's hard to care about.
Depending on the tones you prefer for superhero projects, the first episode of "She-Hulk" might be a breath of fresh air or another helping of MCU fatigue. There is a lot to break down from the half-hour show, which also, refreshingly, has a fantastic post-credits scene.
Breaking the fourth wall in the MCU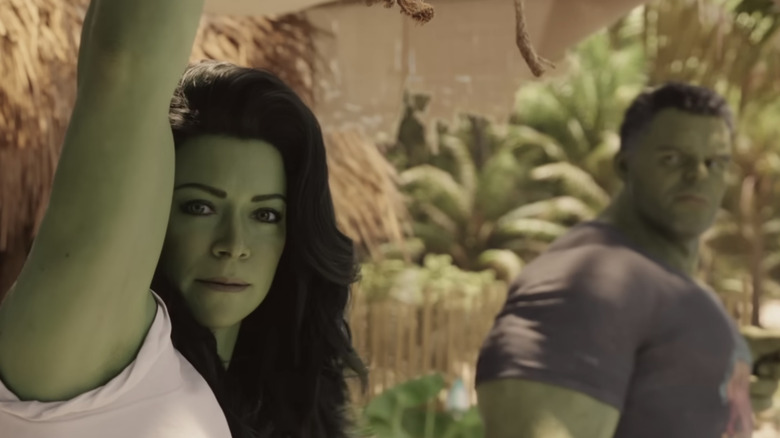 Marvel Studios/Disney+
We knew it was coming, but it's still interesting to see Jennifer break the fourth wall in the first episode of "She-Hulk: Attorney at Law." It happens right out the gate, within the first three minutes of the show. Jennifer addresses the audience, who we learn is already a Hulk, and she reveals she's going to take us down memory lane.
Jennifer gets her Hulk powers after getting in a car accident with Bruce. The blood from his head injury drips into a wound on her arm, and the rest is history. She-Hulk is born instantly, runs off into the woods, and collapses. This is very different from how Jennifer gets her powers in the comics, which happens when she is given Bruce's blood during a transfusion to save her life.
During her Hulk training at Bruce's secret Mexican lab, She-Hulk breaks the fourth wall and almost seems surprised to see the audience. Don't think this is some "Fleabag" or "Deadpool" knock-off, as She-Hulk always breaks the fourth wall in comics. Jennifer addresses the readers constantly, way before Deadpool ever made it cool. However, there's a difference between the comics and the series.
The comic book She-Hulk criticizes the writers of her story, but that won't be happening in the Disney+ series. "She-Hulk" head writer Jessica Gao revealed there was a different plan for fourth-wall breaking, but it was eventually scrapped. "Instead of really talking directly to camera, there were text boxes that were editors' notes, like the comic books," she noted during a press event. It looks like the fourth-wall-breaking mode they went with was the right way to go.
A tale of two Hulks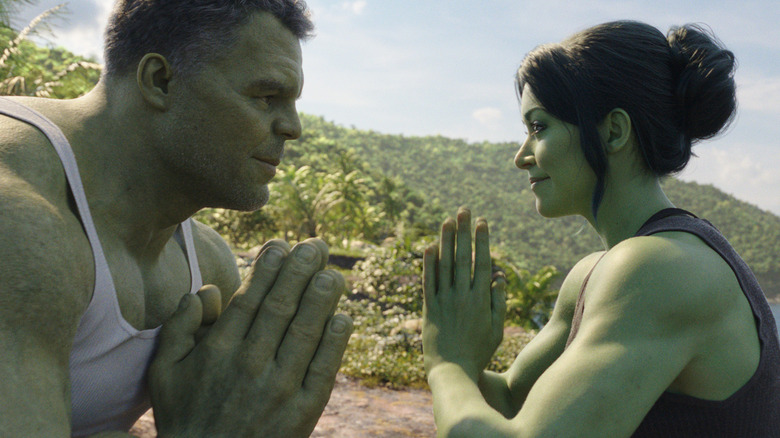 Marvel Studios/Disney+
The biggest takeaway from Episode 1 of "She-Hulk: Attorney at Law" is how different Jennifer and Bruce are in their Hulk forms. From the jump, Jennifer can turn into She-Hulk at will, which she proves at the dive bar the night she gains her powers. Jennifer transforms in a snap when she feels threatened by a group of loitering losers. She wasn't attacked or injured but was more annoyed than anything else, so she turned on the Hulk.
Bruce even prepares a binder for his cousin, telling her she's about to embark on a years-long journey to understanding what it means to be a Hulk. But after he puts her in a death trap to tease out the She-Hulk, he learns quickly that even after she transforms into a giant green rage monster, she's still Jennifer. She talks like Jennifer; she behaves like Jennifer; she IS Jennifer. From "The Incredible Hulk" to "Thor: Ragnarok," Bruce was never himself while in Hulk form — it took him a decade to figure out how to put the brains and the braun together. Jennifer is doing this from the get-go.
This is a huge deal because we do not have to watch the same tedious journey as we saw Bruce ride out, but we now know Jennifer is without an alter ego. We get what we get with her, proving not all Hulks are created equal.
For most of the episode, Bruce teaches Jennifer how to embrace this new lifestyle, which includes a boulder-throwing lesson, a how-to on how to jump incredibly far, and instructions on how to pick out clothes. All very important things and not at all a waste of the viewer's time. The only mental battle Jennifer seems to be struggling with is how to maintain her lawyer lifestyle now that her life has drastically changed.
When does She-Hulk: Attorney at Law Episode 2 air?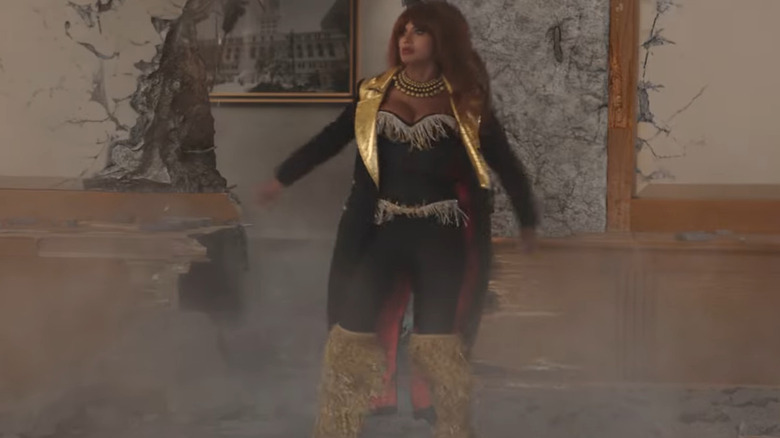 Marvel Studios/Disney+
Episode 2 of "She-Hulk: Attorney at Law" will drop on Disney+ on September 25 at 3 a.m. EST. While we can't be sure of what's coming next, the last few minutes of Episode 1 give us some major hints. Titania (Jameela Jamil) bursts into the courtroom where Jennifer is making her closing argument on an important case in human form, and we have absolutely no idea why she's there. In fact, it's never revealed who she is because her fight scene is extremely brief — we just know from interviews that Jamil is playing legendary She-Hulk villain Titania.
Jennifer turns on the Hulk and combats Titania, knocking her out, and the episode concludes. We've yet to find out what Titania's issue is and why she was storming the courtroom, especially since she clearly has no idea who She-Hulk is (neither did the rest of the world until now). Episode 2 should hopefully give us some answers on that.
We also expect another great post-credits scene, which might have a tough time rivaling the one we got in Episode 1. We've finally found out that Steve Rogers (Chris Evans) is not a virgin when Bruce confirms to Jennifer that Cap had his first special night in 1943 during a USO tour. Good luck trying to top that little nugget of information, Episode 2.