Nicolas Cage Is About To Get An Exciting National Treasure 3 Delivery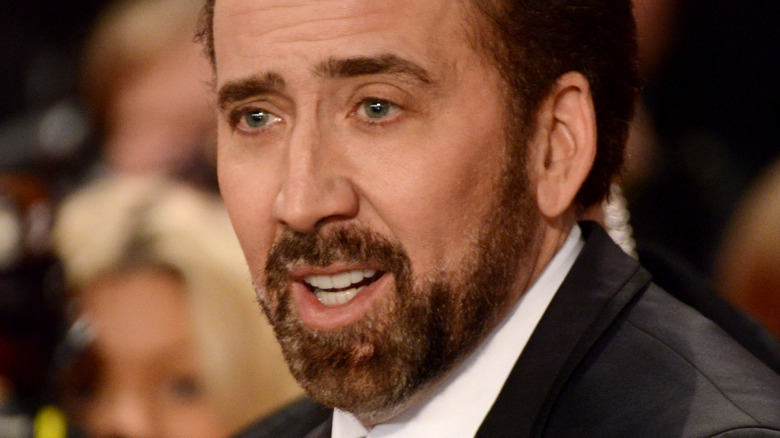 LaCameraChiara/Shutterstock
Almost two full decades have come and gone since Disney scored an unexpected hit in the history-centric blockbuster "National Treasure." Set largely in Philadelphia, the film finds Nicolas Cage portraying Benjamin Franklin Gates, a daredevil "treasure protector" who, along with a team of skilled allies, endeavors to both find and safely secure the Templar Treasure. That endeavor fueled arguably one of the more thrilling — and profoundly entertaining — adventure films since "Raiders of the Lost Ark."
"National Treasure" also became one of 2004's biggest box office draws (via Box Office Mojo), which understandably led Disney bosses to green-light a sequel. "National Treasure: Book of Secrets" dawned in 2007 and proved every bit as popular, outperforming even its predecessor at the worldwide box office (via Box Office Mojo). Given the success of the first two films, it seemed Disney had stumbled upon a bonafide franchise property, with fans presuming a third "National Treasure" movie was all but a certainty.
Fast-forward 15 years, and many are still desperately hoping that a Nicolas Cage-fronted "National Treasure 3" might one day happen. Given Cage's own comments on the topic during a Reddit AMA and the fact that Disney has forged ahead with a "National Treasure" series on Disney+ sans the franchise star, those prospects seemed dim at best even just months ago. But there may be some good news on the horizon for both Cage and fans of the franchise.
A third National Treasure flick may be closer to happening than anyone believed
Indeed, all may not be lost for "National Treasure 3" — franchise producer Jerry Bruckheimer recently gave a promising update on the long-gestating film. Bruckheimer even teased he'd soon be sending a little, ahem, treasure to Nicolas Cage himself. Bruckheimer's comments came during an interview with ComicBook.com in which he discussed several projects currently in the works. And yes, "National Treasure 3" was among them.
The most promising "National Treasure 3" update Bruckheimer made was confirming that there is actually a screenplay for the film, with the producer noting, "We're working on the script right now." Said script is obviously still being tinkered with, but Bruckheimer added that he's already pretty happy with it and hopes Cage will be too. Clearly, Cage will have some sway over the final draft of the "National Treasure 3" script. As such, Bruckheimer may be opting to have it as polished as possible before turning it over to his hoped-for star.
As for when that might happen, Bruckheimer says he's hoping to have the script in Cage's hands sooner rather than later. Either way, it should be fascinating to see what's in store for Ben Gates and his team after all these years away, especially since some of his allies (Justin Bartha's computer whiz Riley Poole and Harvey Keitel's FBI tough Sadusky) are set to appear in the Disney+ series "National Treasure: Edge of History." Who knows? Maybe there's even still time to sneak a Cage cameo into that project. Here's hoping.