How Vanna White Really Feels About Celebrity Wheel Of Fortune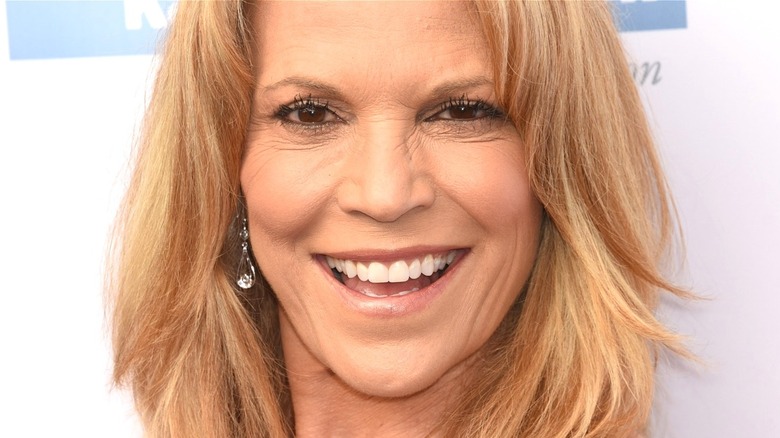 Ga Fullner/Shutterstock
Vanna White has spent four decades as co-host on the TV gameshow "Wheel of Fortune," so it's safe to say she likes her job. True, it hasn't all been smooth sailing. There was that time — back before the board was digital —when she turned around the wrong letter in a puzzle. "I was mortified," she recalled on "The Kelly Clarkson Show." "I'm scarred for life on that."
In another misstep, in 2020 she repeated an outfit, a situation that had never happened since she started hosting in 1982. Again, she was embarrassed, but mistakes in life are inevitable. And it just goes to prove she's human like the rest of us.
Overall, White calls her time on the show "amazing" and "fun" (via KTLA). But most episodes feature regular, everyday people hoping to win the almost-mythical fortune we've heard so much about. "Celebrity Wheel of Fortune" is a whole different game in that regard. And White has some strong feelings about it.
There's a lot for Vanna White to love about the show
"Celebrity Wheel of Fortune" began airing on ABC in January 2021. Comedian Leslie Jones, actress Chandra Wilson, and pro skateboarder Tony Hawk faced off to solve the puzzles. In the end, Hawk won, donating his $173,800 prize to Feeding San Diego, a hunger-relief and food rescue organization in California (via Oside News).
In fact, that's how it always goes on "Celebrity WoF." The winners, who are already plenty wealthy themselves, give their prize money to charity — even if that prize money amounts to a lot. When actress Melissa Joan Hart became the show's first magic $1 million winner in October 2021, she donated the funds to Youth Villages, an organization focused on children's mental and behavioral health, and she was plenty excited about it. "I can't wait to see what they do with it. Because it's going to help so many kids all around the country," Hart told USA Today. The organization's Chief Development Officer, Richard Shaw, was just as happy. "If you knew her, to see how she reacted and to know how excited she was for our kids and our families that are going to be helped, that was really meaningful," Shaw said, explaining the funds would go specifically toward a program to help foster children who had aged out of the system (via Action News 5).
With so much goodwill generated by "Celebrity Wheel of Fortune," it's hard to imagine Vanna White has anything but positive feelings about the show. And the truth is she truly loves the primetime spinoff.
The show is a winner every time
Like any other "Wheel of Fortune" episode from the original series, those featuring celebrity players are full of surprises, according to Vanna White. For her part, she was as shocked as anyone when Hart won that million-dollar prize. "It's absolutely wonderful. I was just thrilled out of my mind to see that happen," White said (via Outsider).
Since then, celebrity contestants have included actor Anthony Michael Hall, singer Joey Fatone, Olympic skater Tara Lipinksi, and many more from all walks of entertainment. And they take the charities seriously they're playing for, each one close to the players' hearts, including Save the Children, the Trans Justice Funding Project, the Boys and Girls Clubs of America, The Actors Fund, and Every Mother Counts (via IMDb).
Being celebrities accustomed to the spotlight, however, we can count on the fact that they know how to enjoy themselves. They're good at entertaining audiences. And that's a big part of what makes "Celebrity Wheel of Fortune" a winner as far as viewers are concerned. "They're definitely fun. You know, they have a great time," White said on "The Kelly Clarkson Show." "And I'm really surprised at how good they really do."