Why Florence Pugh's Voice Sounds Raspy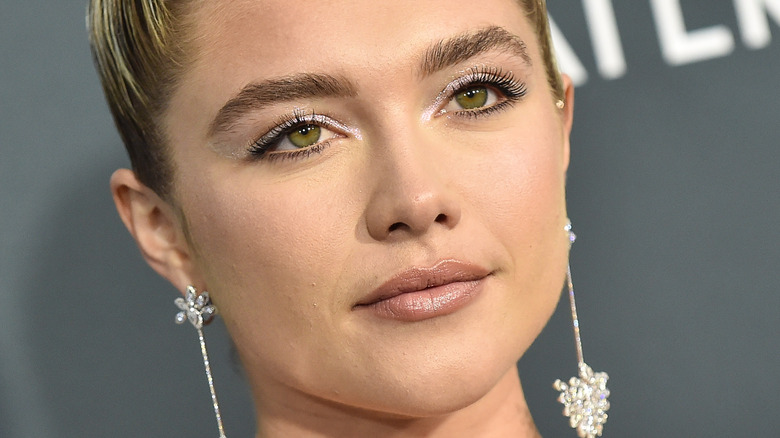 DFree/Shutterstock
Since her breakout role in the 2014 film "The Falling," Florence Pugh has been an unstoppable force in the film industry. She's ventured into various genres, easily bringing whatever role she's taken on to life believably and impressively. From her part as Dani in the successful A24 horror film "Midsommar" to her part as Amy March in "Little Women," which earned her an Oscar nomination for best supporting actress, Pugh has proved herself as a skilled and driven performer. Even Scarlett Johansson discovered Pugh's star quality while the two worked together on the 2021 film, "Black Widow." Pugh also stars alongside Harry Styles in the highly-anticipated 2022 psychological thriller "Don't Worry Darling," directed by Olivia Wilde.
Part of what makes actors memorable to audiences is the unique traits they carry with them from role to role. Pugh has an uncanny ability to become whatever character she's playing, and much of her most highly regarded dialogue is delivered with the raspy voice she has become so well-known for. However, her vocal tone is not an act. There's a very logical reason behind Pugh's unique sound.
Florence Pugh's raspy voice stems from a medical condition
In an interview with Harper's Bazaar, Florence Pugh details everything from why she swapped roles ahead of filming "Don't Worry Darling" to why her voice is so raspy. The article states the reasoning behind it is "the result of a condition called tracheomalacia, which can cause recurrent bronchitis and upper respiratory infections." This isn't the first time her tracheomalacia has been addressed. A 2020 Vogue article tells of Pugh's childhood, moving to Spain, and being in an out of hospitals due to her health issues.
The condition left Pugh with her signature raspy-sounding voice and has become a part of her unique charm dating back to when she covered popular songs on YouTube, including "Wonderwall" by Oasis. Pugh's career has been a long winding path showcasing her impressive talent and versatility as an actor. There's no doubt that yet another wonderful character portrayal can be expected as she steps into a new role; as detailed in her interview with Harper's Bazaar, Pugh stated, "I love playing a distressed woman."