Why Florence Pugh Swapped Roles Ahead Of Filming Don't Worry Darling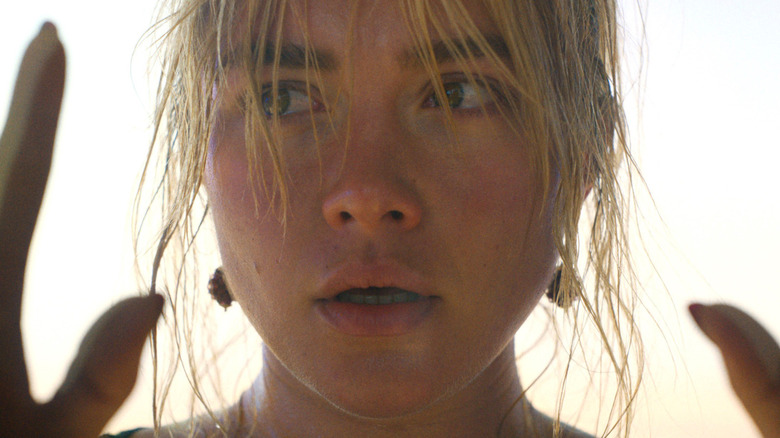 Warner Bros. Pictures
One of the most eagerly anticipated films of 2022 is director Olivia Wilde's "Don't Worry Darling." The psychological thriller stars Florence Pugh and Harry Styles as Alice and Jack, a seemingly perfect couple living in the fictional 1950's town of Victory, California.
As a character, Alice starts out happy with her life, but gradually suspects that her husband's job and the community of Victory harbor some dark secrets. Plot details beyond that are vague, but the film premieres on Sept 23, so it's not far away (via Rotten Tomatoes). In the meantime, here's "Don't Look Darling's" trailer.
Currently, the film is in the headlines not just for its plot, but for its behind-the-scenes drama. Shia LaBoeuf was originally cast in Harry Styles' role, but Wilde fired him in September 2020 (via Variety). Shortly after that, Wilde and Styles struck up a relationship. They went public in January 2021 and dominated the tabloids (via Nicki Swift).
However, Styles' role isn't the only one that was recast with a different actor. Florence Pugh and Olivia Wilde actually switched roles.
It came down to a scheduling conflict between Florence Pugh and Olivia Wilde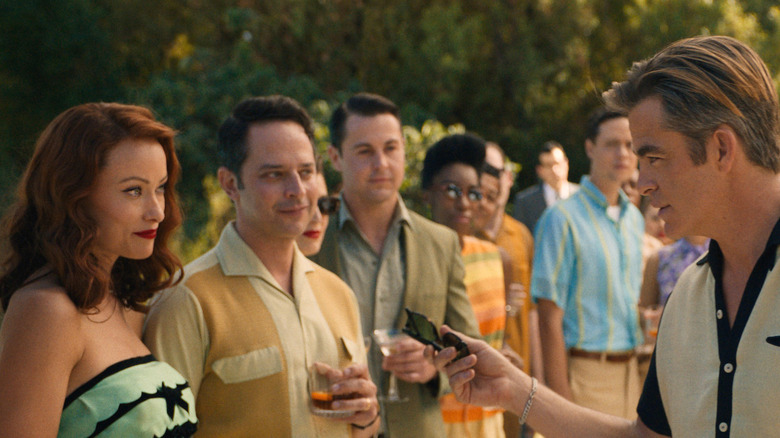 Warner Bros. Pictures
Florence Pugh talked about the role swap, and much more, in an interview with Harper's Bazaar.
Wilde was originally supposed to play the film's main character, Alice, while Pugh was supposed to play Bunny, a role that Harper's described as a "neighborhood wife with a fabulous wardrobe and killer one-liners."
In her interview, Pugh explained that when the pandemic hit in March 2020 and threw everyone's schedules into disarray, it was decided that she and Wilde would switch roles. Pugh also said she was glad to land the Alice role because, "I love playing a distressed woman." Anyone who saw her turn as Dani in 2019's "Midsommar" would agree.
Olivia Wilde was originally announced to direct, produce, and star in the film when New Line Cinema won the bidding auction to finance the film in August 2019 (via Deadline). Pugh was announced as the film's lead in April 2020, about one month after the pandemic arrived in the United States (via Deadline). So, the decision to switch roles was made early in the pandemic.
"Don't Worry Darling" marks Wilde's second feature-length directorial effort after 2019's "Booksmart," and it will be the first film Wilde directed in which she also acted–although, again, not as the lead (via IMDb). Directing herself in a leading role is a challenge that will have to wait.