Scarlett Johansson Discovered Florence Pugh's Star Quality While 30 Stories In The Air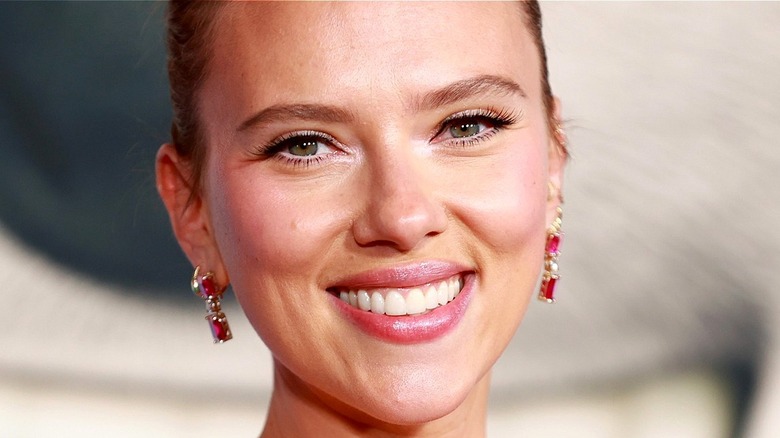 Matt Winkelmeyer/Getty Images
Florence Pugh has been one of the film industry's rising stars for years now, and her Marvel co-star Scarlett Johansson confirms she's got the magnetic personality to match her reputation. After turning heads with her performance in the 2014 Carol Morley film "The Falling," the young actor worked through roles in action thrillers ("The Commuter") and horror flicks ("Midsommar") before being tapped by Greta Gerwig for the role of Amy March in the director's celebrated adaptation of "Little Women." That role earned her an Oscar nomination, and it wasn't long before Marvel Studios came knocking, all by the time Pugh was 25. She's now the star of Olivia Wilde's directorial debut, "Don't Worry Darling," which arrives next month in theaters.
Pugh made her debut in the Marvel Cinematic Universe as Yelena Belova in "Black Widow," where she starred alongside Scarlett Johansson as a fellow spy in the secretive spy organization from which the film takes its title. With the film functioning as a passing of the Black Widow mantle from Johansson to Pugh, the character of Yelena subsequently appeared in several episodes of the Jeremy Renner and Hailee Steinfeld vehicle, "Hawkeye."
"Black Widow" required some especially high-flying stunt work, and according to Johansson, it was while the pair of them were suspended hundreds of feet in the air that Pugh's star power shone through.
Florence Pugh was nonplussed by high-wire stunts on the Black Widow set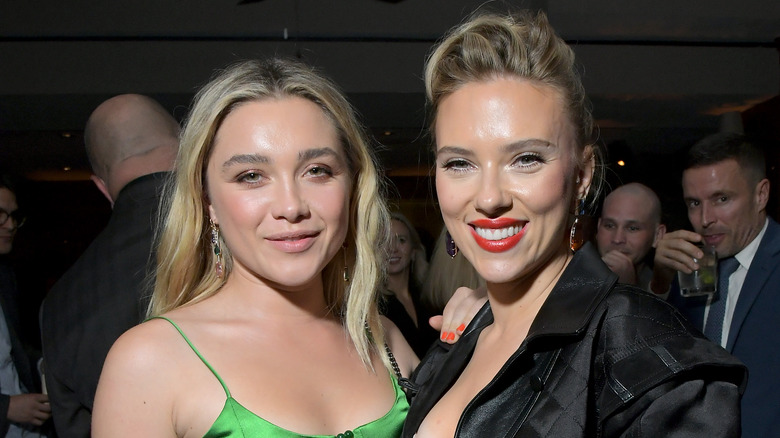 Charley Gallay/Getty Images
Speaking to Harper's Bazaar for a profile on Florence Pugh, "Black Widow" co-star Scarlett Johansson recounted the moment she knew Pugh was meant to be a star. It's a moment that just so happens to have taken place while they were strapped to a pole suspended at skyscraper heights. Johansson recounts that before the director yelled, "Action!" Pugh would be nonplussed by the terrifying situation, simply chatting about dates she'd been on recently. "Two seconds later, we were just connected to each other, hanging on by this thread for life," Johansson says. "I was like, this person is just absolutely...she just has it. She's so keyed in. It's an emotional availability. It's a really rare quality, and it's the star quality she has."
Johansson recounted how different her early days in Hollywood were compared to Pugh's. Times have changed for a young woman in the business, making Pugh a perfect star for the present in Johansson's eyes. "Why I think she represents her generation in such an iconic way is that she really is in her own skin. She's incredibly grounded, but she's also just so self-assured," the "Jojo Rabbit" star mused. "I was not self-possessed in that same way when I was in my early to mid-20s. I still was growing up in the industry in that time when you had to be really pandering in order to be accepted. And she doesn't have any of that at all. She's unapologetically herself."
With yet-unannounced MCU projects surely on the way for Pugh, the next chapter in her career will unfold next month with "Don't Worry Darling," a psychological thriller in which she plays a housewife trapped in an eerily paradisiac 1950s town alongside Harry Styles as her husband. The film opens in theaters on September 23.