She-Hulk Episode 1 Left Fans With Big Feelings About The Improved CGI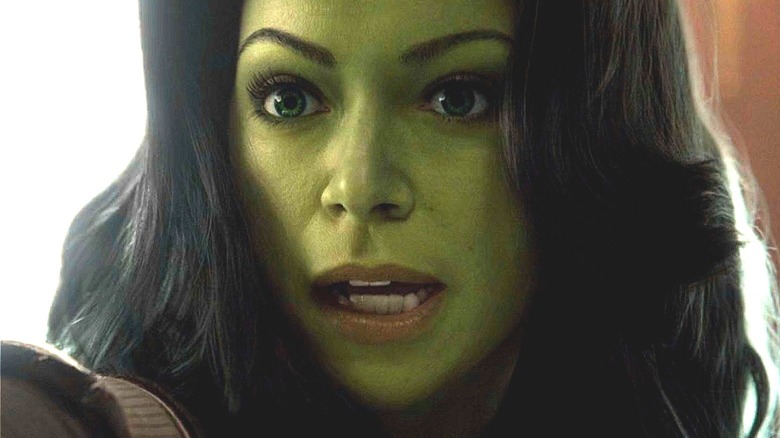 Marvel Studios/Disney+
When Marvel dropped the first "She-Hulk: Attorney at Law" trailer, the reactions weren't great, with a number of fans griping that the CGI effects used to animate Jennifer Walters (Tatiana Maslany) in her greened-out Hulk form were not up to snuff for a franchise with such deep pockets. Now that the series has premiered on Disney+, those critics are getting the chance to see what the finished product looks like.
Leading up to the release of "She-Hulk," the general topic of VFX artists was front and center for many. An anonymous VFX artist wrote a Vulture op-ed bemoaning the harsh workloads Marvel Studios allegedly imposes on the companies it hires to make superhero fantasies come to life on screen. Among the claims in the op-ed, the author said that Marvel underbids houses and burdens VFX workers with harsh deadlines along with persistent requests for changes, causing artists to work grueling hours with constantly shifting targets. In early August, the talent behind "She-Hulk" spoke up in support of VFX artists, adding more layers to the CGI saga the show has faced since dropping that first trailer. 
And now that the inaugural episode of the show has aired, it seems many of those initial critics have changed their tune.
Viewers seem impressed with the CGI in She-Hulk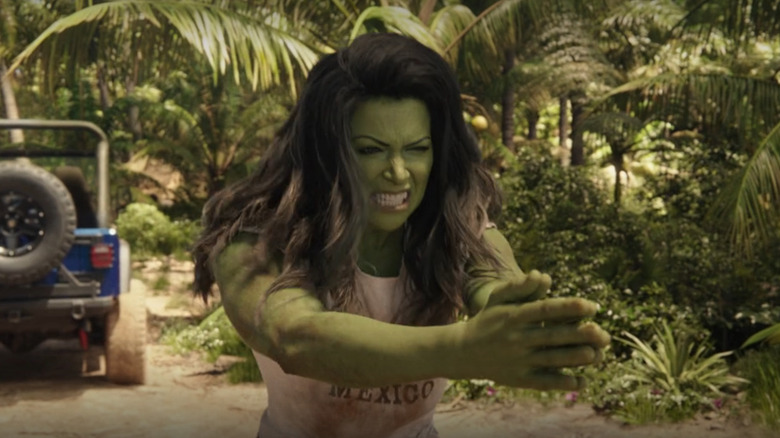 Marvel Studios/Disney+
In a Reddit discussion thread for "She-Hulk: Attorney at Law" Episode 1, user u/bjkman, in a comment apparently referencing the ongoing VFX controversies, snarked, "Nice work underpaid CGI artists! Nice f***ing job!" Other fans in the comments expressed that the effects seen in the show itself are an impressive improvement over that maligned first trailer, while also sharing their sympathies for the artists who most likely worked crunch time to make "She-Hulk" look as good as it does. Commenter u/CrooklynKnight remarked, "Seriously they are THE REAL avengers. Thanks VFX artists."
Of course, as expected, the digital effects still aren't perfectly photorealistic, and some fans did note a measure of disappointment with some aspects of the episode. For instnace, u/jkcohen626 observed of Tatiana Maslany's She-Hulk, "I still think the body and movement is a little bit weird, but the face looked great and that's the most important part to me." Other fans were quite a bit more charitable with their praise, such as u/Anon4Life34, who wrote, "I do have to say there were quite a few scenes where I almost thought it was her painted green. They ended up polishing it well enough in short time.. kudos to them!"
The CGI is sure to be an aspect of "She-Hulk" that viewers will continue to keep an eye on as the show progresses. But for now, it seems that at least a portion of the fandom is happy with the end product and appreciative of the VFX artists whose hard work made it all happen.