Who Plays Fake Tricia On HBO Max's The Rehearsal?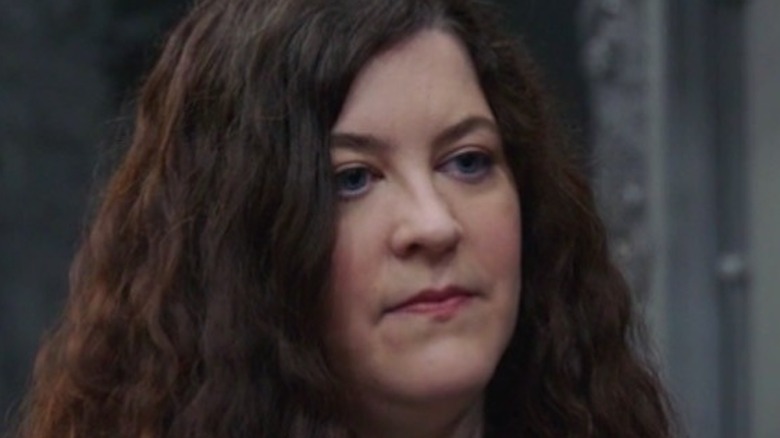 HBO Max
HBO Max's "The Rehearsal," created by and starring Nathan Fielder (best known for his previous show, "Nathan For You," on Comedy Central), has quite the unique premise. In "The Rehearsal," Fielder helps individuals rehearse a potentially stressful moment in their lives by building elaborate sets — often exact, down-to-the-detail replicas from where the event will take place — and hiring actors to help the individual prepare for all the ways in which the moment will may go down.
In the show's first episode, "Orange Juice, No Pulp," Fielder connects with Kor Skeete, a trivia enthusiast who wants Fielder's help telling one of his trivia friends that he has been lying about having a master's degree (he only has a Bachelor's). To practice the nerve-wracking conversation, Fielder and team recreate the bar where Kor and his friends attend trivia night and hire an actor to portray Kor's friend, Tricia, during the rehearsals. Fake Tricia even meets with the real Tricia, under false pretenses (she pretends to be a birdwatcher that the real Tricia is interviewing for her blog), in order to get a better sense of the "character" she is playing for the rehearsals.
So, for those wondering, who plays Fake Tricia on "The Rehearsal"?
Actress Gigi Burgdorf plays Fake Trcicia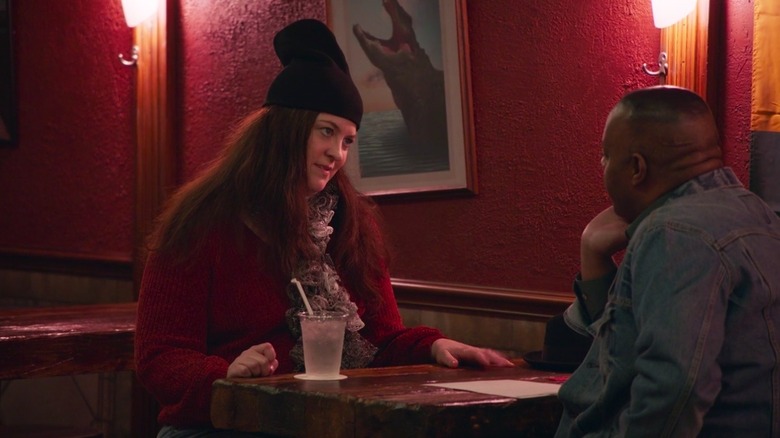 HBO Max
In "The Rehearsal," Fake Tricia is played by Gigi Burgdorf, who has been working as an actor since 2002 when she appeared in an episode of the TV series "Crime Team" (via IMDb). Her next role came in 2005 with a role in the film, "Cross-Eyed Waltz." From there, Burgdorf has appeared in a string of short films throughout her career, such as 2014's "Writing a Film for Leisa Rea," 2016's "Food for Thought" and, most recently, 2021's "The Plan."
Additionally, Burgdorf has continued to have guest roles in TV shows, such as "50 Ways to Kill Your Lover" in 2015 and "Intruders" in 2017. On the film side of things, the actress has appeared in 2012's "Full Firearms," 2014's "Night Bus" and 2022's "American Carnage."
By and large, it's safe to say that "The Rehearsal" is Burgdorf's most widely-seen gig so far. The actress took to Instagram to promote it a couple days after her episode aired. Alongside the promotional photo and a shot of her talking to Kor in the show, Burgdorf wrote, "In case you haven't seen it yet, The Rehearsal is out now on HBO Max. Definitely one of the weirdest jobs I've ever done, and it's fascinating to see how it's all come together!"
Burgdorf is loving the fan responses to The Rehearsal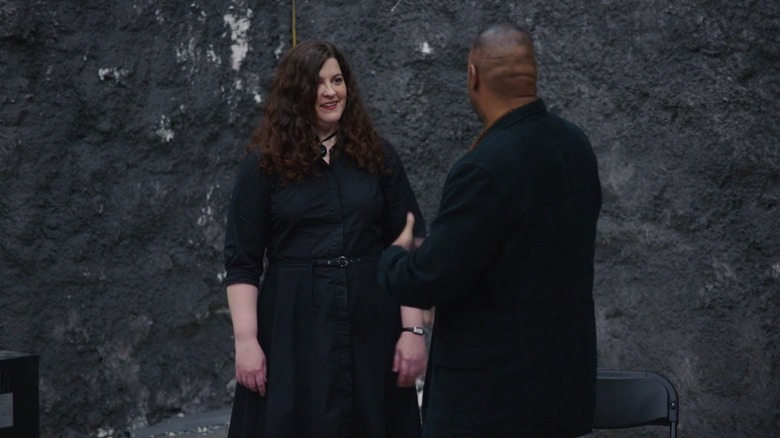 HBO Max
Following the release of "Orange Juice, No Pulp," many fans of "The Rehearsal" took to Twitter to express how much they loved Burgdorf's performance of Fake Tricia — and Burgdorf has responded to the fan reactions. First, she retweeted several enthusiastic fan tweets, such as the one in which @davidvconway wrote, "Starting my 2023 Emmy campaign for the actress who played fake Tricia in the first episode of The Rehearsal." She also retweeted @ryguyperez's tweet, which included a screenshot of Burgdorf in the show and read, "One of the better comedic performances I've seen on TV of late." Further, when @ScottWamplerBMD tweeted that he hopes Burgdorf's stint on "The Rehearsal" leads to more opportunities for her, the actress replied, "Count me in!"
Additionally, Burgdorf posted an article from Mashable, in which writer Caitlin Walsh praises Burgdorf's performance, writing, "As an improv and characterization exercise, it's hard to imagine a more compelling challenge for an actor, and Burgdorf nails it." In Burgdorf's post linking the article, she wrote, "So, um... this might be my favorite article ever (I play Fake Tricia!) #greatreview #omg #blownaway #checkoutthesubtitle."
Finally, Burgdorf even took to Instagram to post a photo collection of all of the fan tweets praising her performance as Fake Tricia, noting in her caption how kind Twitter users have been to her since the episode aired. Naturally, the comments of the Instagram post were full of more fans with kind words to say about her acting skills.