She-Hulk Episode 2 Just Reduced Edward Norton's Incredible Hulk To A One-Liner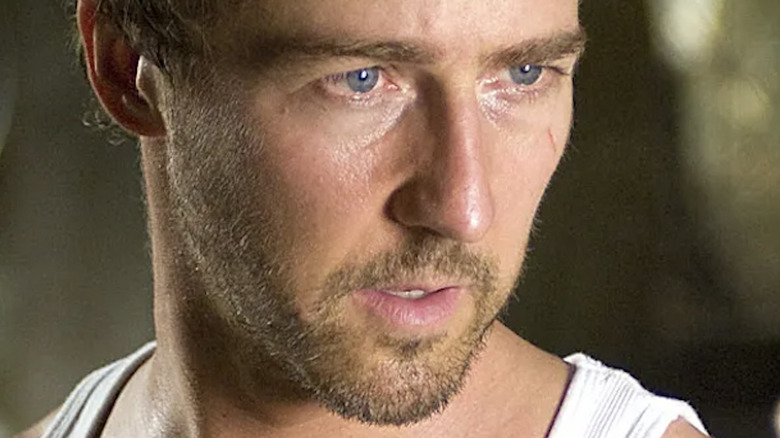 Marvel Studios/Universal Pictures
Although Mark Ruffalo has become the go-to version of the Hulk for modern fans, it's important to remember that the Marvel Cinematic Universe's green giant was first played by "Fight Club" and "The Grand Budapest Hotel" star Edward Norton. "The Incredible Hulk" picks up with Norton's Bruce Banner hiding from the U.S. military in Brazil while working in a bottling plant to maintain a stress-free life and prevent any Hulk-outs.
Actually, Norton not only starred in the Louis Leterrier-directed movie but was also developing a story for a sequel with Marvel — which was ultimately scrapped. The actor opened up about what he wanted to do with the character to The New York Times Magazine, saying, "I laid out a two-film thing: The origin and then the idea of Hulk as the conscious dreamer, the guy who can handle the trip. ... As it turned out, that wasn't what they wanted. But I had a great time doing it."
Ultimately, Ruffalo replaced Norton going into 2012's "The Avengers," and he's a much better fit for the MCU as it is now. It's hard to imagine the "American History X" and "Birdman" star going all in for the likes of "Thor: Ragnarok," "Avengers: Infinity War," and "Avengers: Endgame." This all makes it rather surprising that it took 12 years before a joke was made at the actor swap.
"She-Hulk" Episode 2 follows Jennifer Walters (Tatiana Maslany) as she tries to figure out how to navigate her legal career now that she's become a superhero celebrity. She winds up leading the superhuman law division for a prestigious firm and her first case is a tricky one. Jen is tasked with representing Emil Blonsky, aka Abomination (Tim Roth), in his parole hearing so that he can be freed from the supermax prison he's been locked up in since the end of "The Incredible Hulk." It was the perfect time for "She-Hulk" writers to throw in a sly Noton joke.
Smart Hulk jokes about being a completely different person these days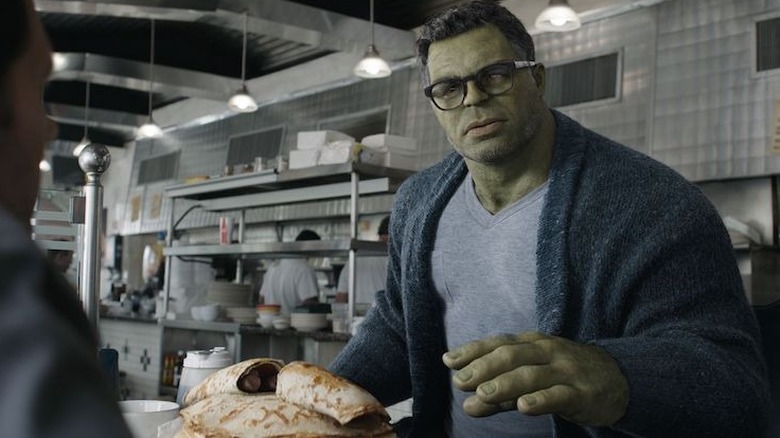 Marvel Studios/Disney
In Episode 2, Jennifer is conflicted about accepting the position at Goodman, Lieber, Kurtzberg & Holliway Law Firm because she's given an ultimatum. She'll have a job with them if she agrees to take on the parole hearing of Emily Blonsky, but if she refuses, she's back on the job hunt that's already proved fruitless. Since Abomination tried to kill the Hulk, Jen has feelings about representing Blonsky. She calls Bruce to get his blessing (despite already making up her mind), and he tells her it's totally fine. Blonsky wrote Bruce a letter and a haiku many years ago, and the two men have since put their past behind them. "That fight was so many years ago; I'm a completely different person now ... literally," Bruce says to Jen. The joke is low-hanging fruit, but it works.
The one-liner is the only nod to the Ruffalo-Norton actor swap in the MCU, but it's not the first time a re-casting joke was snuck into the dialogue of a Marvel Studios film. Terrence Howard initially portrays James Rhodes in the first "Iron Man," but in "Iron Man 2" Don Cheadle plays Tony Stark's best friend. In "The Story of Marvel Studios: The Making of the Marvel Cinematic Universe," Kevin Feige revealed Cheadle's first line in the MCU was ad-libbed, with Rhodes joking in court, "Look, it's me. I'm here. Deal with it. Let's move on." 
Fandral from the "Thor" films was also re-cast with Zachary Levi initially playing the warrior in the 2011 origin movie, to Josh Dallas portraying him in "Thor: The Dark World." Red Skull also underwent a swap as Hugo Weaving played the villain in "Captain America: The First Avenger" and Ross Marquand took over the duties in "Avengers: Endgame."