Laura Dern Reveals New Details About Her Last Jedi Character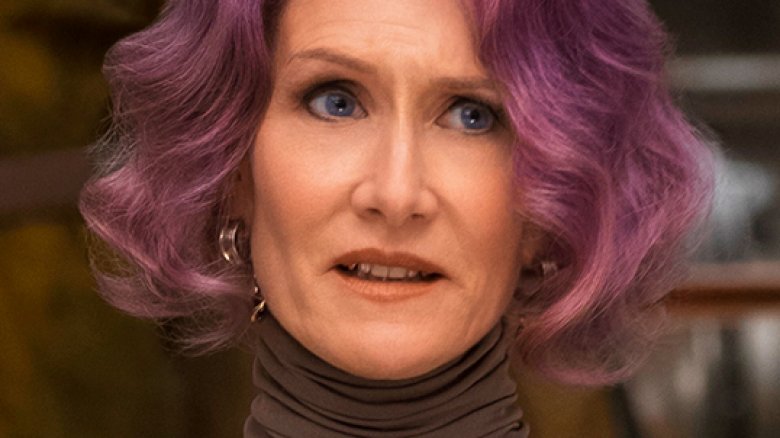 Lucasfilm Ltd./David James
With a new installment in the latest Star Wars trilogy comes a host of fresh-faced characters, not the least interesting of which is Academy Award-nominated actress Laura Dern as the purple-haired Vice Admiral Amilyn Holdo. Though plot specifics for Star Wars: The Last Jedi are being kept under a Stormtrooper-guarded safe over at Disney and Lucasfilm, Dern recently opened up to Entertainment Weekly about her character and what her involvement in the fight against the First Order. 
"She enters the Resistance to shake things up," Dern said, hinting that viewers should be constantly wondering whether they can truly trust her, especially given her leadership style that is far different from General Leia Organa's (Carrie Fisher). She added, "You have to sort of figure out who's side you're on [Holdo's or Leia's], or what your feelings are about her."
Dern also noted that Holdo has "always worked under [Leia] for the Resistance," with Leia being the boss. However, that doesn't mean she will hold back her headstrong nature in serving as the contemporary leader of the Resistance. "Sometimes you need somebody to show up and yeah, teach you a thing or two," Dern said. 
Admiral Holdo's ambiguous morality and fierce attitude will create quite the stir in the Resistance base, with Poe Dameron (Oscar Isaac) butting heads with her even when the two collaborate. "It's definitely appropriate that they've paired us because a lot of the friction and conflict comes between Poe and that relationship with Admiral Holdo, who is this person that's been–at least temporarily–put in charge of the Resistance," Isaac explained in the same interview. "She doesn't particularly look like your typical military leader, and so I think there's a bit of distrust for Poe. He's not sure what to make of her, and then the way she speaks, the things she says."
For Dern, Admiral Holdo serves as a representation of "stereotypes about women bosses," particularly when it comes to the way she dresses, which the actress described as "beautifully subversive" to the typical Star Wars military garb. Holdo's unique aesthetic is meant to show that appearances are often misleading. 
"If she looks a certain way, she can't achieve the job or she must be brazen. You know, all the different versions of what we label someone," said Dern. "I mean, there are reasons why I might look the way I look. From the director to the producers, everyone was painstaking about not only the look, but even the exact color of hair, what it should be and trying different versions. And all I know is I think it's so cool. I love the way she looks."
Overall, Dern's Admiral Holdo will likely spend a ton of screen time with Isaac's Poe–for better or for worse–and will ultimately help seal the fate of the Resistance and the galaxy far, far way for good. 
Star Wars: The Last Jedi also stars Mark Hamill as Luke Skywalker, Daisy Ridley as Rey, John Boyega as Finn, Adam Driver as Kylo Ren, Lupita Nyong'o as Maz Kanata, Gwendoline Christie as Captain Phasma, Kelly Marie Tran as Rose Tico, Andy Serkis as Supreme Leader Snoke, Domhnall Gleeson as General Armitage Hux, and Benicio Del Toro as a character known only as "DJ." The film is due out on December 15.