What Pugsley From The Addams Family Looks Like Today
When "The Addams Family" premiered in 1991, it kicked off a wave of films based on old TV shows like "The Flintstones," "The Beverly Hillbillies," and many others. The film looked promising, featuring well-established actors like Anjelica Huston, Raul Julia, and Christopher Lloyd as Morticia, Gomez, and Uncle Fester, respectively. Christina Ricci was also cast as Wednesday, an 11-year-old newcomer that had recently starred in "Mermaids" with Cher and Winona Ryder. But when Twentieth Century Fox executive Scott Rudin attempted to hire a director for the film, he ran into some trouble.
In an interview with Variety, director Barry Sonnenfeld revealed that "two other directors were approached [before him], Tim Burton and Terry Gilliam, and they're both really good choices. But they both turned it down, so that's how I ended up getting it." As a cinematographer making his directorial debut, Sonnenfeld was chosen by Rudin because he had a very strong visual style.
One actor who was brand new to the film industry was 11-year-old Jimmy Workman, who would play Pugsley in "The Addams Family" and its sequel, "Addams Family Values." While he ended up ditching acting, he still works in the film industry and has a surprising connection to the series "Modern Family."
Jimmy Workman quit acting shortly after the Addams Family films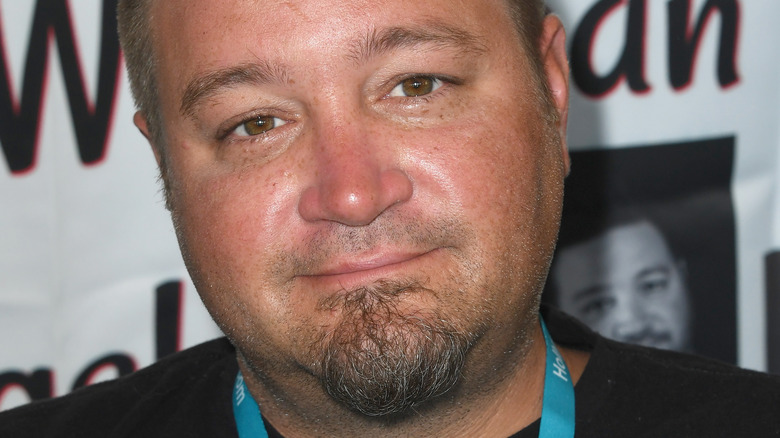 Albert L. Ortega/Getty Images
Jimmy Workman looks a bit different several decades after "Addams Family Values." After the sequel was released in 1993, Workman would play a couple of minor roles in "As Good as It Gets" and "The Biggest Fan," but by 2009, he'd switched careers completely. He's worked as a transportation coordinator and driver for "Star Trek," Suburbicon," and, more recently, "The Last Manhunt" with Jason Momoa (via IMDb). 
Workman's sister is actually actress Ariel Winter, who played Alex Dunphy on "Modern Family." Workman sided with their mother, Chrystal, when Winter claimed she abused her and went to live with the siblings' sister, Shanelle, in 2012. Workman filed his own papers with the court in 2013, asking for custody of Ariel to be transferred to him, alleging that Shanelle wasn't a suitable caregiver. In the end, Winter stayed with Shanelle and told her brother in a text that things with them couldn't be fixed (via TMZ). It's unclear if she and her brother are still estranged.
While Workman keeps busy in the transportation department, he still makes appearances at conventions to see fans. At 2019's New Jersey Horror Con, Workman was asked for his advice for people wanting to become actors, and he said, "I was never one, but I have a lot of friends and family. I believe if you want to be an actor, follow your heart."