A Fan-Favorite Character May Not Be Returning The Witcher Season 3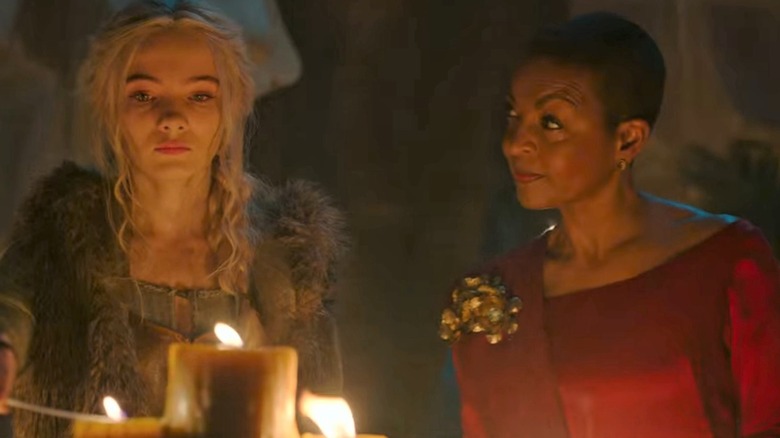 Netflix
As showrunner Lauren S. Hissrich promised, "The Witcher" Season 2 will be less confusing than the freshman season. After the timelines of all the characters finally catch up, Season 2 invites a more straightforward plot as Geralt of Rivia (Henry Cavill) brings Ciri (Freya Allan) to the Witcher stronghold known as Kaer Morhen. This opens up the world of The Continent, showing viewers beloved characters from the books. Vesemir (Kim Bodnia), Lambert (Paul Bullion), and Eskel (Basil Eidenbenz) round out the Witchers at Kaer Morhen as they struggle to teach Ciri the necessary skills to survive.
But with so many new friends to contend with, there is more of a chance that viewers may be disappointed when Season 3 premieres. Already "The Witcher" had fans fuming over Eskel's character arc, who was senselessly killed after being introduced. A popular character in the books, Eskel only appears in the second season to be adversarial towards Geralt before he turns into a Leshen — the formidable tree monster from lore. And with Season 3 rumored to bring in even more characters, we may see even more casualties.
Nenneke's fate is up in the air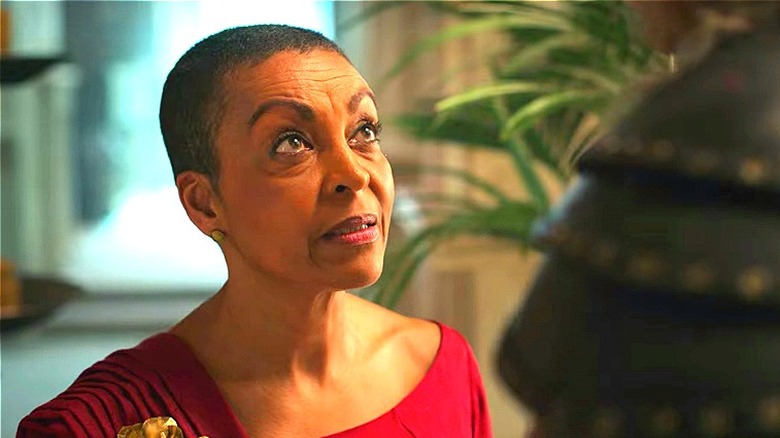 Netflix
Though only appearing in two episodes, Geralt's old instructor High Priestess Nenneke (Adjoa Andoh), makes an impression (via IMDb). Geralt seeks her out to help Ciri control her Chaos. Nenneke dispenses excellent wisdom and empathy towards Ciri, someone who needs it the most. But according to the actor who portrays her, it's unclear if Nenneke will resurface again.
"Yeah, I don't know," Andoh admitted to Radio Times. "We'll see. The books are so huge. And they've gone so many different ways in the stories. Nenneke is in the books a lot. But it depends what they want to do with, you know, this version of it." Andoh confirms that the canon of "The Witcher" books and television series greatly differ, which may throw a wrench in the potential for Nenneke's future. But if anything, she at least has someone in her corner.
Self-defined nerd Henry Cavill is known for fighting to keep elements of the book intact in "The Witcher." The actor is quite aware of the source material, and Nenneke would be part of the Witcher family (via Polygon) if he had it his way. Cavill told Felicia Day during "The Witcher: Unlocked" that Nenneke is a big part of the dynamic and hopes she will be included in the following season. But even if Nenneke is sadly disregarded in "The Witcher," Andoh won't be left in the lurch.
At least Andoh isn't lacking for work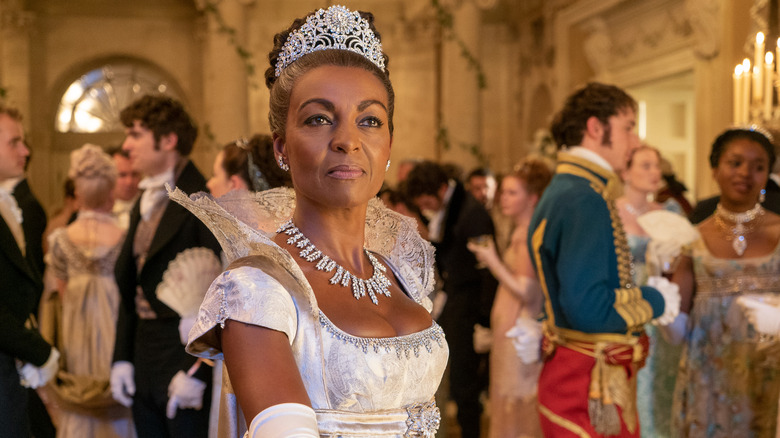 Liam Daniel/Netflix
The future of Nenneke may still be uncertain, but there is one character who is not. Adjoa Andoh does not just have one Netflix venture, but two. Before appearing in "The Witcher," she achieved widespread appreciation for her role in Shonda Rhimes' alternate universe regency series "Bridgerton."
In a world of balls, steamy encounters, and romantic proclamations, Lady Danbury (Andoh) is indispensable. Not only is she the aunt to notorious rake Duke Simon Basset (Regé-Jean Page), but she is a blueprint for how women of the age could get away with independence. Though she married in her youth as women are forced to, she has since found power and joy later in life. She is one of the leading female role models for Kate Sharma (Simone Ashley), who doubts that married life is for her. Danbury's mix of no-nonsense advice, as well as her deep well of emotion, makes for a captivating character. And if "Bridgerton" were not enough for the actor, Andoh will also be appearing in a prequel featuring herself and Queen Charlotte (Golda Rosheuvel) from days gone by.
"These relationships are long-lived between Lady Danbury, Lady Bridgerton, and the Queen," Andoh said in an exclusive interview with E! News. "That's what the prequel is going to talk about. It's Shonda Rhimes writing it, so it is going to be fabulous." Andoh will hit your screens after "Bridgerton" Season 3 concludes production.