The On-Set Moment That Made Andor's Kyle Soller Drop His Coffee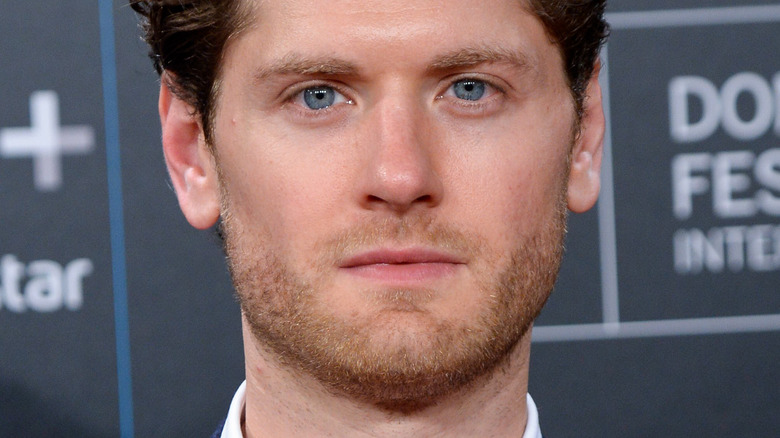 Carlos Alvarez/Getty Images
"Andor," the latest "Star Wars" series to arrive on Disney+, is set five years before the events of "Rogue One," in which Cassian Andor (Diego Luna) and a ragtag bunch of fighters steal the Death Star plans from a base on Scarif. It will therefore not only focus on Andor's journey to becoming a full-blown revolutionary but also touch on the history of the Rebel Alliance during the era between "Episode III – Revenge of the Sith" and "Episode IV – A New Hope," when the Empire rules the galaxy with an iron fist.
Andor is joined by the likes of Stellan Skarsgård's mysterious Luthen Rael, Forest Whitaker's Saw Gererra, and Genevieve O'Reilly's Mon Mothma, a senator who starts the revolution and is clearly going to be a key figure in Andor's transformation into a seasoned spy. Other named characters include Kleya (Adria Arjona), Imperial official Dedra Meero (Denise Gough), and Maarva (Fiona Shaw).
The series also features Kyle Soller in an as-yet-unnamed role. However, this hasn't prevented the actor from participating in a Disney press event promoting "Andor" that Looper attended, where he shared a surprising on-set moment that caught him off-guard.
Kyle Soller was surprised by stormtroopers
Actor Kyle Soller confessed that stormtroopers took him by surprise on set due to how immersive it is, explaining that there were plenty of extras involved. "There was this whole crowd milling about before we started filming, and the crowd somehow parted, and there was this line of stormtroopers," he said. It was at this point that the actor suddenly remembered what he was doing, adding, "I was like, 'Oh, I'm in this sociopolitical drama that's also a family drama and a love story, and there's all this amazing stuff going that's relevant to today, and ... oh s***, there are a bunch of stormtroopers,' and yeah, I dropped my coffee, and my inner child was pretty happy."
It's not surprising that "Andor" feels different, even for the actors in the series, since "Rogue One" is a much grittier affair than most films in the franchise. This largely comes down to Tony Gilroy's involvement with both projects — the showrunner previously wrote the scripts for the first four "Bourne" movies before co-writing "Rogue One" with Chris Weitz. Hopefully, the attention to detail pays off when "Andor" arrives on Disney+ on September 21.