Here's The Mind-Blowing Superhero Crossover The Rock Wants To See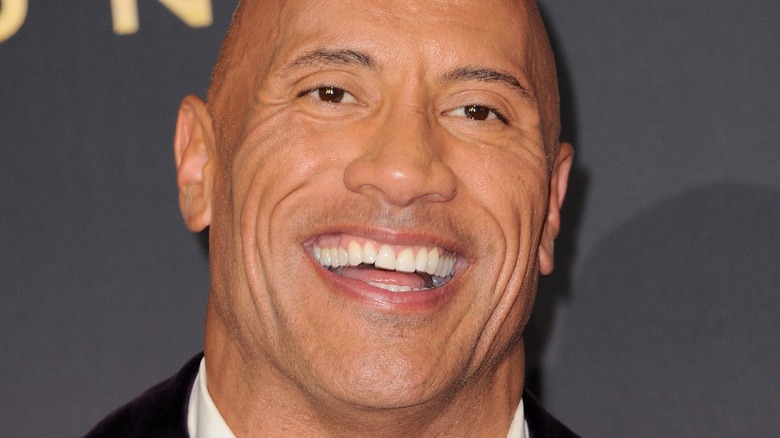 Tinseltown/Shutterstock
Although the DC Extended Universe has struggled to keep up with the immense success of the Marvel Cinematic Universe, it's clear that Warner Bros. Discovery isn't willing to throw in the towel just yet. Indeed, there is a slew of upcoming DC movies that could blow everyone away, bringing to life some of DC Comics' most iconic and beloved characters in their own dedicated solo projects.
One such project is "Black Adam," a film that centers around the eponymous antihero (and former supervillain) who frequently butts heads with the likes of Shazam and Superman. Black Adam himself is set to be played by WWE legend and action hero Dwayne "the Rock" Johnson, who has been extremely vocal about his passion for the character. Indeed, the real reason Black Adam wasn't in "Shazam!" (which could have set him up as the antagonist of the film's upcoming sequel) was because Johnson personally called Warner Bros. to ask that Black Adam receive his own solo film because he felt the character deserved his own story.
Johnson's passion for the character makes it clear that he has his own distinct vision for how Black Adam ought to be treated within the DCEU. In fact, it appears that the Rock even has a few ideas for the future of the DCEU as a whole, including a massive superhero crossover unlike anything we've seen before.
The Rock wants to see Marvel and DC superheroes collide on the big screen
During a recent interview with Total Film, Dwayne Johnson explained that one of the goals of "Black Adam" is to further expand the DC Extended Universe, introducing fans to a host of new characters and even setting up specific crossover films. Surprisingly, he would like one of those crossovers to be between Marvel and DC, uniting heroes from both cinematic universes.
"I am optimistic," the actor said. "Across the street, we have the pantheon of superheroes and supervillains of Marvel. To me, they can not only exist, but they should, in my mind, cross paths one day." Such a mind-blowing crossover event is certainly an exciting prospect, and one that has already happened several times within the comics, most notably in "Superman vs. The Amazing Spider-Man," "DC vs. Marvel," and the George Perez-illustrated "JLA/Avengers."
As unlikely as a DCEU-MCU crossover might be, the precedent set by the comics makes it clear that such a project isn't entirely out of the question. In any case, it's certainly interesting to hear one of the DCEU's newest stars voicing his enthusiasm for such a revolutionary idea.