The Actor Wolfgang Petersen Originally Had In Mind For George Clooney's The Perfect Storm Role
Warner Bros.
The recently departed Wolfgang Petersen had an eye for giving substance to action. Whether it was the way his breakout moment in the director's chair "Das Boot" built suspense through claustrophobia, or how "Outbreak" was able to build the tension of a deadly near-pandemic in a scientifically believable way, Petersen sought to bring depth to blockbusters through his creative choices.
So it was with "The Perfect Storm." Financially, the 2000 film was a big success at the box office, even if its Tomatometer rating reflects how divided critics and audiences were. Based on Sebastian Junger's non-fiction book of the same name, the film told the story of the doomed fishing vessel Andrea Gail as it was sunk during the massive nor'easter of 1991.
The film had an all-star cast that included George Clooney, Mark Wahlberg, and Diane Lane, among others. It is probably most quickly associated with Clooney, who played the Andrea Gail's captain, Billy Tyne. Clooney's performance in "The Perfect Storm" received unenthusiastic notes. The Guardian's Peter Bradshaw went out of his way to end his review with some of the other, more solid, work Clooney had done at that time. "But in The Perfect Storm," he finished, "Clooney, and everyone else, are all at sea."
Maybe, if Petersen had gotten his first choice, "The Perfect Storm" might have had a better anchor.
Wolfgang Petersen originally wanted Nicolas Cage for Captain Tyne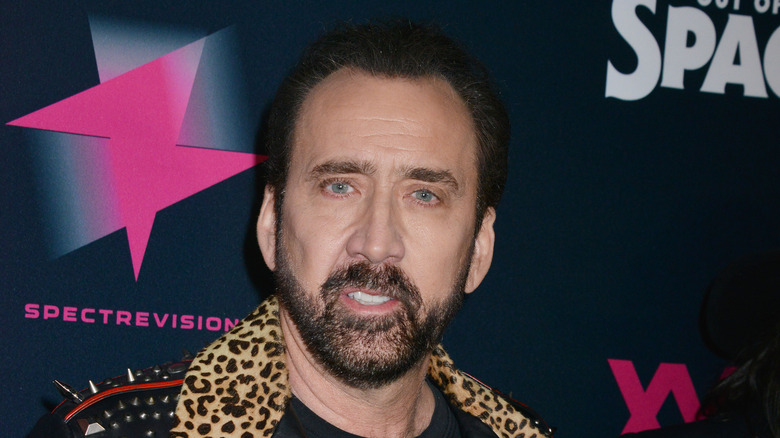 Tsuni-USA/Shutterstock
Speaking with Charlie Rose in 2000, Wolfgang Petersen claimed that his original choice for the part of Captain Billy Tyne was none other than Nicolas Cage. "First idea was Nic Cage, for Billy Tyne, for the George Clooney character," he said. Cage was unable to play the role because he was busy with "Gone In 60 Seconds."
Petersen then met with Mel Gibson, who apparently was not cast because he wanted too much money. As odd luck would have it, "The Perfect Storm" would open the same weekend as "The Patriot," which starred Gibson. It came in second on opening weekend, while "The Perfect Storm" would come in first, per Box Office Mojo.
Ultimately, as Petersen told Rose, he ended up going with Clooney after sneaking in to watch an unfinished cut of his film "Three Kings," which also saw him acting alongside Mark Wahlberg. Then, when Petersen met with Clooney, he told the director that he didn't actually want the part of Billy Tyne, but of Bobby Shatford, which ultimately went to Wahlberg. Apparently, Clooney was under the impression that a fishing boat captain would be far older than he was. "I think ... he had a little bit of hesitation if he can fill the shoes of this big part," said Petersen.