Every Russell Brand Movie Ranked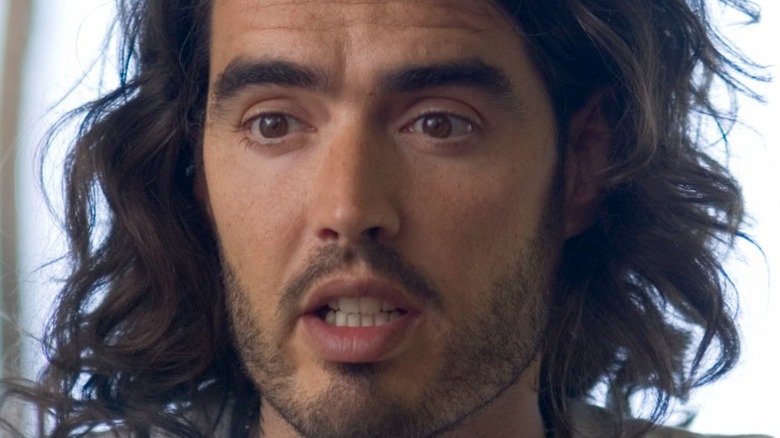 Universal Pictures
About a decade ago, with the one-two punch of his supporting role in "Forgetting Sarah Marshall" spinning off into a lead role in "Get Him to the Greek," it seemed like Russell Brand would become a ubiquitous movie star. Instead, we haven't seen or heard that much about him over the last several years on the film front, as he's focused on other media like documentaries, occasional voice-over work, and an increasingly bizarre and conspiracy-laden YouTube channel. While it once seemed his motor-mouthed, irreverent stage presence and personality would translate into consistent comic relief roles, he's chosen not to make acting his primary career, while Hollywood hasn't beaten his door down either.
Setting aside his voice work in kids' movies like "Trolls" or the "Despicable Me" franchise, Brand has appeared in 12 feature films, usually as a thinly veiled version of himself. Just as he's used his own celebrity in real life to skewer the news media and our society at large, he often plays characters who satirize outsized egos and fame itself, like famous rock stars or other out-of-touch, wealthy, or elite personalities. Though not often first on the call sheet, Russell Brand has chosen parts in a surprisingly diverse array of films, adding his unique flair to each one. This is every Russell Brand movie, ranked worst to best. 
12. Paradise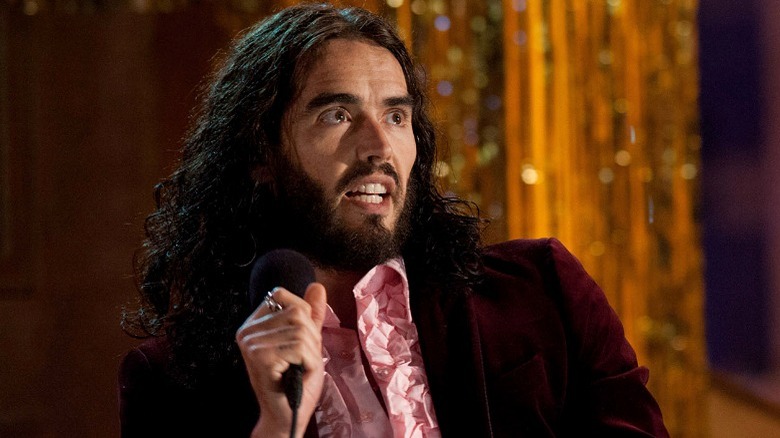 RLJE Films
Screenwriter Diablo Cody has never been known for being particularly subtle in her quippy, snarky screenplays for well-received movies like "Juno" or "Young Adult." But she really overshot the mark with her directorial debut, "Paradise," in 2013. Julianne Hough stars as a cartoonishly sheltered young woman from conservative Christian Montana, named "Lamb Mannerheim," who resolves to go experience the pleasures of the godless secular world in Las Vegas. The film's title is a reference to the fact that the majority of Sin City is actually in Paradise, Nevada, perhaps the subtlest joke in the movie.
Russell Brand plays a friendly bartender named William who has a few funny lines and echoes of Brand's usual vitality. But he's watered down into a relatively bland temporary love interest in what may be the most tame, family-friendly movie ever set in Vegas — it goes against the very nature of the city for the film to be rated PG-13 in the first place. It's by far the most forgettable film of Brand's career, as well as that of slumming cast heavyweights like Oscar winners Octavia Spencer and Holly Hunter. Diablo Cody likely agrees: "Paradise" will probably be her only directing credit, as she told the Hollywood Reporter after the experience, "I don't think I possess the leadership qualities required to be a director." 
11. Army of One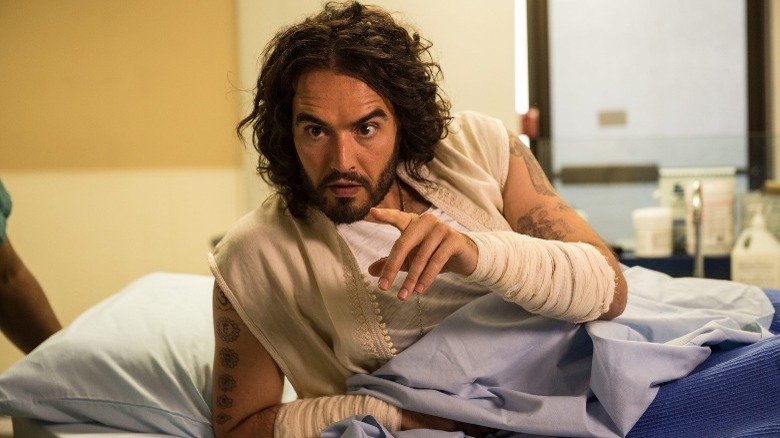 TWC-Dimension
"Army of One" is a bizarre comedy that got lost in the chaos of 2016, the year that reality and parody became more or less indistinguishable. Nicolas Cage stars as a crazed man with no military training or experience who decides to go to Pakistan and find Osama bin Laden, in a film that makes the most of his inhuman penchant for crazy, bug-eyed performances. "Army of One" also has "Borat" director Larry Charles behind the camera, and is improbably based on a real person, but the movie was buried on VOD and got just a few, terrible reviews. 
Depending on your Cage tolerance levels, Russell Brand is arguably the highlight of the movie in the role of God himself. Cage's character has visions and conversations with God, who charges him with the mission to track down bin Laden all on his own. Brand manages to bring his usual comic energy to the role while also playing the straight man to Nicolas Cage, whom no one can really outdo in "over the edge" mania. "Army of One" has some laughs, but it's one of the many cases where the truth is probably even more interesting than a dramatization.
10. Arthur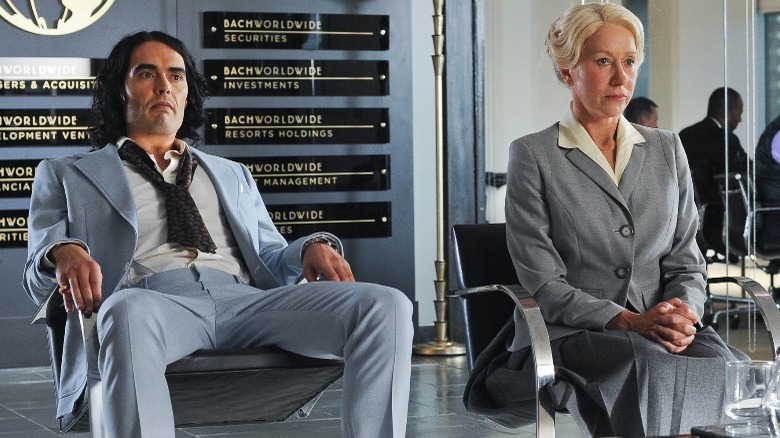 Warner Bros. Pictures
The year was 2011. After the modest box office success of "Get Him to the Greek" the year before, Hollywood was briefly all-in on the Russell Brand business, with his voice-over role in "Hop" and his starring role in "Arthur" debuting just one week apart. "Arthur," a remake of one of the most inappropriate PG movies of all time, seemed like a perfect vehicle for Brand as he took over the role originated by Dudley Moore, another beloved British satirist. A foppish playboy with unlimited resources, who runs circles around every other character, seemed like the role Brand was meant to play.
Unfortunately the reviews were less than kind, and the new "Arthur" struggled to make back its budget. Brand did his best, but post-recession America was perhaps not as keen to root for the antics of the title character, a drunken and aloof billionaire, as they were in 1981. The character of Arthur is also famously a drunk, which Russell Brand couldn't play terribly convincingly, having been publicly sober since 2002. Despite game work by supporting players Helen Mirren, Greta Gerwig, and Julia Garner, "Arthur" was a flop and Brand's last gasp as the movie star with the biggest trailer.
9. Bedtime Stories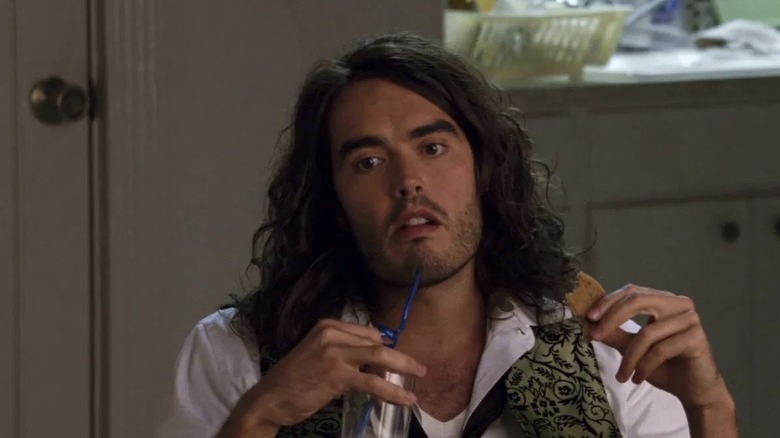 Walt Disney Studios
2008's "Bedtime Stories" gave audiences at last what no one was asking for: the combination of star Adam Sandler's mumbly-mouthed, crude movie persona and a family-friendly Disney sensibility. A strange, tonally all over the place riff on fairy tales as well as needlessly elaborate motel zoning issues, "Bedtime Stories" stars Sandler as a weirdly toned-down version of his normal self, whose niece and nephew suddenly gain the ability to change reality by adding details to his bedtime stories — like gumballs raining from the sky.
Russell Brand shows up to collect a paycheck in a thankless role as Sandler's dopey best friend. He does get to have a little bit of fun by appearing in teeny parts in each of the fantastical bedtime stories, which are depicted to us in the manner of "The Princess Bride." "Bedtime Stories" could have been more fun if it committed fully to its fairy-tale conceit, but it stays mired in the particulars of a very typical Sandler movie plot, which sees his character stumble into good fortune and have beautiful women fall for him as usual (in this case Keri Russell). Critics place "Bedtime Stories" very deservedly in the bottom third of Russell Brand's filmography.
8. The Tempest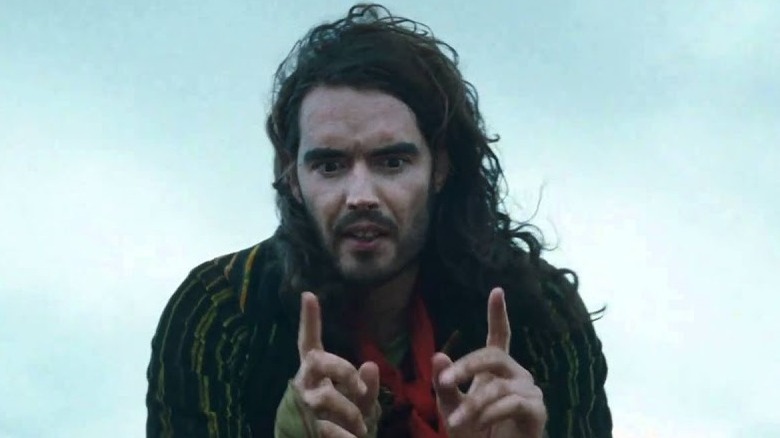 Walt Disney Studios
Russell Brand's jabbering, lithe and kinetic energy are reminiscent of the court jesters of the Middle Ages, impish figures that pop up in every culture and poke fun at authority. This makes him a delightful fit as Trinculo, jester to King Antonio (Chris Cooper) in Julie Taymor's 2010 adaptation of William Shakespeare's supernatural masterpiece, "The Tempest." While Shakespearian dialogue is a challenging and different muscle for most dramatic actors to flex, Brand just seems like his normal self as the sociable, impetuous Trinculo.
Ultimately "The Tempest" is a strangely flat movie, especially after Taymor's earlier Shakespeare adaptation, "Titus," a wildly ambitious, colorful and expressive vision of the Bard's most bizarre play, "Titus Andronicus." "The Tempest" features Helen Mirren (Brand's "Arthur" co-star) in the starring role as Prospera, a gender-flipped version of the play's Prospero, but it hardly does anything else differently and is far less interpretative and distinct than many of Taymor's other films. Brand does stand out as one of the highlights, along with a perfectly cast Djimon Hounsou as Caliban.
7. St. Trinian's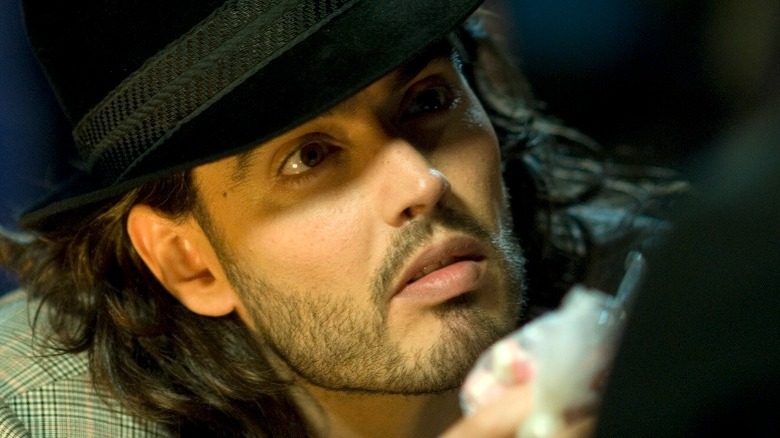 Entertainment Film Distributors
Russell Brand's first movie was "St. Trinian's," a British franchise that dates back the better part of a century which many Americans have never even heard of. Rebooting a series of beloved films from the '50s and '60s, "St. Trinian's" follows the whacky misadventures of the pupils of the titular "uncontrollable school for girls." Brand plays the very British-named character "Flash the spiv," which is slang for a seedy underworld type, who gives the girls of St. Trinian's a literal lesson in crime to help them fundraise to save the school.
Despite being made in 2007, "St. Trinian's" is a throwback to an old school and decidedly ribald type of British comedy — one if its chief gags involves Rupert Everett inheriting the tradition of a man dressing up in drag to play St. Trinian's headmistress. Wearing what's probably one of his own fedora hats, Brand acquits himself well as Flash, although he sadly didn't reprise the role for the 2009 sequel.
6. Rock of Ages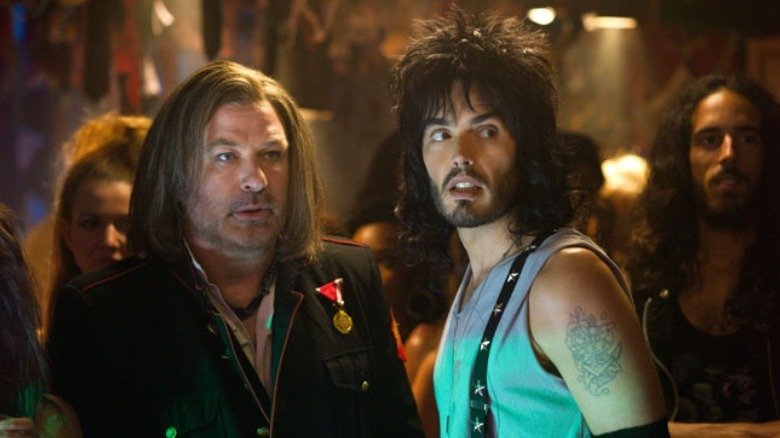 Warner Bros. Pictures
Even with his larger-than-life personality, Russell Brand is nearly lost in the shuffle of the absurdly star-studded "Rock of Ages," a jukebox musical adaptation of the hit Broadway show that's less a movie than a delivery system for musical interpretations of several '80s glam-rock classics. Brand has some fun, but is easily drowned out by the combined star power of Catherine Zeta-Jones, Paul Giamatti, mega-star Tom Cruise, and Alec Baldwin, who ultimately regretted filming the movie as soon as it began.
To be fair, "Rock of Ages" more or less flopped with critics and didn't sell many tickets upon release, but director Adam Shankman (of "Hairspray" fame) thinks it was just made a little before its time. He told Forbes that it "would have been huge if it had been something that was made for streaming." Whether that hypothetically huge streaming audience would be genuine or ironic is in the eye of the beholder. In the end, "Rock of Ages" wasn't one for the ages, as it were, but is certainly the most spectacularly unique of Russell Brand's movies.
5. Four Kids and It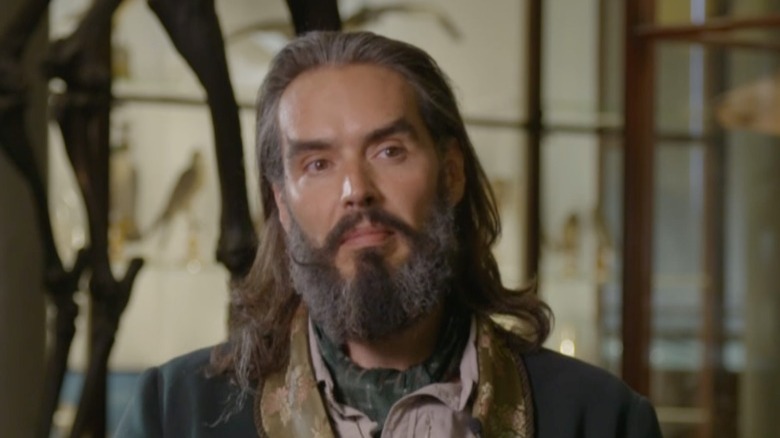 Sky Cinema
"Four Kids and It" is a decent kids' movie with a curious origin. It's based on a book that's a modern sequel to E. Nesbit's classic "Five Children and It," and features the same wish-granting sand creature known as Psammead. One wonders why filmmakers paid for the rights to a 2012 continuation of a story when they could just adapt the now public domain 1902 original, but they perhaps wanted to avoid confusion with the 2004 adaptation of "Five Children and It." In any case they had one less child to cast.
Russell Brand sports a more dapper than usual wardrobe and elaborate facial hair to play the villain of the movie, the pompous Tristan Trent III. Brand uses his elastic persona to fully commit to a role that many actors would lazily mail in for a paycheck: the character is so cartoonish a villain that he all but twirls his mustache in every scene. In a brief time-traveling interlude, Brand also gets to play his character's remarkably similar-looking grandfather, who reacts with fear to modern technology and is even more over-the-top. His performance, along with Michael Caine's voice work as Psammead, are the highlights of a movie critics agreed wasn't terribly memorable.
4. Penelope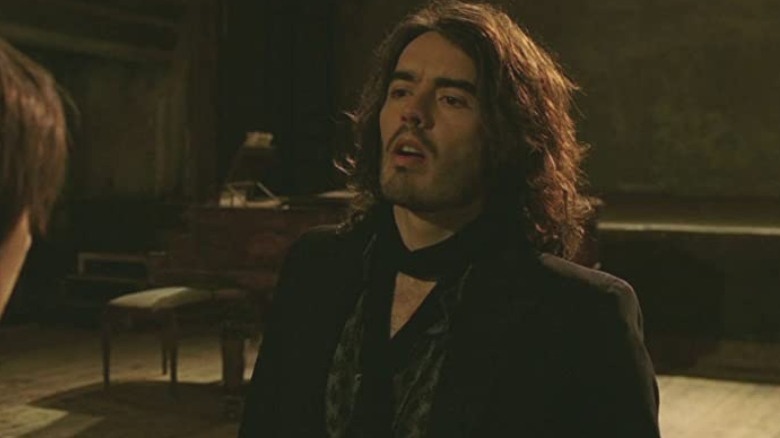 Summit Entertainment
In truth, Russell Brand has a glorified cameo in the movie "Penelope," appearing for all of five minutes as "Sam the Jazz Club Owner" but sounding a lot like Russell Brand. Still, the movie is a charming, fairy tale rom-com more than worth checking out in its own right. Christina Ricci plays the title character, a young woman with a pig's nose as a result of a centuries-old witch's curse on her family. We're told via voice-over that surgery is "not an option," so Penelope's mother hides her away until, as the witch foretold, the love of "one of her own kind" will break the spell.
Like its contemporaries "Enchanted" or "The Princess Diaries," "Penelope" puts a modern spin on fairy tale romance and ultimately tells a story more about self-acceptance than Disney-like romance. Nonetheless a young James McAvoy shines as Penelope's duplicitous love interest, and her parents are played to comic perfection by ringers Catherine O'Hara and Richard E. Grant. Peter Dinklage also appears as a one-eyed paparazzo desperate for a picture of the pig-nosed rich girl. "Penelope" has a lot to recommend it, and a little bit of Russell Brand to boot. 
3. Death on the Nile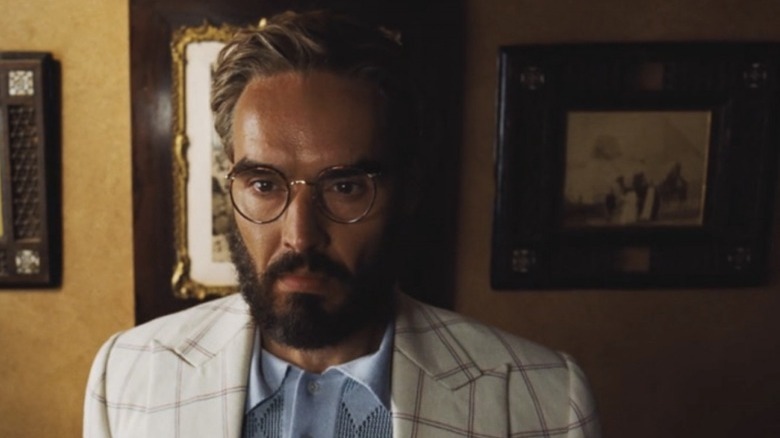 20th Century Studios
"Death on the Nile," the second entry in Kenneth Branagh's Poirot Cinematic Universe after "Murder on the Orient Express," has such a stuffed cast of suspects that it's actually easy to nearly miss Russell Brand, who for perhaps the only time in a movie neither looks nor acts like his typical self. Brand plays a doctor named Linus Windlesham, who was once engaged to Gal Gadot's character and inexplicably agrees to attend her engagement party even after she leaves him for another man. Naturally, he's just one of many people with shadowy motivations, as befits an Agatha Christie adaptation.
Despite the lengthy delay in release due to the COVID-19 pandemic as well as the controversy surrounding star Armie Hammer, "Death on the Nile" was received warmly by critics and made enough to warrant a sequel. In a departure from Christie's source material, it actually gives a tragic backstory to Branagh's detective Hercule Poirot, briefly giving us glimpses of a love lost to a wartime calamity and explaining his singular drive as a detective. Russell Brand acquits himself well in his few scenes: knowing him as we do, it's good acting indeed for him to convincingly play a reserved, quiet character that's easy to overlook.
2. Get Him to the Greek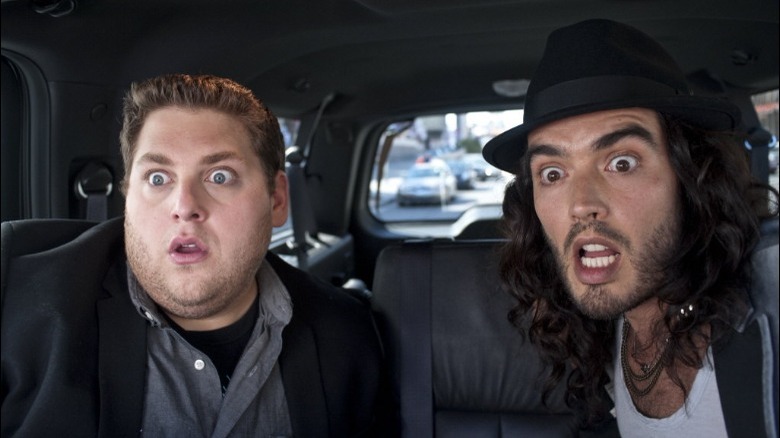 Universal Pictures
In the character of Aldous Snow, Russell Brand found the perfect recipe for movie stardom. A larger-than-life rock star with little control over his mouth or impulses in general, Brand got to let loose in all the ways that play to his strengths as a performer, nowhere more so than in "Get Him to the Greek." Jonah Hill co-stars as a nervous, stammering record label assistant given the impossible task of attempting to shepherd Snow from London to the titular Greek Theater in Los Angeles within 72 hours.
It's not a coincidence that Brand has played this character in his two most well-received and successful movies, nor is it one that they're both R-rated. "Get Him to the Greek" is a whirlwind road movie of sex, hard drugs, and all-out debauchery that even puts many of Jonah Hill's other raunchy comedies to shame. It's also surprisingly clear-eyed and in-depth about Snow's problems with addictions, as the character has relapsed after his relationship falls apart and his son is taken away from him. Brand's own history with heroin and sobriety no doubt played a large part in shaping his most famous role.
If you or anyone you know is struggling with addiction issues, help is available. Visit the Substance Abuse and Mental Health Services Administration website or contact SAMHSA's National Helpline at 1-800-662-HELP (4357).
1. Forgetting Sarah Marshall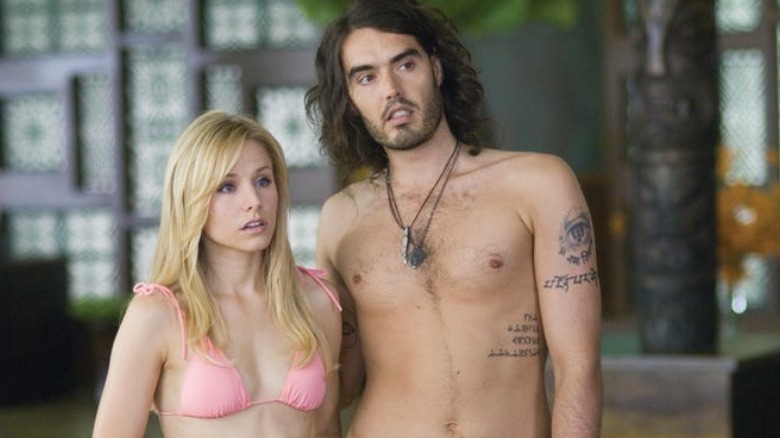 Universal Pictures
Russell Brand's best movie is, of course, the first appearance of Aldous Snow in "Forgetting Sarah Marshall," where he's essentially designed to be the polar opposite of Jason Segel's anxious and more buttoned-up main character Peter. Although he's an antagonist in a lot of ways and ultimately turns out to be a jerk to Sarah (Kristen Bell), Snow also wanders through the movie providing benevolent wisdom and importing a sort of zen calm to everyone he meets. The movie is brilliant because it mines both humor and dramatic tension from the very real pain of breaking up, and Snow is the character that allows it to nimbly do both of these things at once in several scenes.
Whether it's diffusing the awkward tension between his girlfriend and her ex, dealing with Jonah Hill's obsessive hotel employee, or helping out a newlywed couple having trouble in the bedroom, Aldous Snow is the MVP of "Forgetting Sarah Marshall," stealing every scene he appears in by way of Russell Brand's rapid-fire but smooth delivery. It was the movie that would officially make Brand a star on two continents, and remains the high water mark of his film career.