Inside Adam Sandler's First Big Break Appearing On The Cosby Show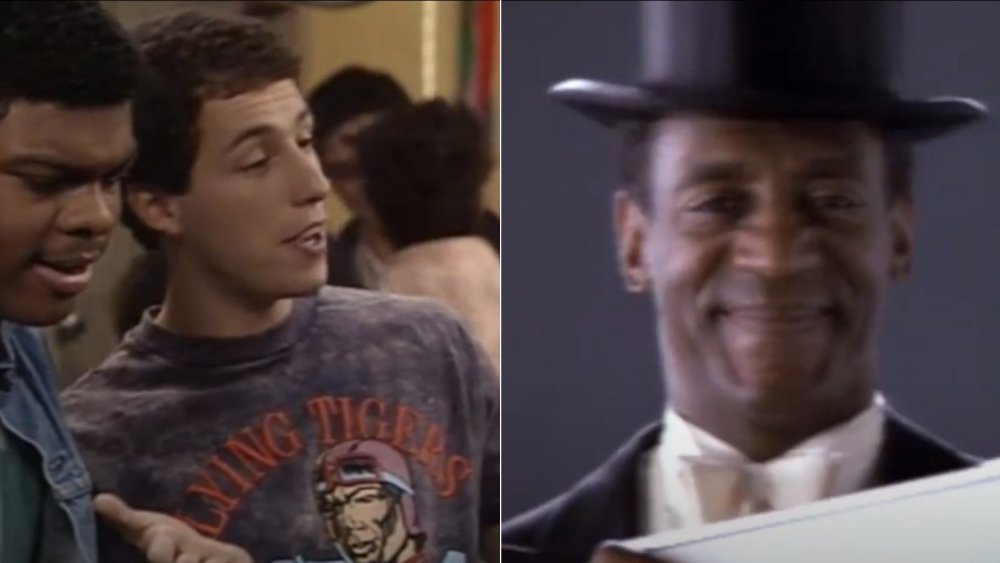 NBC
In October of 2020, the cameo-riddled Hubie Halloween joined the pantheon of Happy Madison Netflix originals. The film features prominent callbacks to Adam Sandler's previous work — kids shout "O'Doyle rules!" as they pass by, Ben Stiller's orderly from Happy Gilmore makes an appearance, even The Waterboy's sheets get enough screen time to re-up their SAG-AFTRA benefits. With a back catalogue of work as robust as Sandler's, these references draw into focus the films he didn't call back to. Where was the Spanglish Easter egg? How does the story tie in to Reign Over Me? Does Hubie's cautious nature stem from the loss of his twin brother, the gambling addict and precious stone purveyor who was viciously slaughtered in his New York business establishment?
Still, there's one absent corner of the Sandler-verse that makes sense: his big break. It's easy to forget that before SNL made him a goobity shoobity star, Adam Sandler got his start working with another silly sound enthusiast — albeit one whose legacy has taken a sharp left turn in the years since. The odds of catching his work in syndication are slim, but if you want to check it out for yourself, the DVDs are probably going for pretty cheap these days.
Back in 1987, Adam Sandler landed his very first onscreen role on the number one rated television program in America, The Cosby Show.
Adam Sandler was a Cosby Show vet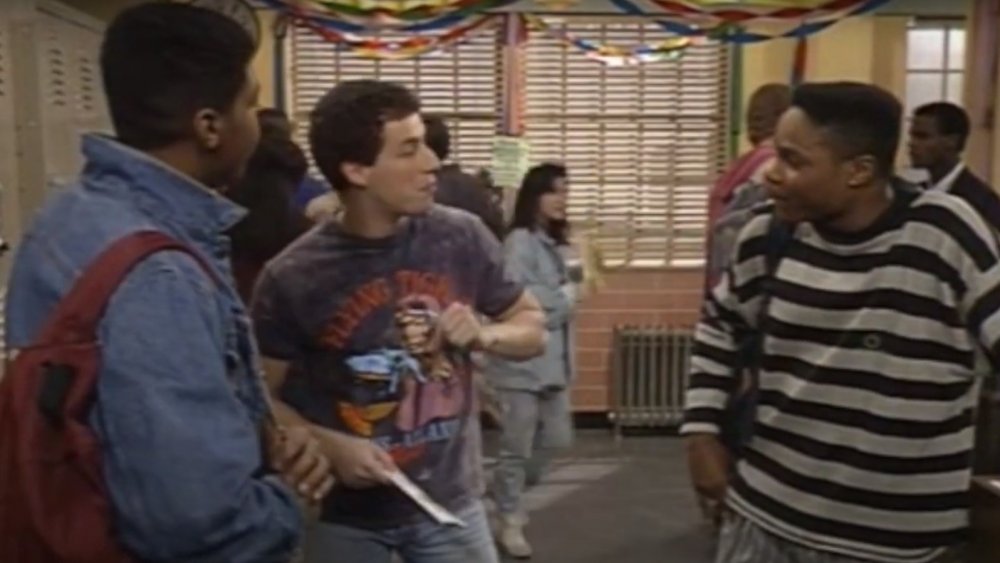 NBC
It was three years before Sandler's 1990 Saturday Night Live debut when the 18-year-old comedian appeared on The Cosby Show. He played Smitty, Theo Huxtable's friend from school. Lessons were learned. Jealousy was addressed when Cockroach got a spot on Dance Mania. Theo learned to overcome his trepidation towards visiting a friend in the hospital. Details about Smitty's life were spread thin on the ground, but this much we know: he liked girls, and his cousin was the limo king of Forest Hills. The television landscape looked different back then.
Frequent Sandler collaborator Kevin James also got an early career boost from the spokesman for New Coke, appearing on Cosby in a 1998 episode of Cosby. During a press event for Grown Ups 2, he and Sandler discussed their work with the disgraced Dr. Huxtable. Asked how Cosby's comedic timing influenced him, Sandler stated that "Well, our generation, every one of us, he was the one." 
"He was extra smooth, man," James added. "I remember watching him. I learned a lot from him."
Sandler, who noted that Bill Cosby probably wouldn't remember him given that he was a teenage unknown at the time, recalled receiving advice from Cosby early in his career. "He told me that you should try to keep it clean when you do your act, and think about if it's necessary to use that curse or not." Asked whether or not he's done so, Sandler replied, "I don't think I've ever cursed before."
Sandler hasn't spoken much about his time on the series over the years. In 2015, when asked by Global Grind about whether the removal of The Cosby Show from syndication detracted from the good things that the show had done, he astutely observed, "I don't have a good answer for that, but I understand both sides of it, but I don't know what the right thing to do is."