What Kevin James Thinks About This Popular King Of Queens Prequel Theory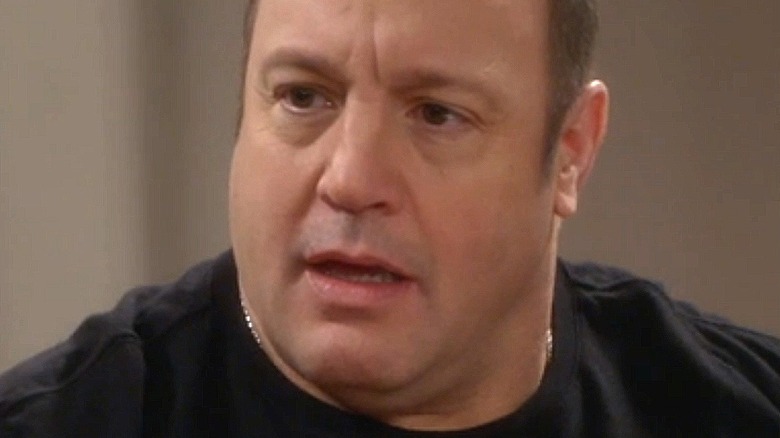 CBS
With a network TV run extending from 1998 to 2007, "The King of Queens" was a bit of a sleeper sitcom, never quite attaining the pop-culture heights of more prominent hits from the period like "Seinfeld," "Friends" or even "Will & Grace."
On the other hand, "The King of Queens" did rack up nine seasons and over 207 episodes (per IMDb), which is no laughing matter, so to speak. And the series also catapulted a basically unknown Kevin James from stand-up comedian to mainstream network TV star. As the hard-working delivery guy Doug Heffernan, James is joined by Leah Remini as his wife Carrie and "Seinfeld" alum Jerry Stiller as Carrie's odd-ball dad Arthur.
As for James' opinion of his acting chops on the series, the star admits to The Philly Voice that, "I was definitely the weak link for sure as far as acting was concerned on the show. Leah (Remini) and Jerry (Stiller) had done a crazy amount of things. Leah had done so much stuff." He added that the show was his first starring TV role and that he views it all as a learning experience. And one thing James clearly learned: how to sell sitcoms to a network, with his next episodic TV venture, "Kevin Can Wait," debuting in 2016 and airing for two seasons (via IMDb).  All of that being said, what was James' reaction to a certain prequel theory being floated about "The King of Queens"?
Kevin James doesn't buy this theory about Kevin Can Wait vis-a-vis The King of Queens
In an interview with EW in 2017, Kevin James is asked point blank if his sitcom "Kevin Can Wait" is in any way a prequel to "The King of Queens." The question is at least marginally on point, since "Kevin Can Wait" is yet another family-based comedy with James playing Kevin Gable, yet another diligent, blue-collar husband, this time around portraying a former cop. But there's also another, specific resemblance between the two shows: Leah Remini, James's wife on "The King of Queens," eventually ends up joining the cast of "Kevin Can Wait" as Gable's new business partner. Coincidence? Well, Esquire's Matt Miller certainly doesn't think so.  In fact, in a 2017 article for Esquire, Miller declares that there's incontrovertible evidence that: "Kevin Can Wait is a prequel to King of Queens."
As it turns out, however, the above EW article title basically answers the whole is-it-a-prequel issue, reading: "Kevin James says 'Kevin Can Wait' isn't 'King of Queens' reboot." Responding to the question of whether "Kevin Can Wait" was actually developed as a return to the world and characters of "The King of Queens," James replied definitively, "No, no. It's totally different..." the actor says. He then goes on to explain that while he was eager to work with the talented Leah Remini once more, he's emphatic that, "It was never to do the 'King of Queens' again."