What Bob Odenkirk's Cinnabon Training Was Really Like For Better Call Saul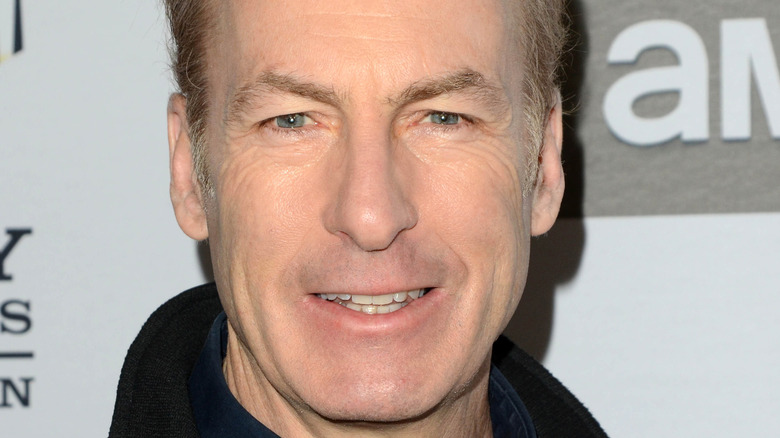 Kathy Hutchins/Shutterstock
Product placement is so common in television shows and films nowadays that we don't even flinch when we notice it anymore. After DirecTV bought the rights to air "Friday Night Lights" before anyone else, Applebee's became a secondary character on the show. Tyra (Adrianne Palicki) on "Friday Night Lights" even became an Applebee's employee, so mentioning the restaurant every episode didn't seem too odd. "We feel like we want to do everything in our power to keep the show going," series writer Jason Katims explained to NPR about the excessive product placement.
Product placements occur hundreds of times during a show's season and are often done so subtly that it slips seamlessly into the storyline. "Better Call Saul" is no different than any other show seeking funding, with shots of HP and Dell computers, L.L. Bean jackets, Nike sneakers, and other items regularly worked into view. But oddly enough, when Saul (Bob Odenkirk) mentioned to Walt (Bryan Cranston) that if he was lucky, he'd be managing a Cinnabon in a year, it was simply a line in the script. "Pretty much we had no idea that line was even going to be in the series," Cinnabon's VP of marketing, Michael Alberici told Decider. "We're extremely grateful for that line." What followed was a Cinnabon tweet to Odenkirk that changed everything for "Better Call Saul," including Cinnabon training.
Cinnabon coached Bob as if he was a real Cinnabon worker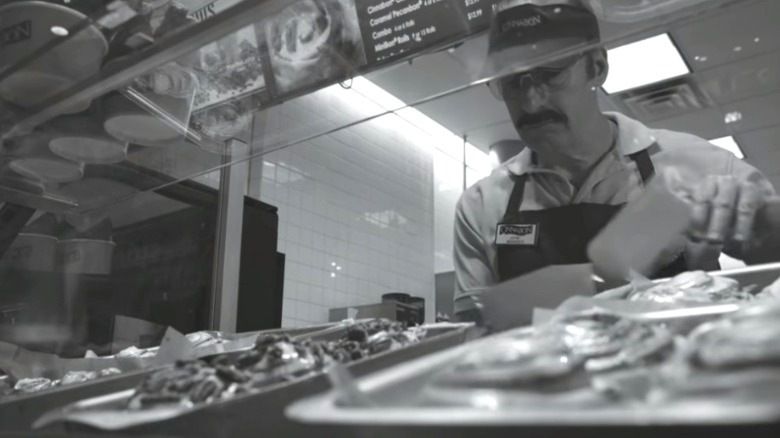 AMC
When it comes to making "Better Call Saul's" Gene Takovic (Odenkirk) look like a natural as a Cinnabon manager, it turns out Cinnabon literally comes to the set to make sure everything is as authentic as possible. "So they [AMC] reach out to us and they just say, "Hey, we're gonna feature Cinnabon in the opening scene — or not even that, they'll just say in a scene — and we just go to work. And we train Gene as if he's a real bakery manager down to a T," Michael Alberici said to Decider. "We send our operations team and our culinary team out on site. And for every season, we prepare hundreds (if not thousands) of cinnamon rolls, we prepare the bakery set, and we help coach Bob and the other actors to serve as real-life crew members."
While the collaboration between "Better Call Saul" and Cinnabon was unexpected, Cinnabon has taken full advantage of it, such as tweeting out free coffee promotions when new seasons begin and even giving fans a chance to attend "Better Call Saul" events if they take a selfie with a lifesize cutout of Saul at one of Cinnabon's locations.
With the show coming to a close, Alberici says Cinnabon's social media team will live tweet the final episode, and they're very grateful for their seven-year partnership with the show. And who knows? Maybe we'll see commemorative Gene Cinnabon buns in the future.