The One Line In Breaking Bad That Changed Everything For Better Call Saul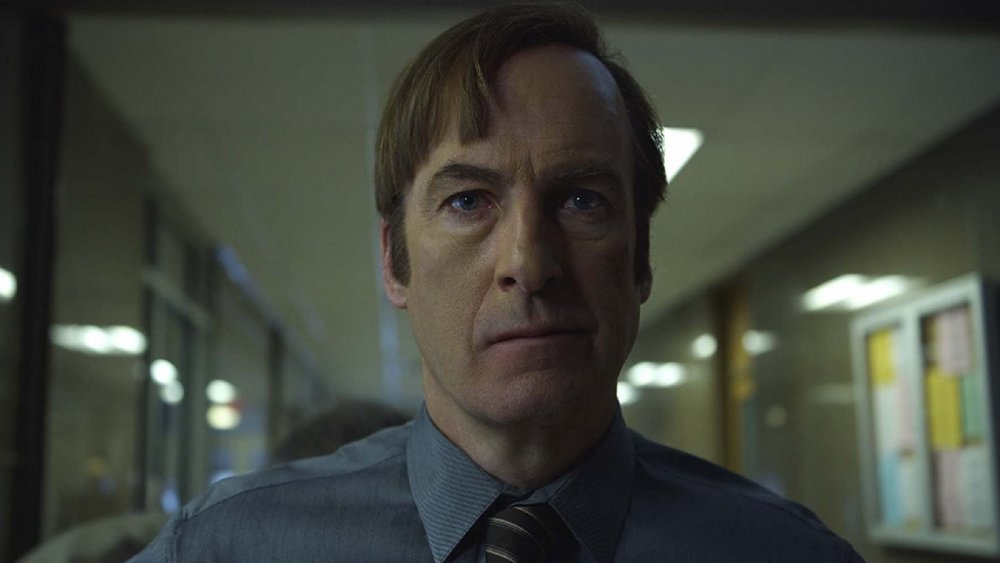 AMC
Better Call Saul might be coming to an end in 2021, but it will be remembered as one of the rare spinoff shows that can be compared to its parent show without shame — no mean feat considering said parent show is the beloved Breaking Bad. Though Saul focuses on small-time crook Jimmy McGill (Bob Odenkirk) and his inevitable metamorphosis into the amoral lawyer we know as Saul Goodman, it has also given us plenty of other characters to root for or gleefully dislike, such as Jimmy's brother Chuck McGill (Michael McKean), Nacho Varga (Michael Mando), the affably ominous Lalo Salamanca (Tony Dalton) and, of course, the fan-favorite Kim Wexler (series MVP Rhea Seehorn). Armed with an array of fresh, nuanced characters, a careful selection of familiar faces from Breaking Bad, and the uncompromising vision of co-creators Vince Gilligan and Peter Gould, Better Call Saul has earned its place among the best shows on television.
Surprisingly, as carefully structured and cleverly plotted as the show may be, a significant part of its premise started from a single throwaway sentence Saul Goodman uttered before anyone could even imagine the sleazy lawyer getting his own spinoff. Let's take a look at the one line from Breaking Bad that changed everything for Better Call Saul.

The penultimate episode of Breaking Bad sealed Saul Goodman's fate as a Cinnabon manager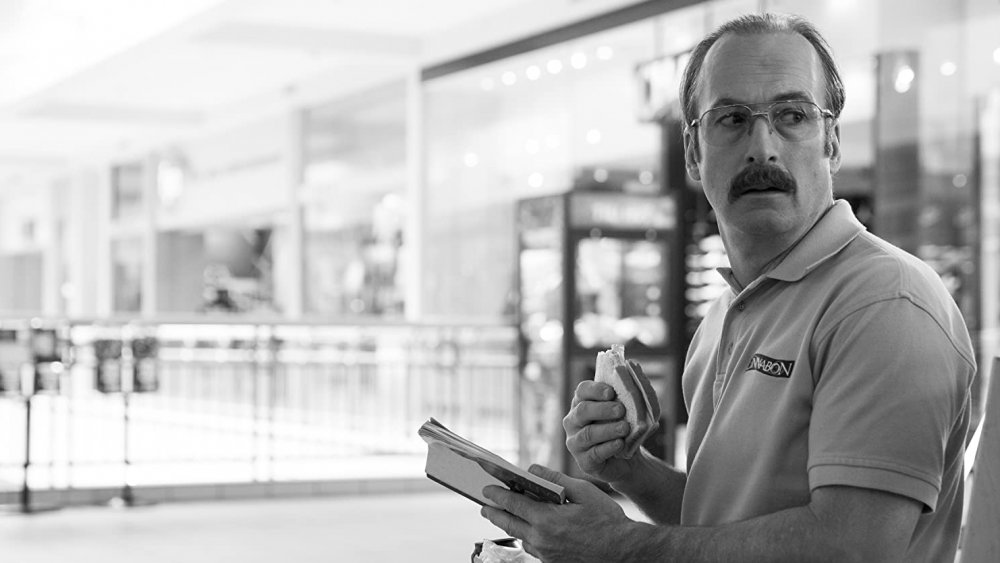 AMC
Better Call Saul acts as both a prequel and a sequel to Breaking Bad, as it explores Jimmy McGill's fate at two different points of his life. We see his slow transformation from a well-meaning huckster to the heartless and sleazy Saul Goodman of the Breaking Bad era, but we also see his drab, monochrome post-Breaking Bad existence as Gene Takovic, a joyless dude hiding behind his glasses and mustache at a shopping mall Cinnabon in Omaha. He ended up there after turning to Ed Galbraith (Robert Forster), the vacuum cleaner repairman who also moonlights as an expert Disappearer serving criminals on the lam. As Cheat Sheet notes, Jimmy's late-life circumstances might have been very different if it wasn't for a single line in the penultimate episode of Breaking Bad, entitled "Granite State." 
The episode sees both Saul and Walter White (Bryan Cranston) deep in Ed's extraction process. In their final conversation in the Disappearer's temporary hideout bunker, Saul makes it clear that he's well and truly out of the game. "If I'm lucky, a month from now, best-case scenario, I'm managing a Cinnabon in Omaha," the soon-to-be-former lawyer tells Walt. Sounds pretty familiar, doesn't it?
Showrunner Peter Gould and Cinnabon were equally surprised by how the sentence shaped Better Call Saul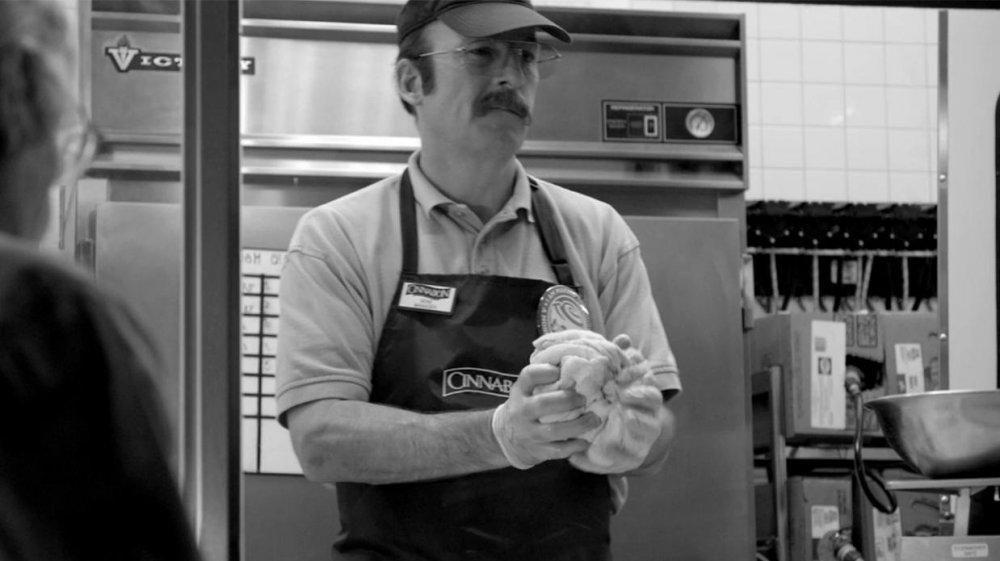 AMC
Peter Gould wrote Saul's fateful Cinnabon line in Breaking Bad, and he's as surprised as everyone else by the impact it ended up having on Saul. In an interview with USA Today, he revealed that he had no idea how far that single sentence would take the story. "I just wrote that scene and it sounded funny, but it never occurred to me in a million years that we'd actually show what we show at the beginning of episode 1," Gould said. 
Once the need to incorporate the Cinnabon thing in Better Call Saul's story became evident, it wasn't hard to get Cinnabon on board. While Breaking Bad's dark drug-dealing antics reportedly made product placement a veritable juggling act before the show reached its legendary status, the already high-profile Better Call Saul and its enterprising main character had no such problems. "What's terrific is Cinnabon is this all-American brand, it's known to everyone, and it fits with the Saul Goodman character," AMC's executive vice president of marketing Linda Schupack has noted. Cinnabon has certainly embraced the brand partnership, and the company has run various Better Call Saul-themed campaigns. 
While it might be pretty surprising to find out that Saul's fate was ultimately sealed by a funny offhand line all the way back in 2013, Better Call Saul's stellar critical response proves that it all worked out in the end. As Jimmy McGill would put it in his glory days: "It's all good, man!"