Harry Potter's Evanna Lynch Had A Hilarious Reaction To The First Book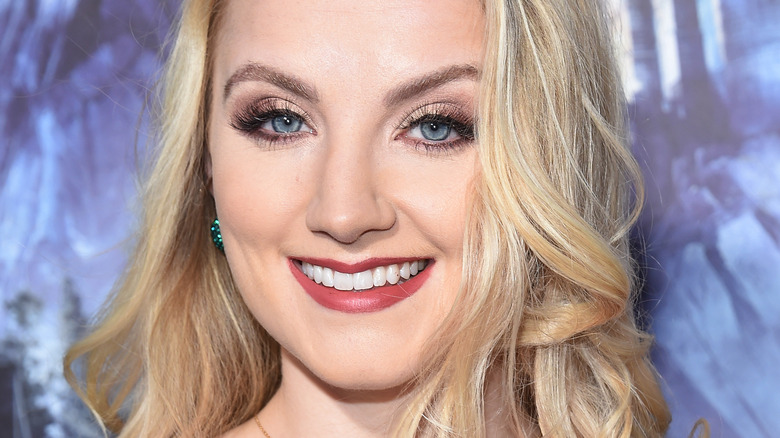 DFree/Shutterstock
"Harry Potter" has emerged as one of the biggest franchises of the 21st century. With best-selling books, movies that set the box office on fire, and a never-ending collection of clothing and merchandise, the Wizarding World shows no signs of slowing down its growth.
The "Harry Potter" series has always felt like a safe space for outsiders, and that remains part of its appeal. Its central character is a nerdy outcast who comes from a poor family who despises him just for existing, and there are many other unlikely heroes who share the limelight with him over the course of the franchise.
One such character is Luna Lovegood (Evanna Lynch), a strange, aloof character who is regularly bullied for her odd behavior but never lets anyone dampen her sparkle. Surprisingly, though, Lynch initially balked at the idea of reading the book series as a child for a reason that's just as bewildering as the character she would go on to play.
Evanna Lynch didn't want to read about a boy with glasses
Evanna Lynch has had a rich career as an actor, author, and activist, but her rise to stardom all started with "Harry Potter." This makes it all the more amusing that her reaction as a child to the books was to reject them for the silliest reason imaginable when her mother brought the first book home (via Buzzfeed). "I remember my first reaction just being like, 'I don't want to read about a boy with glasses,'" Lynch recalled thinking. "I just had no interest in it, so I ignored it."
Little kid reasoning has to be one of the funniest things in the world. Surely we can all recall a similarly arbitrary thing that we thought was super important as a kid and how we were subsequently proven wrong almost immediately. Luckily for her, Lynch was no different and soon found herself eagerly enjoying the magical adventure just as much as the rest of her family.
"Then my mum was reading a chapter to my brother at bedtime, and I was in the room, and I was like, 'Oh s***, this is good,'" Lynch went on. "So then, when they went to bed, I took that book, and that was it. I just started reading, and I loved it."
It sounds like Lynch learned a valuable lesson that day, which is that sometimes you just have to admit you were wrong — particularly when it's keeping you from enjoying something. Either way, the actor inevitably went on to love the series and is still beloved by fans today for her work in the "Harry Potter" franchise.
Tom Felton hadn't even read the books before auditioning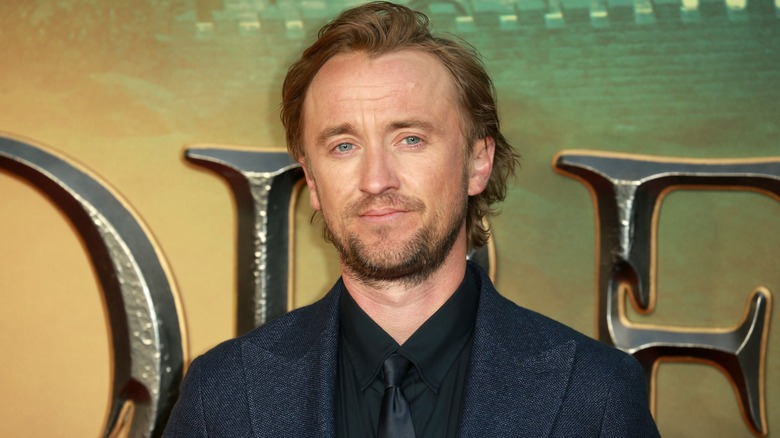 Cubankite/Shutterstock
As it turns out, Tom Felton was even further behind than Evanna Lynch was. The actor behind villainous bully Draco Malfoy across all eight "Harry Potter" films admitted that he hadn't read a single word of the books when he first auditioned for Chris Columbus, who directed the first two adaptations in the film series (via MyLondon).
"They lined up all the Dracos, I guess, and asked them which part of the book they were most excited about seeing made into film," Felton told "The One Show." "I only realized ... when the chap next to me was answering the question that I did not know what the hell they were talking about," the actor went on. "So I sort of repeated what the chap next to me said, and Chris Columbus, the director, saw straight through my lie, and that may have helped clinch me the part for Draco. It worked out in my favor!" he concluded.
That's a pretty amazing story, to be sure. It's wildly counterintuitive to think that being caught in a lie might actually help you get a job, but in this case, it was exactly what Draco Malfoy would have done, so it might have helped to endear Felton even more to the "Harry Potter" director.