The Only Big Bang Theory Episodes That Kaley Cuoco Will Watch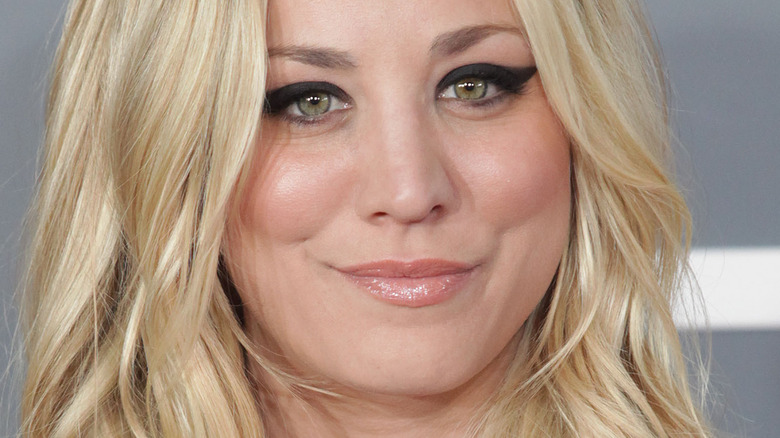 DFree/Shutterstock
Over 12 seasons on the hit sitcom "The Big Bang Theory," Kaley Cuoco's Penny endures the relentless nerdism of a crew of endearingly awkward, high-I.Q. Caltech pals as they attempt to navigate the outside world, meet girls, and bulk up their superhero action figure collections. As a wannabe actress initially working a Cheesecake Factory day gig, Penny is seen early on as the apartment house neighbor of physicist Leonard Hofstadter (Johnny Galecki) and prickly uber-genius Sheldon Cooper (Jim Parsons), eventually marrying Leonard after weathering a variety of relationship ups and downs.
While her role as Penny on "The Big Bang Theory" is the part that made her a mega-star, Cuoco was no stranger to working in front of TV cameras before she joined the show's cast. In addition to TV commercials and guest spots on a number of series, she stars with the late John Ritter and Katey Sagal on the ABC sitcom "8 Simple Rules" and joins Holly Marie Combs, Alyssa Milano, Rose McGowan, and Shannen Doherty for 22 episodes of the WB's "Charmed." In fact, in an interview on Backstage about acting together on "The Big Bang Theory" and how the cast members all earned their Screen Actors Guild cards, Cuoco's co-star Kunal Nayyar, who portrays scientist Raj, joked that she was "handed her card when she came out of the womb." 
So, with all the above in mind, which episodes of "The Big Bang Theory" is veteran actress Kaley Cuoco willing to watch?
Kaley Cuoco will only watch this category of Big Bang Theory episodes
With a total of 279 episodes of "The Big Bang Theory" aired (per IMDb), Cuoco actually appears in a mere 277 installments, missing two shows after she broke her leg in a horse riding accident (per TV Line). As it turns out, however, she has definite feelings about which of those many episodes she will watch, and which ones she avoids. Speaking to Conan O'Brien on his podcast "Conan O'Brien Needs a Friend," the actress admitted she refuses to watch the newer episodes, saying, "The recent ones are still too recent for me. It's just too emotional for me." So, now that we know what Kaley Cuoco just says "nope" to, which specific installments of the show is she actually comfortable taking a look at?
As revealed in this YouTube clip of her appearance on "The Kelly Clarkson Show," Cuoco said that if she comes across the show when flipping through channels, "I will turn it on, if it's an older episode. Nothing new. I can't do anything too recent because it's like too close." She went on to explain that she hardly recognizes herself in those early outings, with her character's frequent changes in hairstyle and clothing. So, while she clearly avoids newer installments of the show, Cuoco is apparently fine with tuning into her earlier stints as Penny on "The Big Bang Theory."