The Netflix Hero Fans Desperately Want To See Return To The MCU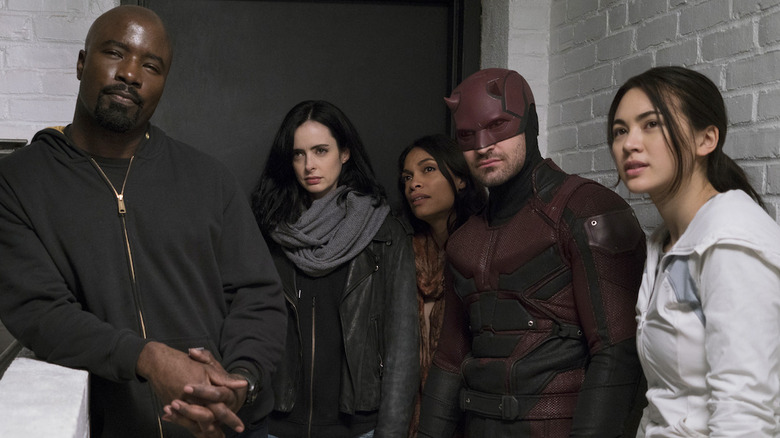 Sarah Shatz/Netflix
As Disney and Marvel's merger continues to result in the comics giant's characters returning to its portfolio, fans of the Marvel Cinematic Universe have been reaping the benefits. There's a brand new Disney-led "Fantastic Four" movie, which is set to open Phase Six of the movie series in 2024 after decades of films about the superfamily from 20th Century Fox. Other characters which have been previously heavily connected to other studios are also returning to the fold; a new Daredevil series, "Daredevil: Born Again" will stream on Disney + in 2023. A continuation of the Netflix  "Daredevil" program, it will have a number of returning actors — Charlie Cox will reprise his role as attorney and vigilante Matt Murdock, and Vincent D'Onofrio will be back as Kingpin.
Since "Daredevil: Born Again" was greenlit, rumors have been flung far and wide that other heroes will become a part of Marvel's larger universe. The Punisher, who had a Netflix series that lasted for two seasons, was bandied about for a possible return by fans. And there's one other MCU character who had their own Netflix series but hasn't made their appearance in the universe since. But that doesn't mean that fans wouldn't absolutely die to have them back in the MCU.
Fans are yearning for a Jessica Jones reboot
If her "Defenders" colleagues can receive reboots for their own series, why not Jessica Jones? Fans of the private detective and all-around tough-as-nails heroine will remember that the character had a Krysten Ritter-led Netflix series which lasted for three seasons, from 2015 to 2019, before Jones became a character on Netflix's "The Defenders." After that show was canceled after one season (per NME) and the Marvel and Disney merger began, the series disappeared into the cultural ether. With "Daredevil: Born Again" now a done deal, fans definitely want to see Jessica pop up on the show.
Twitter fans can't get enough of Ms. Jones and desperately want her back in the MCU, causing her name to trend on Twitter on August 15. "if Jessica Jones makes a surprise appearance in She-Hulk, Echo, or Daredevil Born Again, I will absolutely SCREAM uncontrollably," said @jonny_tompkins. @ir0n_devil doesn't just want a new Jessica series, they want a full-on continuation of the Netflix television universe, including the show's original writing staff to return.
"Daredevil: Born Again" isn't the only upcoming MCU project that might have a little bit of Jones' magic touch. Per an interview with Kat Coiro conducted by Tara Hitchcock, the "She-Hulk: Attorney at Law" director would love to have Jones appear in that program. "I actually think Jessica Jones would be a good addition," she said. It would be a bold, but not unexpected move, as Matt Murdock is already slated to show up during the 1st season. Fans will have to stay tuned to find out where Ms. Jones ultimately ends up making her presence known.