John Wick 3's Dog Scenes Involved More Months Of Intense Training Than You Probably Thought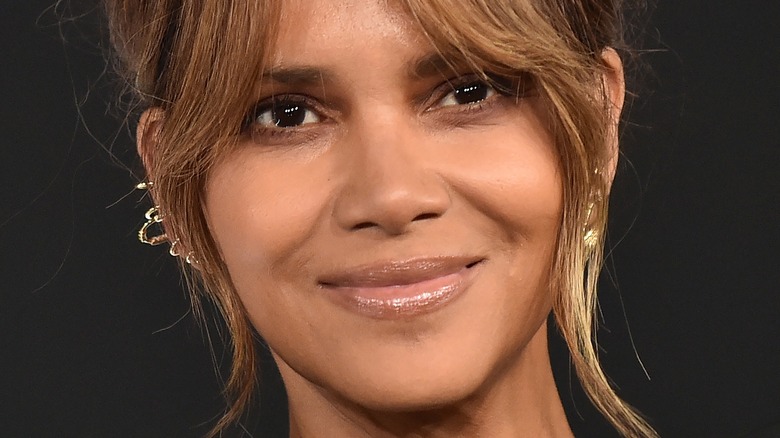 DFree/Shutterstock
When it comes to the questionable "John Wick" franchise, if there's one thing more iconic than Keanu Reeves and all the incredible stunts, it's the dogs. From the original four-legged best friend that started it all — the puppy from "John Wick," Daisy — to Halle Berry's elite Belgian Malinois hounds in "John Wick Chapter 3: Parabellum," these Hollywood pooches have helped define the action film series just as much as Reeves has. And they've trained just as much as him as well. 
"When you see a dog attack on screen or in a film, the dog doesn't know it's a movie," director Chad Stahelski explained to Collider. He and Berry, who played ex-assassin Sofia Al-Azwar, worked alongside "Game of Thrones" wolf trainer Andrew Simpson to bring the stunt-dog scenes to life. And just like Reeves' preparation, not a single corner was cut.
"We found these beautiful animals, five Belgian Malinois dogs, five Belgian shepherds, that all had above average intelligence and physical abilities," Stahelski said. "Found them from all around the United States, brought them to Los Angeles, and ... trained the dogs to do interactive stunts with stuntmen." According to Stahelski, Berry and Simpson both worked together tirelessly to make sure the pups were as comfortable and prepared as possible for the now-legendary Casablanca fight scene in "Chapter 3," which only took about three days to shoot, but much, much longer to train for.
The dogs from John Wick 3 trained for almost a year-and-a-half before shooting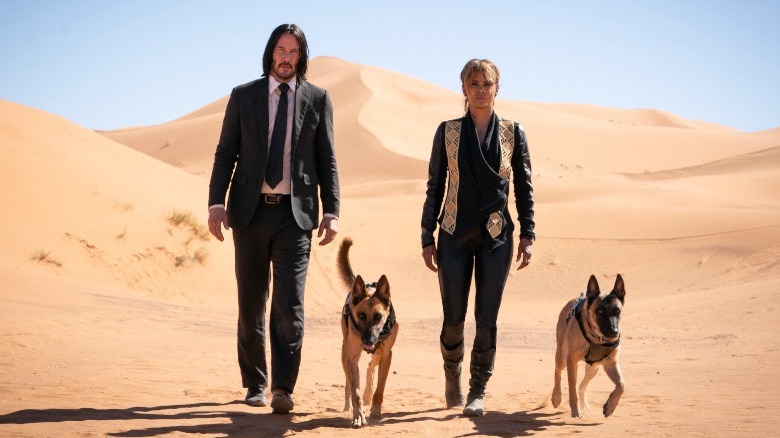 Lionsgate
According to director Chad Stahelski, the "John Wick Chapter 3: Parabellum" dogs went through a year-and-a-half of training — collectively — before actually filming their fight sequences for the Casablanca escape scene. The preparation included high-intensity gunfire reps and intricate stunt work with people on set. 
"Halle probably trained anywhere from five-and-a-half to six months. Five of them solid, where you're with the dogs five days a week," Stahelski told Rotten Tomatoes. To make the animals feel as comfortable as possible, the production teamed had to shoot their scenes at night and in locations they could control. "A lot went into it," Stahelski said. "The main sequence that you see with Halle, Keanu, and the dogs was three nights, plus an additional half day for the vehicle scene at the end where [the dogs] jump in and out of the cars. So, if you really look at it, you're looking [at] almost eight months of time — collectively almost a year-and-a-half between Halle and the dogs — to get done in three days."
The third "John Wick" installment proved to be the most successful of the franchise, raking in more than $326 million worldwide (via Box Office Mojo). Currently, Halle Berry and her beloved pups won't be turning up in "John Wick Chapter 4" (per Variety). Still, there's reportedly a strong chance that Sofia Al-Azwar could be getting a spinoff movie at some point. So the dogs aren't officially gone just yet.