House Of The Dragon's Emma D'Arcy Fell In Love With This Co-Star Almost Instantly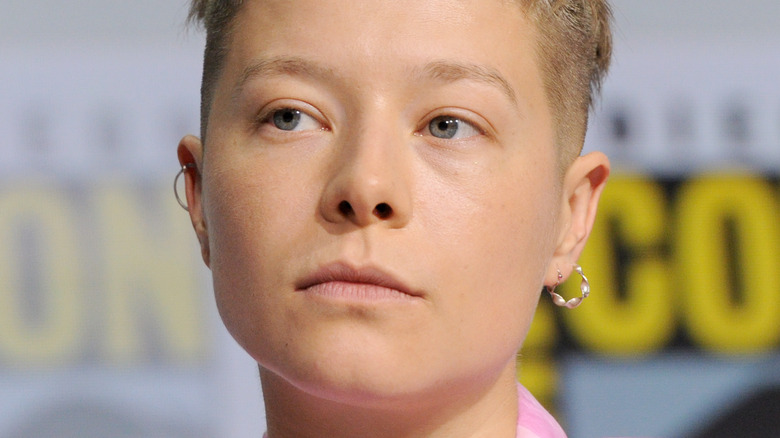 Albert L. Ortega/Getty Images
"House of the Dragon" is effectively HBO's first "Game of Thrones" project since the conclusion of its mainline series, meaning that the future of "Game of Thrones" as a multimedia franchise may well depend on the spinoff's degree of success.
Arguably one of the greatest strengths of "Game of Thrones" is its cast. Ideally, then, the brand new group of actors at the heart of the prequel story told by "House of the Dragon" will similarly resonate with viewers, including star Emma D'Arcy. They portray Princess Rhaenyra Targaryen, who D'Arcy described as a decidedly complex character. Notably, among their prior acting gigs is D'Arcy's starring role as Astrid in "Truth Seekers," a comedy series co-created by Nick Frost and Simon Pegg.
Perhaps boding well for the show's future success, fans have praised the casting of "House of the Dragon," as has "A Song of Ice and Fire" author George R. R. Martin. Further indicating that the series' cast works well together, D'Arcy revealed in an interview that they fell in love — in their own words — with one of their fellow cast members during their first in-person meeting.
Emma D'Arcy felt close to co-star Olivia Cooke almost immediately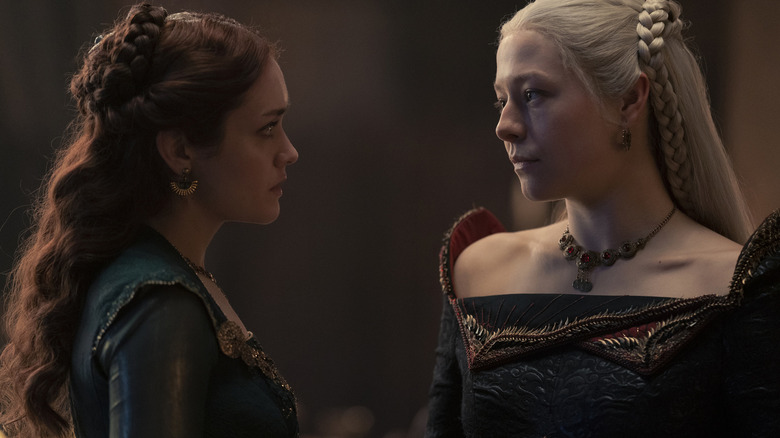 Ollie Upton/HBO
Amidst a lengthy Entertainment Weekly story detailing the production of "House of the Dragon" about a month out from its release, Princess Rhaenyra Targaryen actor Emma D'Arcy revealed that they felt an immediate closeness with Lady Alicent Hightower actor Olivia Cooke upon their first time meeting in-person. D'Arcy explained that, while they and Cooke had previously communicated face-to-face through Zoom, their first time properly meeting occurred at a dinner arranged specifically for the two actors to get to know one another better.
"I don't know what Liv would say, but I think I fell in love with her in about 45 seconds. Well, I probably worked quite hard to cover that up," D'Arcy said of their dinner meeting. "You know those chance meetings that happen where there's a familiarity? For some unknown reason, I really felt that with Liv."
By now, D'Arcy and Cooke's dynamic is well-documented and celebrated online. For instance, an interview with the two actors about "House of the Dragon" on the Jonatan Blomberg Interviews YouTube channel highlights their chemistry first and foremost in its title. Similarly, one user started a Reddit thread in honor of their relationship, and garnered numerous comments praising their dynamic in response.
It's hardly a surprise, then, that D'Arcy's famously close bond with Cooke started to develop from the very first moment they met.