Vikings Fans All Agree That This Is The Saddest Death On The Show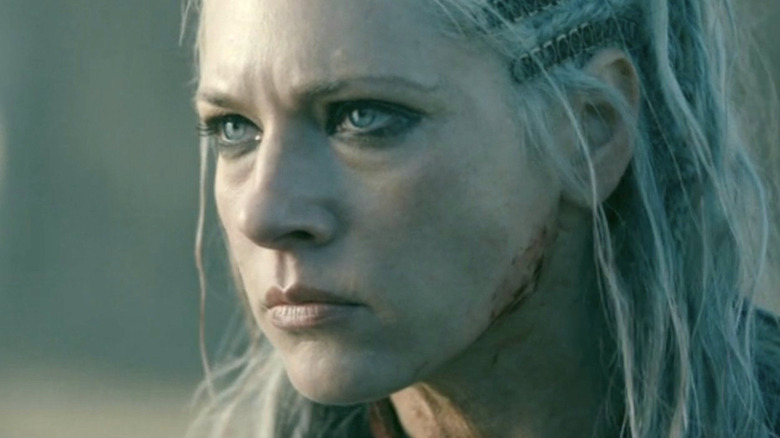 History
Over the course of its six seasons, "Vikings" delivered more than its fair share of heartbreaking moments. Created by "The Tudors" creator Michael Hirst, the acclaimed History Channel series follows the adventures and struggles of a legendary Viking leader known as Ragnar Lothbrok (Travis Fimmel), as well as those of his family members, allies, enemies, and descendants. The series' expanded scope frequently allows it to achieve a kind of truly epic, medieval tone that few other TV shows like it are able to capture.
That said, the drama's decades-spanning story resulted in its periodically saying hello and goodbye to many of its central characters. As a result, fans of "Vikings" often had to prepare themselves, especially during the show's latter seasons, for certain beloved characters to make their untimely exits. Indeed, Season 4 of "Vikings" even saw Fimmel's Ragnar tragically depart the series.
In other words, from Ragnar's death in Season 4 to the murder of Athelstan (George Blagden) in Season 3, "Vikings" repeatedly proved that it was a series willing to hit its viewers with some truly gut-wrenching farewells. However, there's one "Vikings" death, in particular, that fans of the show seem to believe is its saddest.
Vikings fans still aren't over Lagertha's death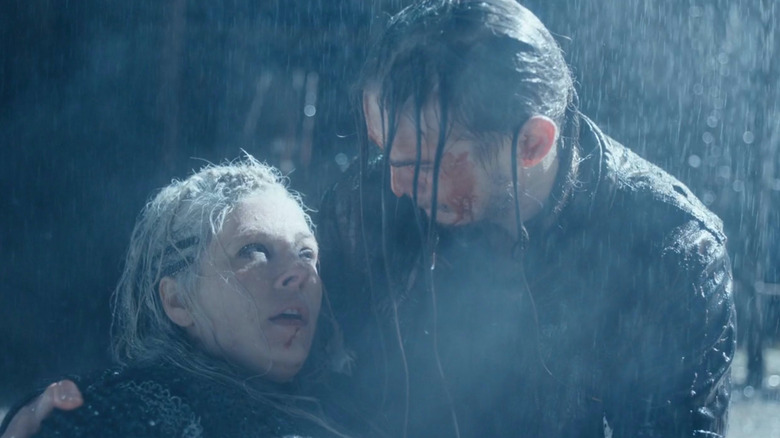 History
In Episode 6 of "Vikings" Season 6, fans of the series are forced to say goodbye to one of its biggest characters, Lagertha (Katheryn Winnick), a fiercely capable queen and warrior who also happens to be the first wife of Travis Fimmel's Ragnar Lothbrok. However, despite repeatedly staking her claim as one of the series' most formidable characters, Lagertha meets her end in "Death and the Serpent" at the hands of none other than Hvitserk (Marco Ilsø), Ragnar's second son with his second wife, Aslaug (Alyssa Sutherland).
Winnick, for her part, is credited with appearing in more episodes of "Vikings" than any of the series' other actors (via IMDb), which makes Lagertha's demise in "Death and the Serpent" all the more notable. Based on how fans continue to discuss her death scene, it's clear that Lagertha's exit has stuck with "Vikings" viewers in the years since "Death and the Serpent" originally aired as well.
On Reddit, one "Viking" fan dedicated an entire post to discussing how emotional Lagertha's death made them. In response, one Redditor wrote, "I cried in the next episode[.] Her funeral was so emotional and Bjorn's speech was really beautiful." Elsewhere, in a separate Reddit thread, u/yellowsunfirefly wrote, "I've just watched Lagertha's death and funeral.. [it] was horrendous I cried like a baby." In the same thread, u/DarKnight972 echoed their fellow fan's thoughts, writing, "Lagertha's funeral is the episode where I cried the most."
In other words, it seems safe to say that Lagertha's death definitely made an impact on "Vikings" fans.
Katheryn Winnick was satisfied with her Vikings exit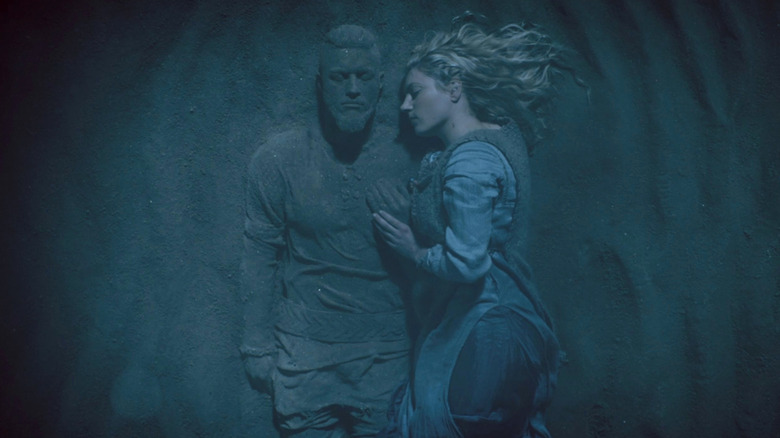 History
While "Vikings" viewers may not have been ready to say goodbye to Lagertha when they did, it sounds like the show's creative team managed to come to terms with the character's fate long before she and Hvitserk actually shared their final encounter together on-screen. In fact, in a 2020 interview with TV Guide, Katheryn Winnick even opened up about Lagertha's fate on "Vikings." Speaking with the outlet, Winnick said, "We needed to find a good way to end her storyline, and I couldn't be happier than to have the kind of death that she had."
The "Vikings" star added, "In Season 6, now that Lagertha is older and retired and she's gone back to her simple ways of trying to be a farmer again where she was most happy, I feel that there wasn't really much else to do. I feel like she's been such an iconic character."
Meanwhile, in a separate interview with Variety, "Vikings" creator Michael Hirst said, "Obviously the death of Ragnar was a big one for me, but on a personal level, I think Lagertha's death had a deeper impact and was more emotional." Hirst went on to add, "What was most important to me was to make sure that Lagertha's death was as significant and powerful as it could be and was in the right position in the show. It had to be a standalone moment."
To Hirst's credit, Lagertha's death definitely does seem to be remembered as its own, standalone sequence. Unfortunately for the show's fans, that also means many of them will likely find themselves still occasionally thinking about Lagertha's death and funeral in the years to come. That's both a testament to the effectiveness of her death scene as well as how beloved Lagertha became over the course of her time on "Vikings."