The House Of The Dragon's Fabien Frankel Accidentally Axed This Co-Star In The Face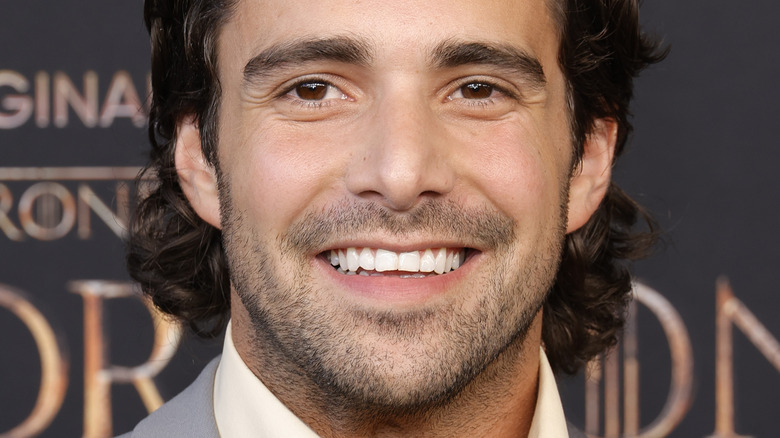 Frazer Harrison/Getty Images
When watching the teaser trailer for "House of the Dragon," it may be easy to be overwhelmed by the amount of characters in the Targaryen clan. Set a good two centuries before Daenerys (Emilia Clarke) promised her enemies would die screaming, "House of the Dragon" depicts the infamous civil war discussed in George R.R. Martin's Targaryen history "Fire & Blood." Pitting Princess Rhaenyra (Emma D'Arcy) and her uncle Daemon (Matt Smith) against former friend Alicent Hightower (Olivia Cooke), the series promises political machinations and — of course — dragons. However, it is the non-Targaryen characters — few and far between as they may be — that might actually be the most important.
Easy to spot among the sea of flowing white locks, Ser Criston Cole (Fabien Frankel) is one prominent player that does not belong to the ruling class. Born without lands or titles, Criston rises through the ranks to be Rhaenrya's personal bodyguard. Though not featured prominently in the footage we have received, he will nonetheless be the source of much strife after he and Rhaenyra turn against each other for mysterious reasons (via Inverse). 
Unfortunately for the actor who plays him, that is not the only conflict that occurred on the set of "House of the Dragon." Because while Criston may be skilled with medieval weaponry, Frankel didn't display the same prowess after one actor ended up on the wrong side of his axe.
Thankfully, Matt Smith survived his encounter with Fabien Frankel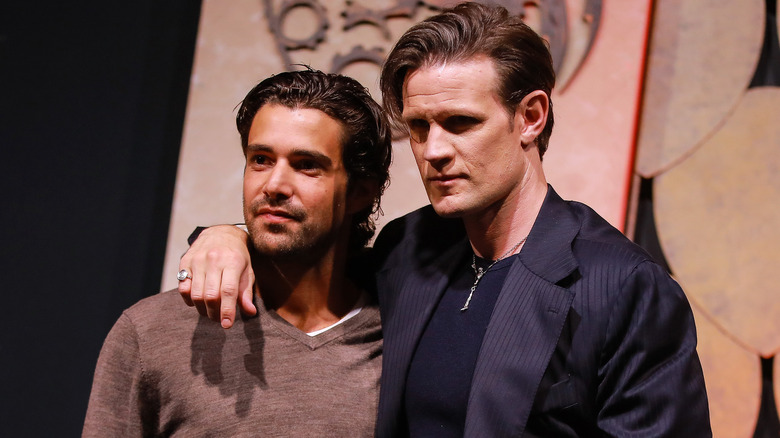 Manuel Velasquez/Getty Images
In a stunt-heavy series such as "House of the Dragon," some sequences appear to be safer than others. While dragon-riding has come a long way since "Game of Thrones," as Matt Smith told Rolling Stone UK, there are still some scenes that come with a price. 
Hand-to-hand combat has proven to be challenging, as Fabien Frankel admitted at San Diego Comic Con. Accidents happen, and in one rehearsal, the actor had the misfortune of almost taking out one of the show's prime characters. "God, of all the people that I could have possibly axed in the face, Matt was the worst one," Frankel said, after an ill-fated maneuver with a weapon (via Variety). He was so afraid of what he had done, in fact, that he stated that he was sure he would be immediately fired from the production. "I was ready for them to go, 'Matt Smith, is it? You're out the show.'" 
Clearly, no such action was necessary. Frankel is featured in promotional material for the series and will be one of many characters featured when the series premieres on August 21st. As for Smith, there are apparently no hard feelings. "He chinned me, but it was alright," Smith admitted. "I lived to fight another day." This was only one incident that Smith unfortunately sustained during filming. The actor did suffer a painful on-set injury, which he has thankfully recovered from. Evidently, there is glory in being a Targaryen, even if it comes with hardship.
Daemon probably had it coming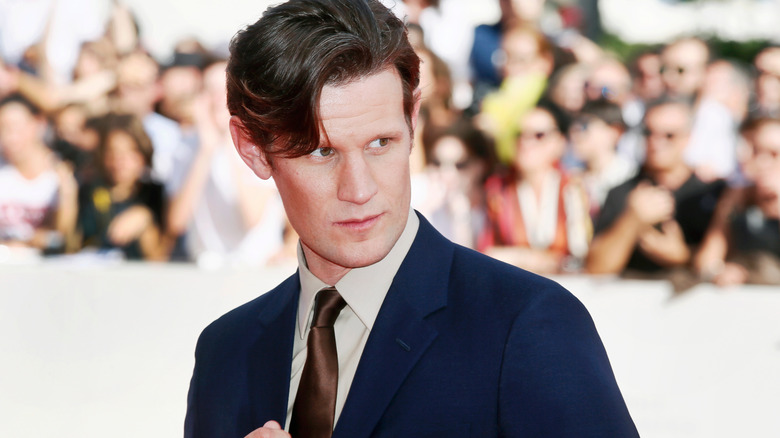 Andrea Raffin/Shutterstock
Matt Smith's endurance in the face of injury isn't the only thing that makes him a great Targaryen, however. By all accounts, Smith is the perfect casting for rogue Prince Daemon. Executive producer Ryan Condal stated that when thinking about who could exemplify the role, they always had the actor in mind.
"Matt is really the only person we talked about," Condal revealed to Den of Geek. "We would say, 'Like a Matt Smith or a Matt Smith type' when talking about Daemon." And what a character Daemon is. As we know from the original series, in the game of thrones, there is of course always the schemer looking to ascend to a seat of power. Viserys names his daughter Rhaenyra the heir, a move that flouts all tradition by planning to seat a woman on the throne — and taking away Daemon's claim to it. 
But if you ask Smith, he's not the antagonist of the series. "I love playing a villain," Smith to ExtraTV, "not that he's a straight villain, Daemon; I think there's more depth... I don't think he wants the throne." Smith stated that his character enjoys stirring the pot more than anything. And that may be what brings him to blows with Criston Cole. Seen briefly in the trailer, the two are clashing swords at the tourney and represent the main conflict of the series between Rhaenyra and Alicent. With both warriors on opposing sides of a civil war, there is bound to be much more blood (though hopefully just of the fictional kind, with no more real-life injuries) when "House of the Dragon" premieres on August 21.