What The Real-Life Jake LaMotta Really Thought About Raging Bull
Imagine living a life that's so extraordinary, that one day, along with the rest of the world, you get to see it re-created on the big screen. For professional boxer Jake LaMotta, that was exactly what happened. Biography reports that Jake was born in 1922 in New York City. Raised in the Bronx, Jake's father encouraged him to harness his high temper and use fighting to earn a living. These first steps of LaMotta's boxing career eventually led to a middleweight championship belt in 1949, when he beat champion fighter Sugar Ray Robinson.
NPR explains that for those sports fans who weren't around to see LaMotta's career play out in real time, the story of his professional and personal life was told in detail by the man himself. In 1970, LaMotta published his own personal memoir, "Raging Bull: My Story." In the book, LaMotta details his unique tale about his rise to the top of the boxing world and how his own personal and emotional issues eventually led to the collapse of his career. 
NPR also reports that, as fascinating as LaMotta's book was for sports fans, it wasn't until 1980 when director Martin Scorsese released a film adaptation of it, that his story genuinely grabbed the general public's attention. Indeed, in 2007, the American Film Institute called "Raging Bull" the fourth greatest American movie of all time, only falling behind "Citizen Kane," "The Godfather," and "Casablanca." With Scorsese's direction of brutal, yet gorgeous fight scenes, the film scored eight Academy Award nominations, with Robert De Niro taking home the best actor Oscar for portraying LaMotta. 
So, what did the real-life LaMotta think of the movie?
Jake LaMotta thought the film made him look bad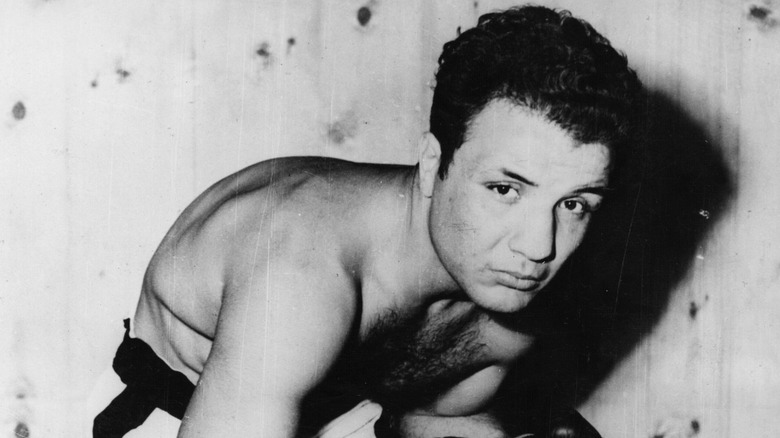 Keystone/Getty Images
In 1980, former boxer Jake LaMotta got to watch his life play out on the silver screen when director Martin Scorsese released an adaptation of his memoir, "Raging Bull: My Story." Beautifully shot in black-and-white, Jake watched his story come back to life with eventual Oscar-winner Robert De Niro portraying him. Notably, LaMotta's story from street kid to middleweight champion of the world was far from a Cinderella story. The movie portrayed Jake as a jealous, violent man who appeared to self-destruct not only his career, but his personal life, as well. So, what was it like for the real-life Jake LaMotta to see his story turned into a film? What were his thoughts about Martin Scorsese's "Raging Bull"?
Before LaMotta's death in 2017, he explained his opinion on the film to a variety of different outlets. According to Vanity Fair, LaMotta was partially involved in the making of the film when he helped Robert De Niro train to get into boxing shape. However, according to NPR, it wasn't until he actually saw the actual film, when he got to see his personal life play out in front of him, that he fully realized the message of the picture. "I kind of look bad in it," LaMotta said. "Then I realized it was true." 
In an interview with Liam Galvin, LaMotta revealed that when he saw scenes of his own violent behavior, he turned to his wife and asked, "Is that the way I was in real life?" She responded, "You were worse." When De Niro spoke about LaMotta on "The Merv Griffin Show," he admitted that he was sure the film was difficult for LaMotta to watch. However, despite LaMotta's misgivings about his own portrayal, De Niro reported that the legendary boxer told him he was "happy that the movie turned out well."