The Rare Motorcycle Part That American Pickers' Mike Had To Fight Hard To Score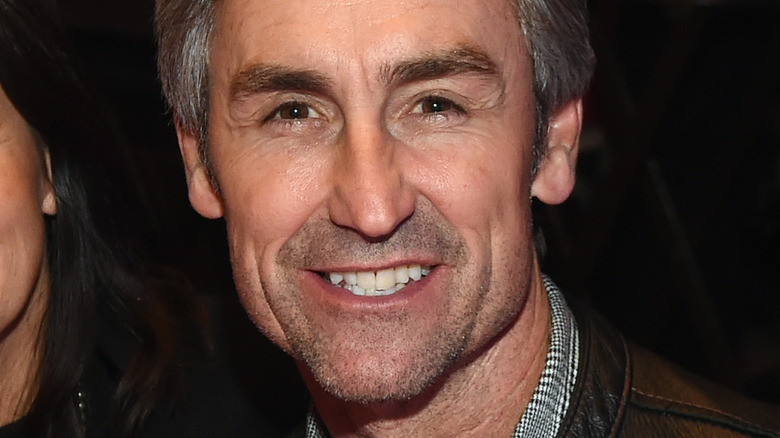 Rick Diamond/Getty Images
Over the course of its 23 seasons on History, fans of the famed antiquing show "American Pickers" have seen series host and creator Mike Wolfe buy everything from vintage toys and lamps to classic cars and trucks. And it's not just the items themselves that viewers love to see unearthed on the show — they also enjoy watching just how far Mike will go to close a deal. If keeping up with "American Pickers" has taught us anything, it's that Mike is exceedingly adept at getting people to part with their vintage treasures.
But things don't always go according to plan for the "American Pickers" crew, even when they are hot after an item. Over the years, Mike and company have consistently coveted virtually any items related to Indian Motorcycles, including parts, memorabilia, or the iconic bikes themselves. However, the owners of such items aren't always quick to cut a deal. That was just the case during a Season 4 episode in which Mike and former co-host Frank Fritz go digging for antiquing gold deep in the heart of Texas, only to become enmeshed in some complex price haggling to get their hands on a rare Indian Motorcycles part. 
Mike put in some serious work to get a partial Indian Motorcycles frame on American Pickers
That Texas sojourn in the Season 4 episode "Pinball Mania" finds Mike Wolfe and Frank Fritz visiting a vast scrap yard owned by a burly man name John. Almost immediately, Mike seizes on the rare, but rough partial Indian Motorcycles Rooster Tail frame tucked away in one of John's garage units, and he doesn't hesitate to make an offer. Problem is, John is clearly a collector, and as Frank wisely points out, "A lot of times people that are collectors aren't sellers." Indeed, the owner of that rare frame (manufactured in the early 1900s) is initially steadfast in his intent to keep the piece even after Mike offers $1,000 for it. As any "American Pickers" fan knows, Mike is not so easily deterred when he sets his sights on a pick, and he promptly tries to package the coveted frame with a handful of other items.
Even that tactic initially proves fruitless, however, as John thwarts a second lucrative offer from the "American Pickers" host. Clearly licking his wounds a bit, Mike continues to plot a way to get his hands on that Rooster Tail frame. After finally making a deal with John on an unrelated item, Mike circles back to the Indian frame, eventually closing a pricey deal after packaging the item with a pair of vintage motorcycle wheels. All in, the entire kit 'n' caboodle costs Mike $3,500. But if he gets the almost $5,000 he claims he can for the items, that will money more than well spent.