The Big Bang Theory Episode That Finally Allowed Carrie Fisher To Meet James Earl Jones In Person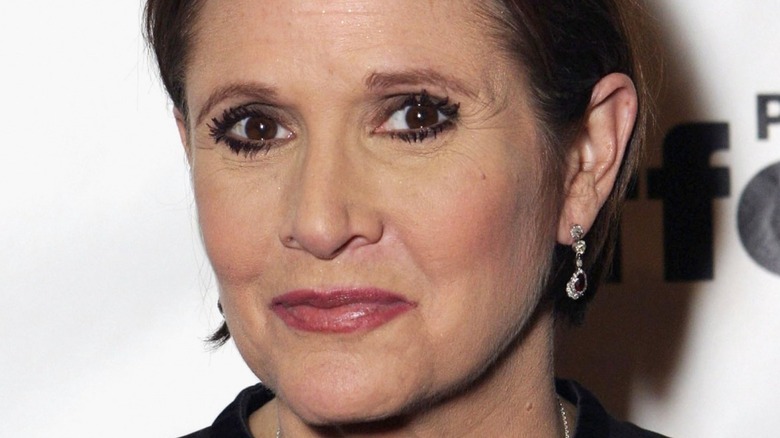 Ryan Miller/Getty Images
James Earl Jones (the voice of Darth Vader) and Carrie Fisher (Princess Leia Organa) are both "Star Wars" luminaries. Their characters in the original trilogy of films went on to respectively become one of the most noteworthy villains and heroines in cinema history. After "Return of the Jedi" in 1983, both Fisher and Jones would not return to the franchise until the prequel and sequel trilogies in the 21st century.
But despite sharing a few scenes with Darth Vader in 1977's "Star Wars," Fisher was acting alongside the late English actor David Prowse, the actual man behind Vader's mask, who also voiced the character during filming only to have his voice dubbed over by Jones during post-production. In essence, this means that Fisher and Jones never physically shared the screen, and despite many "Star Wars" press events over the years, they never met. That was until "The Big Bang Theory" finally united screen dad and daughter 37 years after their characters were first introduced.
The Big Bang Theory stayed authentic to this detail of trivia between the two stars
In Season 7, Episode 14 of "The Big Bang Theory" titled "The Convention Conundrum," Carrie Fisher and James Earl Jones finally met ... in real life, that is. Although the reveal of both actors in the show was a pause-worthy moment for fans and no doubt for "Star Wars"-obsessed Sheldon Cooper (Jim Parsons), the two actors still never appear side-by-side as they play their respective selves. Jones and Sheldon go to Fisher's house, ring the doorbell, and run, while Fisher opens the door while holding a baseball bat, only to discover an empty front porch. This was a tongue-in-cheek reference to their having never met, but behind the scenes, Fisher and Jones had finally crossed paths.
Television journalist Natalie Abrams tweeted tidbits from a press event at the 2014 San Diego Comic-Con where the writers of the series shared insight behind the meeting of the two stars. Abrams' tweet reads, "James Earl Jones and Carrie Fisher had never met until ["The Big Bang Theory"]. Carrie's first words to him? 'Dad!'" Furthermore, Jones commented on his "The Big Bang Theory" cameo, telling CBS in 2014 (via the show's official Facebook page) that it was a "big thrill" for him to make that guest appearance.
Even though "The Convention Conundrum" brilliantly sticks to the original punchline of this surprising detail, the episode still ranks as a fan favorite. It is pleasing to know the actors finally got a chance to meet before Fisher's untimely death in 2016.