The Disney+ She-Hulk Series Scrapped This Controversial Storytelling Device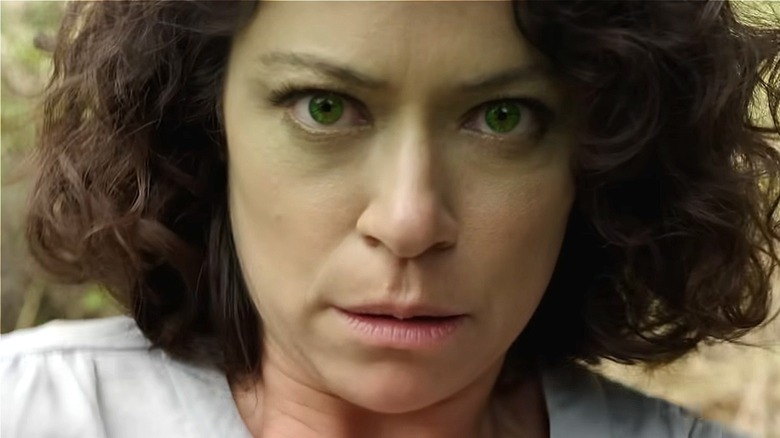 Marvel Studios/Disney+
She-Hulk has been present in Marvel storylines since the first issue of her title comic was published in 1979, written by Stan Lee himself. Since then, she's been a constant presence in Marvel comics, appearing in major story arcs such as "Civil War," "World War Hulk," and "Secret Invasion." Living a double life as high-powered attorney Jennifer Walters, she was a much-needed breath of fresh air for female representation in a male-dominated comics industry. As The Washington Post put it in 2014, the "Single Green Female" storyline, in particular, was "a wickedly funny riff on the ways women get punished for succeeding professionally and for having fun personally."
With "She-Hulk: Attorney at Law" approaching its August 18 debut on Disney+, parts of the "Single Green Female" series will be adapted for the MCU. The Hulked-out lawyer has been shown in trailers navigating her dating life and being recruited to head up a superhuman law division at a major legal firm, both of which happened in that comic run. Walters will be played by Emmy Award winner Tatiana Maslany, previously of "Orphan Black" fame, and will be joined by Mark Ruffalo, Jameela Jamil, and Ginger Gonzaga, among others.
The "She-Hulk" series has been billed as a legal comedy set in the Marvel Cinematic Universe, which allowed it to adapt some of the quirkier aspects favored by the comics, such as the tendency for Walters to break the fourth wall. But as it turns out, early versions of "She-Hulk: Attorney at Law" could have been even more meta before a controversial storytelling device was scrapped.
She-Hulk was originally going to be even more fourth-wall-breaking
At a Disney and Marvel press event that Looper attended, "She-Hulk" writer Jessica Gao and director Kat Coiro revealed that the live-action version of Jennifer Walters originally broke the fourth wall by speaking directly to on-screen comic book editor's notes. While it's been confirmed that Tatiana Maslany's take on the character will still talk directly to both the audience and the showrunners in a "Deadpool" or "Fleabag" style, much as the character did in the "She-Hulk" comics long before Deadpool existed, it won't be quite as drastic as early iterations of the show.
In the comics, She-Hulk would directly address the series' writers, criticizing their writing choices and demanding the same level of respect as her male superhero peers. Said Gao, "We really talked and went through a lot of evolutionary steps, a long journey of like, how much should she talk to camera? Is she talking directly to the audience? Is there another meta element? Is she talking to somebody else, like that's more behind-the-scenes?" But according to Gao, there was a version of the wall-breaking device that had Walters responding to on-screen feedback from editors. "Instead of really talking directly to camera, there were text boxes that were editors' notes, like the comic books," Gao explained.
Ultimately, the idea was scrapped. "It was about finding the balance," Coiro elaborated. "Breaking the fourth wall does connect to the audience and draws us in, but not so much so that we're not connecting to her story and the world that we've built." So, while the finished product does feature plenty of self-aware gripes from Walters about the situations she finds herself in, with the character seemingly conscious of the fact she's in an MCU project, the show won't go as far as having her address editorial criticisms.