She-Hulk's Ginger Gonzaga Has A Hilarious Pick For Jennifer Walters' MCU Love Interest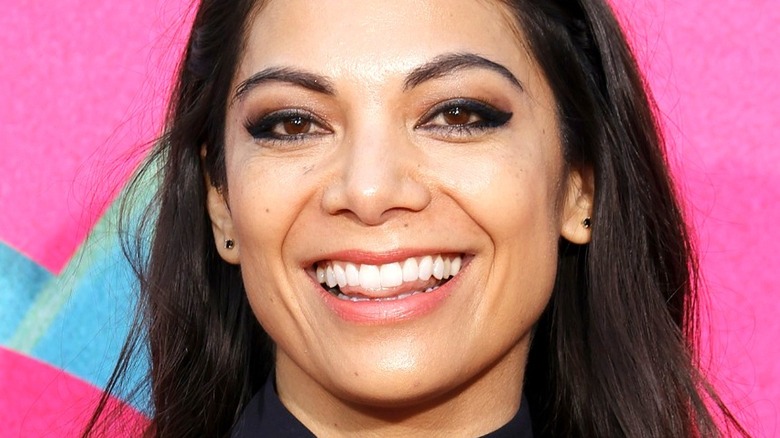 Frazer Harrison/Getty
"She-Hulk: Attorney at Law" aims to blend comedy, action, lawyers, and angry transformations into a compelling Disney+ series. Thanks to the help of her cousin Bruce Banner, aka Hulk (Mark Ruffalo), protagonist Jennifer Walters (Tatiana Maslany) quickly develops a knack for becoming a gamma-powered superhero. When looking at the trailer for "She-Hulk," fans can clearly see that even Bruce is surprised by her progress and a bit of jealousy at Jennifer's acumen can be detected.
As the trailers for "She-Hulk" highlight, Jennifer's romantic endeavors will be featured in the series, as well as how she balances her normal life now that she has been given the awesome powers of the Hulk. One can tell that Jennifer is laser-focused on her career, and isn't quite sure how to marry both aspects of her existence together. Is she a high-powered lawyer, a superhero, or both? Luckily for Jennifer, she works with her best friend, Nikki Ramos (Ginger Gonzaga), a paralegal at the law firm of Goodman, Lieber, Kurtzberg & Holliway. And it seems as if Gonzaga has some thoughts when it comes to a potential love interest for Jennifer.
Gonzaga suggested a member of the Guardians of the Galaxy as a potential romantic match for She-Hulk
Looper recently attended a virtual press event for "She-Hulk: Attorney at Law" that involved many of the major players from the show. During the panel, the actors were asked if they had the opportunity, which superhero would they set Jennifer up with romantically? Of course, seeing as she plays Jennifer's best friend on the show, the spotlight turned to Ginger Gonzaga, who gave a hilarious answer. 
"If I were to imagine, which I should have done on the show, I would obviously [say] Groot ..." Gonzaga replied, continuing on to say, "Groot seems like he needs a little bit of love. It's more for Groot than for She-Hulk."
Of course, for fans familiar with the MCU, Groot (Vin Diesel) and the offshoot Baby Groot are staples of the "Guardians of the Galaxy" franchise, and the anthropomorphic tree generally says but three words, "I am Groot." He would need to work on a different set of three words if Gonzaga gets her wish, those being: "I love you." But it is highly unlikely that She-Hulk and Groot would ever be a couple, despite the fact that Groot already hangs out with a green-tinted lady. At least they do have some things in common though — the color green and explosive bursts of rage!