Field Of Dreams Star Kevin Costner Shares A Touching Tribute For Ray Liotta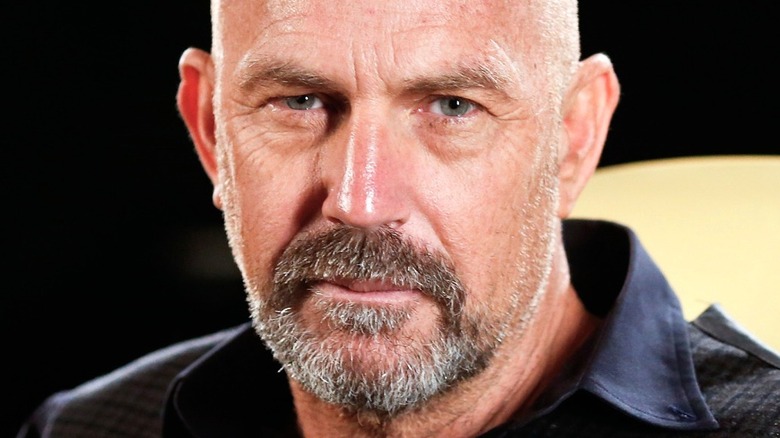 Alessia Pierdomenico/Shutterstock
August 11 will mark the return of Major League Baseball's "Field of Dreams" game, which was inspired by the 1989 Hollywood classic of the same name. Created in 2020 to boost popularity around America's pastime, the game is played at the same eastern Iowa farm where the movie was filmed — with countless rows of cornstalks iconically serving as the outfield backdrop. In fact, the event will feature a vintage, hand-operated barn wood scoreboard and players will don throwback uniforms from the '20s and '30s as an ode to those that appeared in "Field of Dreams." 
Of course, this year's "Field of Dreams" game will be a particularly poignant one as a result of the May 26 death of Ray Liotta. The sudden death of the "Goodfellas" actor took Hollywood by surprise and left many reflecting on some of his best roles. In the aftermath of Liotta's death, his "Field of Dreams" co-star, Kevin Costner, released a statement remembering the actor.
"He'll always be 'Shoeless Joe Jackson' in my heart," Costner wrote in a tweet. Further, he described how one of the most memorable sequences of the film — when Shoeless Joe hits a ball back at him — was completely unscripted. "What happened that moment in the film was real," Costner said of the scene. "God gave us that stunt. Now God has Ray." 
On August 9, ahead of the 2022 "Field of Dreams" game between the Chicago Cubs and Cincinnati Reds, the Hollywood vet offered up some more kind words about his old friend in yet another touching tribute.
'Shoeless Joe Jackson will be out there with all of us'
Taking to his social media accounts on Tuesday, Kevin Costner chose to once again shine a spotlight on Ray Liotta's "Field of Dreams" performance and the legacy that he ultimately left behind for baseball fans as "Shoeless Joe Jackson." 
"In honor of MLB at Field of Dreams this week, I wanted to share some memories from the movie but more importantly remember the amazing Ray Liotta," Costner said in a post to Instagram. "'Shoeless Joe Jackson' will be out there with all of us for a great night of baseball in the fields of Iowa." In his post, the actor shared several shots of himself and Liotta working on the film. In one set of photos, Jackson asks Costner's character, Ray Kinsella, if he has arrived in Heaven. Costner simply responds with a smile, "No. It's Iowa." Other photos in the post include a shot of Liotta standing with his on-screen teammates, as well as a more recent photo of Costner throwing a pitch on the field.
Surprisingly, Liotta never actually saw "Field of Dreams" or his performance as Shoeless Joe. During a 2012 interview with Huffington Post, the actor explained why. "My mom was really sick during that period, so it brings back other things," he said. Liotta further explained the story during a 2021 appearance on The Rich Eisen Show, clarifying that he and his mother tried to sit through a showing of the movie when it first came out, but just couldn't get through it. "She couldn't really enjoy herself," Liotta said. "So we left, and I just equate it with that."