The Stranger Things Stunt That Made Millie Bobby Brown Physically Ill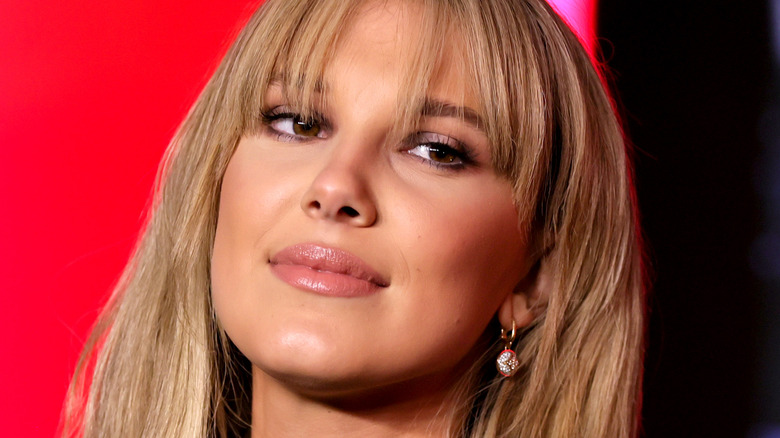 Theo Wargo/Getty Images
"Stranger Things" has had a banner year with the smash-hit success of its shocking fourth season (via The Hollywood Reporter). The series pivoted from its science-fiction roots in Season 4 to a much more horror-oriented story that saw characters regularly being maimed and murdered by a malevolent extradimensional force known as Vecna.
While "Stranger Things" has helped make stars out of all of its cast members, arguably the biggest breakout of the series has been Millie Bobby Brown, who plays Eleven, a pivotal character with psychic powers who remains central to the plot across all four seasons. Of course, the series has led to further success, with Brown landing starring roles in films like "Enola Holmes" and "Godzilla vs. Kong" in between Seasons 3 and 4 of the Netflix series. Still, there was one "Stranger Things" scene in particular that the actor found uncomfortable to shoot based on what it demanded of her physically.
Millie Bobby Brown had to spin upside down in Season 3
Millie Bobby Brown recalled an especially tough scene from Season 3 when asked by Buzzfeed which stunt was the hardest for her to film. "I had to do a rotation one once where I was just constantly going upside down, which kind of sucked," she remembered. "I threw up after. So that one was pretty hard. I don't like anything with a harness, really," Brown concluded.
The scene in question sees Eleven trying to penetrate Billy's (Dacre Montgomery) mind in hopes of finding out more about the Mind Flayer, a massive villain who plagues the heroes of "Stranger Things" for much of the series. As Eleven finds herself overwhelmed, she falls through a wave of pitch blackness and surges into Billy's consciousness, where the Mind Flayer threatens her.
For those of us who find that even trips to the fair leave our stomachs doing back flips, it's easy to imagine why Brown found the scene so challenging to shoot. Though we don't see her going upside-down in the scene itself, it's clear that she is indeed being suspended from a harness as she is propelled forward in slow motion. Either way, as "Stranger Things" ratchets toward its fifth and final season, Brown may yet have some challenging stunt work in her future. Hopefully, her remaining stunts won't leave her feeling quite so under the weather, though.