Noah Schnapp Was Seriously Frightened When Filming This Stranger Things Scene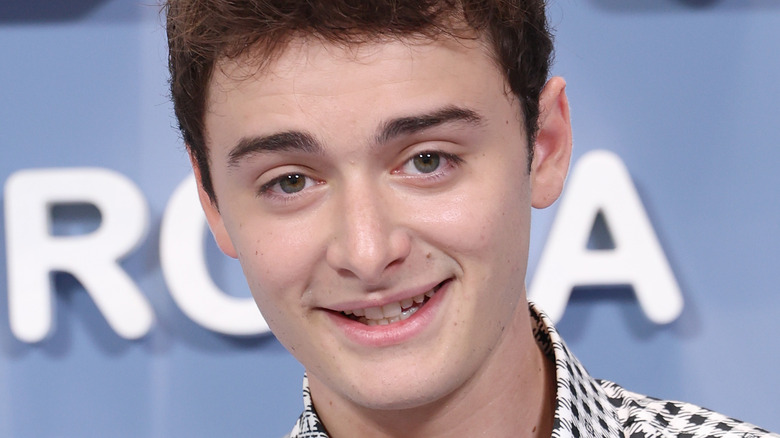 Daniele Venturelli/Getty Images
It's safe to say that "Stranger Things" is a little frightening sometimes. Season 1 establishes that Will Byers (Noah Schnapp) went missing because there's an alternate dimension full of monsters without faces. That's likely unsettling for most, and it doesn't get easier to swallow from there, as fans know all too well.
Season 2 brings in the Mind Flayer, who possesses Will and shows him visions from the Upside Down, along with releasing more monsters without faces — this time dog-like in nature. In Season 3, you've got a massive Mind Flayer made from the human flesh of a good portion of Hawkins, and Season 4 might be the creepiest season of "Stranger Things" yet.
During Volume 1 of Season 4, it is relatively quickly revealed that once again, the Upside Down isn't finished with the town of Hawkins. In a particularly gruesome scene, Eddie Munson (Joseph Quinn) is forced to watch as Chrissy Cunningham (Grace Van Dien) is possessed and killed by what Dustin (Gaten Matarazzo) dubs Vecna (Jamie Campbell Bower), inspired by the Dungeons & Dragons character. This is the being behind everything that has happened to Hawkins from the Upside Down. Season 4 is definitely scary, and although Will doesn't venture into the Upside Down this time, filming one particular scene frightened Schnapp good.
The house shooting scene in Season 4 of Stranger Things frightened Noah Schnapp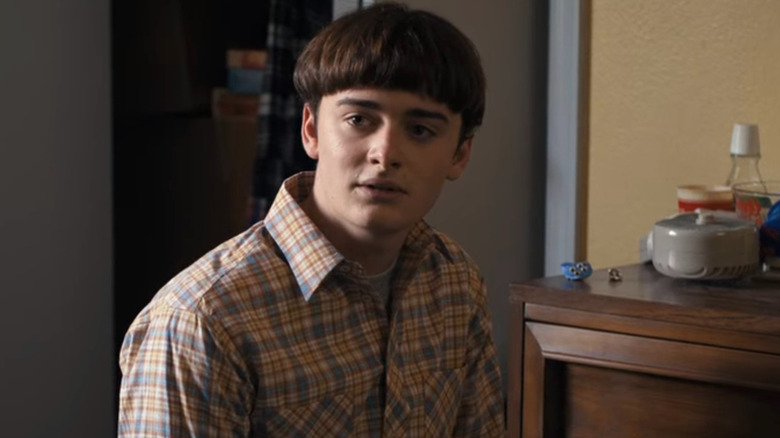 Netflix
In an interview with MTV News alongside his "Stranger Things" co-star Millie Bobby Brown, actor Noah Schnapp revealed that he was genuinely frightened while filming one specific scene in Season 4. Schnapp explained that it was during the shootout scene at the Byers' new house in Lenora Hills, California. "It was a shootout, and we were running through the house, and the whole day, we rehearsed the scene without the bullets or any of the action of it. So the first take they did was with all the bullets and all the glass breaking and the whole house breaking down, so right on the first take, I felt that raw fear," Schnapp detailed.
The scene in question occurs in "Chapter Four: Dear Billy." Mike (Finn Wolfhard), Will, and Jonathan (Charlie Heaton) are ambushed by the opposing United States military forces that seek to kill Eleven (Brown). The three barely make it out alive before catching a ride from Argyle (Eduardo Franco), although Agent Harmon (Ira Amyx), who was protecting them, dies from a gunshot wound. Brown noted in the MTV News interview that she could see how relieved they all were when they finally finished the scene because it had lots of moving parts.
Season 5 of "Stranger Things" has been officially green-lit and confirmed as the show's final season (via Deadline).