The Best Vampire Movies Ranked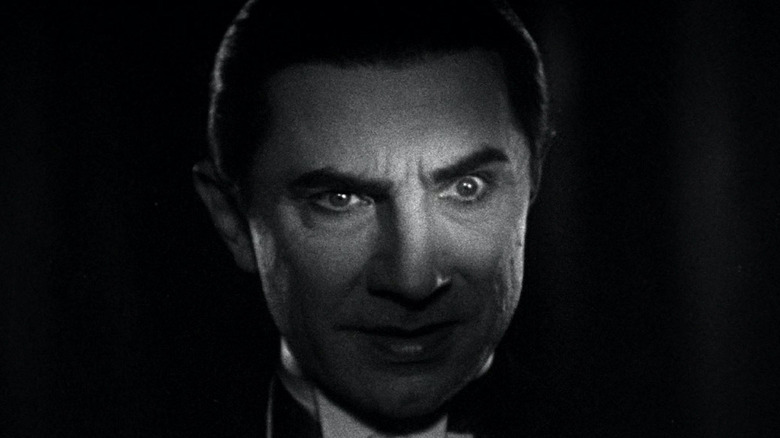 Universal Pictures
Cloaked in black and endowed (or is that cursed?) with eternal life, vampires are one of cinema's most persistent, haunting figures. From pallid, rat-faced ghouls with spindly fingers and demonic shadows to suave immortals thriving and surviving off covert blood-sucking, vampires have been an eternally-enthralling presence on the silver screen for almost one hundred years.
These days, there's a top-shelf vampire flick for everyone: whether you're a hopeless romantic, a gore-hound, or a sicko who loves when Westerns get down and dirty with other genres. Below, we've assembled fourteen of the best vampire films out there, as determined by their rating on the critical review aggregator Rotten Tomatoes. All told, the resulting list testifies to the mutability and ongoing relevance of vampire films, be they adaptations of Bram Stoker's seminal 1897 gothic horror novel "Dracula," or fresh takes on the more elemental facets of the blood-hungry mythos.
So join us — and keep your holy water, garlic, and crucifixes close — for a rundown of the best vampire movies cinema has to offer.
Near Dark (1987)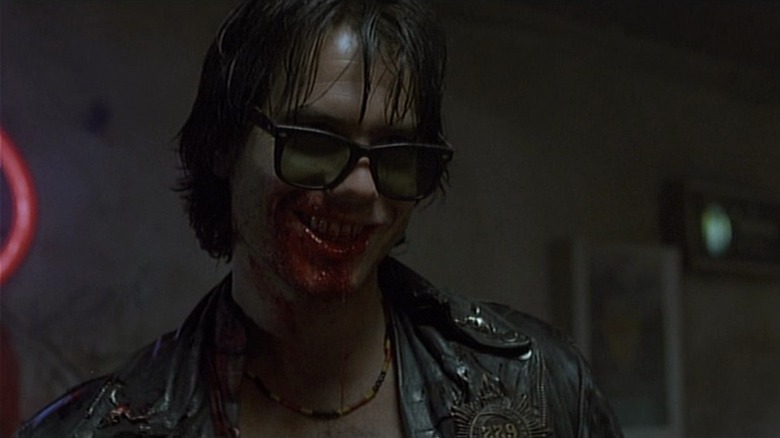 De Laurentiis Entertainment Group
One night, a humble, small-town farm boy named Caleb (Adrian Pasdar) makes a dangerous mistake. Though, in the moment, his nocturnal fling with Mae (Jenny Wright), feels all too right. Then, just before sunrise, the attractive drifter takes a chunk out of Caleb's neck and runs off. As Caleb stumbles home, his flesh begins to char. Confused and stumbling blindly through his pain, Caleb is whisked into an RV. Inside, Mae introduces Caleb to her "family," a group of roaming, psychotic vampires. Reluctantly, Caleb joins their gang and watches in horror as they unleash hell on his hometown. Strung along by his feelings for Mae, Caleb only snaps to when his kid sister Sarah falls within the group's hungry sights.
Kathryn Bigelow's first solo directorial effort and her only horror film to date, "Near Dark" put vampires and cowboys in a blender with delicious results. Transposing vampiric covens into a southern outlaw neo-Western was a touch of genius (slitting a victim's throat with spurs? Heck yeah!). The Tangerine Dream score was just the icing on the cake, resulting in a sexy-scary gem amidst a sea of 1980s vampiric cheese fests, as "Near Dark" boasts an 82% on Rotten Tomatoes.
Shadow of the Vampire (2000)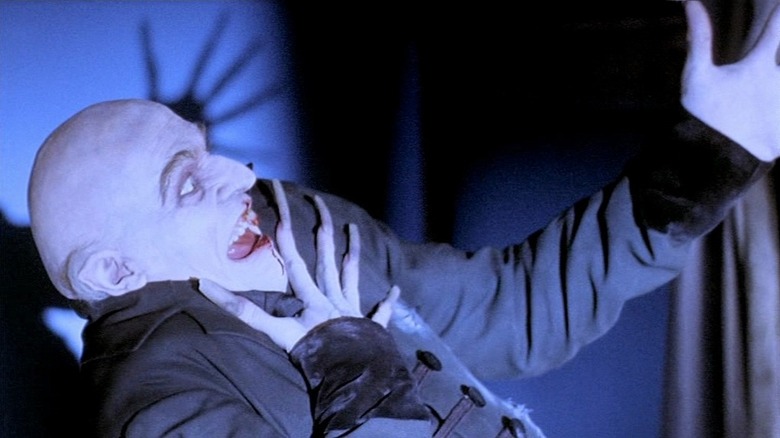 Lions Gate Films
The first, and arguably the most unconventional meta-horror vampire comedy on this list, E. Elias Merhige's 2000 film tells the frightful tale of the making of F.W. Murnau's "Nosferatu." Based on the real-life legend that the film's ghoulish lead actor was a real-life vampire, the film dramatizes Murnau's Faustian deal to get the potentially vampiric star in front of the camera. While the fictionalized retelling initially plays coy with whether or not Max Schreck was, in fact, a vampire, it giddily throws realism out the window in favor of celebrating one of Old Hollywood's most macabre "what ifs." Films about the making of famous films are always a good time, and Merhige's replication of Murnau's 1920s style is worth the price of admission alone.
But what launches "Shadow of the Vampire" into the stratosphere is Willem Dafoe's Oscar-nominated performance as Schreck. A genre-defying take on both "Nosferatu" and meta-filmmaking, "Shadow of the Vampire" is as unabashedly theatrical, eccentric, and gruesome as its leading vamp. The film enjoys an 82% on Rotten Tomatoes, and is an absolute must-watch for die-hard fans of silent-era horror and supreme-scene-chewing alike.
Only Lovers Left Alive (2013)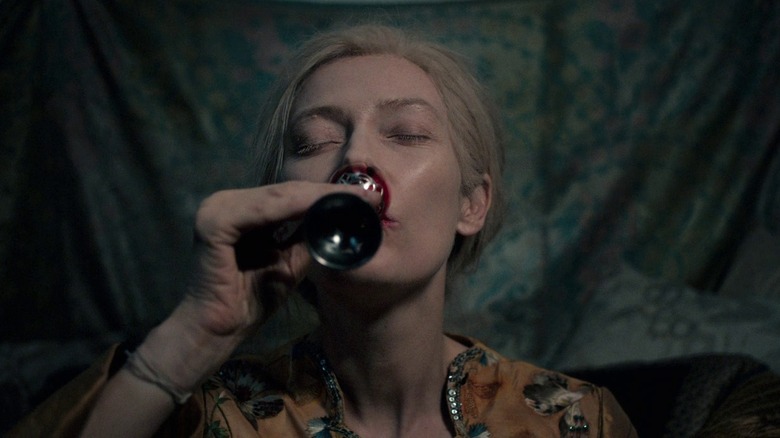 Soda Pictures
Adam (Tom Hiddleston) and Eve (Tilda Swinton) have been married for centuries. But now the vampiric couple live worlds apart, Adam in Detroit and Eve in Tangier. Despondent and unsure if he wants to press on with his immortal existence, Adam bemoans modernity and lives as a recluse. When Eve learns of Adam's depression, she rushes to his side. But the pair's reunion is soured by the arrival of Ava (Mia Wasikowska), Eve's unpredictable and far less covert younger sister.
Directed by Jim Jarmusch, "Only Lovers Left Alive" plots out a new, magnetic angle on the tried-and-true subject of vampires: a hangout movie populated with bored immortals. The only urgency compelling Adam or Eve is their desire to keep each other alive at all costs. And the result is a thoroughly unique portrait of bloodsucking night-crawlers as existentially fraught observers of history, sustained by decades of nostalgia while lambasting the corrupt rot of the present day. Dripping with melancholy and a subtly satirical gait, "Only Lovers Left Alive" is a moody genre cocktail deserving of its 86% critical rating on Rotten Tomatoes.
Dracula: Pages From a Virgin's Diary (2002)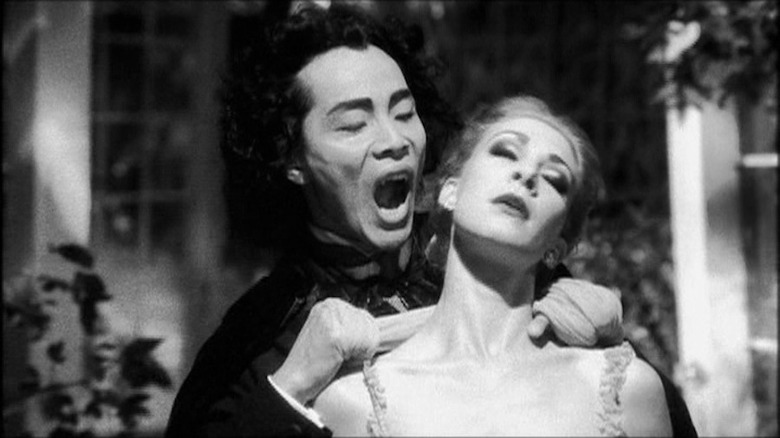 CBC
In the late 19th century, a mysterious foreigner arrives in London. An unsuspecting socialite named Lucy invites the stranger into her home. But her kindness proves fatal when the stranger, Count Dracula, bites Lucy and turns her into a ravenous monster. As Dracula begins to hunt for his next victim, Lucy's three suitors vow revenge, calling upon the help of professional vampire hunter Van Helsing.
While "Dracula: Pages From a Virgin's Diary" is a more-or-less faithful adaptation of Bram Stoker's text, its execution is anything but conventional for a 21st-century vampire film. Playing directly into director Guy Maddin's career-long fascination with lost silent-era films, "Dracula: Pages From a Virgin's Diary" is an expressionistic call-back, replete with aesthetic touches and special visual effects of a bygone era. Performed with simultaneous grace and knowing camp by the Royal Winnipeg Ballet, "Dracula: Pages From a Virgin's Diary" is impressively loyal to Stoker's text while retaining Maddin's characteristic postmodern touch (most remarkably in the casting of Chinese-Canadian Zhang Wei-Giang as the titular Count). If you consider yourself a Dracula connoisseur and haven't yet watched this erotic, silent-era pastiche dance film, let its 87% critical consensus implore you to seek it out.
Ganja and Hess (1973)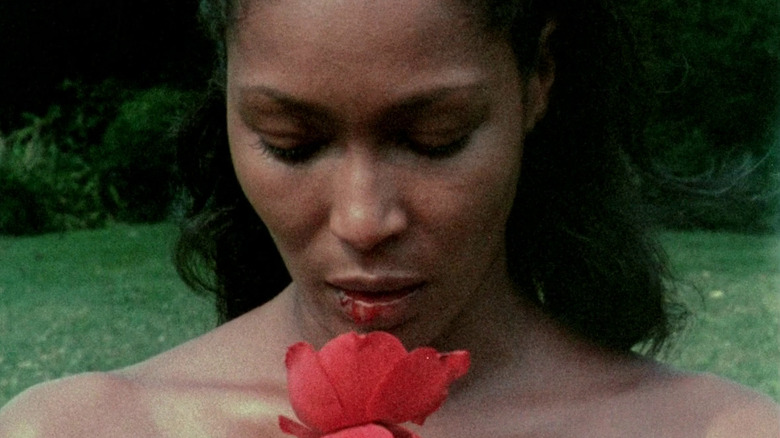 Kelly-Jordan Enterprises
Anthropologist Dr. Hess Green (Duane Jones) is researching the Myrthians, an ancient African civilization known for their consumption of human blood. After a violent altercation with his unstable assistant George (Bill Gunn), Dr. Green is wounded by a Myrthian ceremonial dagger coated in dried, infected blood. After recovering from the injury, Hess discovers that he has become a vampire, endowed with immortality and an insatiable hunger for human blood. When George's estranged wife Ganja (Marleene Clark) arrives to check on her husband, she falls in love with Green, who promptly turns her into a vampire. Together, the undead couple negotiate their new existence as members of the undead.
Passionate and experimental, Bill Gunn's 1973 directorial debut blends vampirism and addiction metaphors to delirious effect. "Ganja and Hess" is hard proof that vampire lore is fertile ground for more than just Romanian counts, velvet capes, and peasant legends. An abstract slice of Blaxploitation filled with dissolves and trippy imagery, "Ganja and Hess" is a psychedelic terror trip that twists the vampiric mythos into an interrogation of Black identity and cultural imperialism. A landmark in Black horror cinema that deserves to be in conversation with the best of the best, "Ganja and Hess" holds an 89% on Rotten Tomatoes.
Horror of Dracula (1958)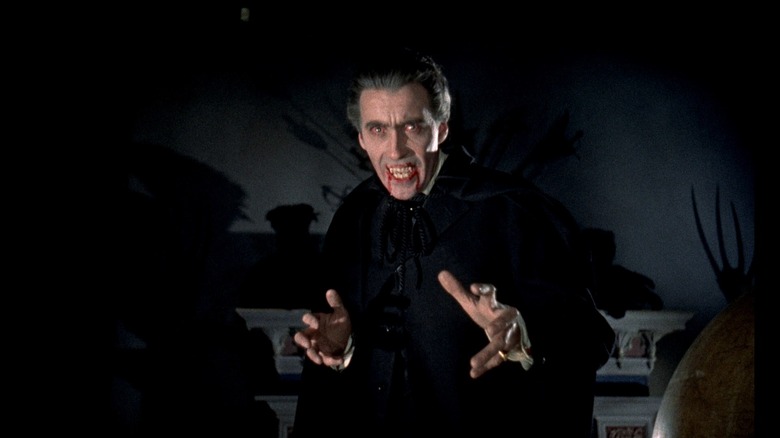 Universal-International
In this relatively straightforward Bram Stoker adaptation, Jonathan Harker (John Van Eyssen) succumbs to Dracula's (Christopher Lee) curse after a failed assassination attempt. Harker had come to his castle to kill a vampire, but instead wound up being transformed into one. Furious and quite literally out for blood, the Count sets his sighs upon the family of Harker's fiancée (Melissa Stribling). The only individual who might be able to protect them from Dracula's fury is Dr. Van Helsing (Peter Cushing), Harker's friend and fellow vampire hunter.
No one is disputing the boldness and atmosphere of 1957's "Curse of Frankenstein" and 1959's "The Mummy." But when it comes to the original Hammer horror gothic trilogy, the macabre excess of Terence Fisher's "Horror of Dracula" is undefeated. Boasting career-defining performances by Lee and Cushing, "Horror of Dracula" is a sumptuous sample platter of the best of what Hammer Horror had to offer: garish set design, candy apple-red blood, and an enthrallingly goofy sense of terror. A pillar in both the Hammer cannon and horror history, "Horror of Dracula" boasts a 90% on Rotten Tomatoes.
Cronos (1993)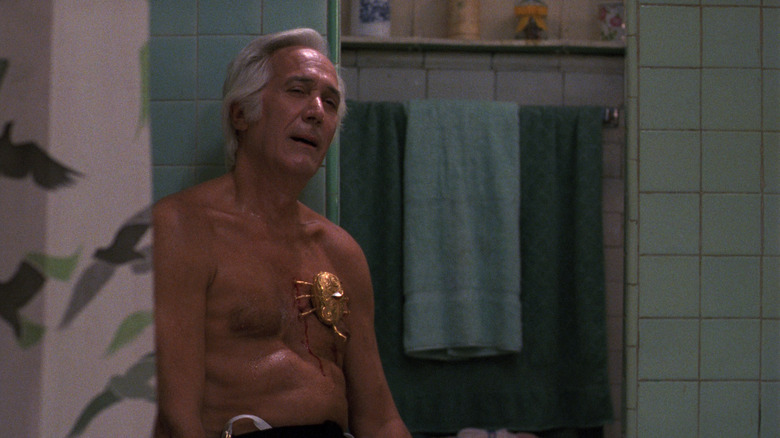 October Films
A kind, elderly antique dealer named Jesús Gris (Frederico Luppi) comes across a bizarre, insect-like artifact hidden in the base of a statue. When he touches it, the clockwork bug seemingly comes to life and stings him. Unbeknownst to Gris, the artifact was created by an alchemist who wanted to achieve eternal life, and soon the antique dealer begins to undergo a remarkable and sinister transformation: he's rejuvenated, shuns the daylight, and develops a taste for human blood. The more he uses the device, the stronger he becomes. But Gris' initially glamorous transformation takes on a darker turn as the antique dealer's addiction spirals out of control.
This unique feature film debut from Guillermo del Toro re-imagines the vampire mythos in the thematic haze of substance abuse and vanity. Here, a thirst for blood follows not from a germ or a love bite, but a hellish mechanical device devised by a mere mortal reluctant to give up the ghost. A detail-oriented dark fantasy that heralded the arrival of one of the great creative voices in contemporary genre cinema, "Cronos" holds an excellent 91% critical approval rating on Rotten Tomatoes.
Fright Night (1985)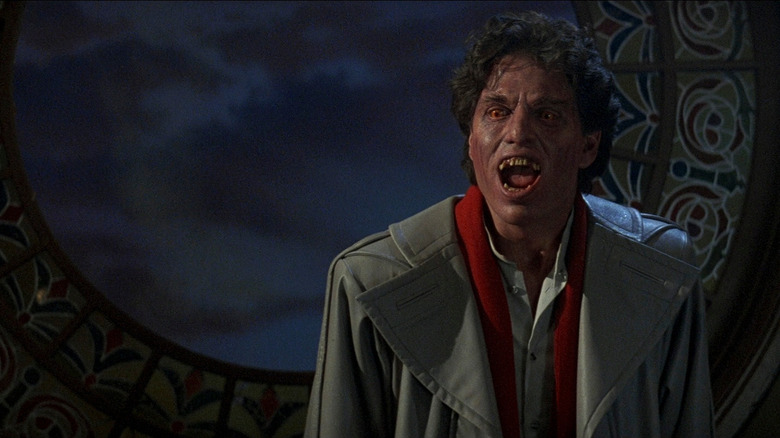 Columbia Pictures
Nothing exciting ever happens in the suburbs. That is, until teenager Charley Brewster (William Ragsdale) discovers that his new suave neighbor Jerry (Chris Sarandon) is a vampire. There's only one problem: nobody believes him.
When the sweater-loving bloodsucker starts menacing Charley, the teen horror fanatic has no choice but to turn to his idol Peter Vincent (Roddy McDowall), a has-been actor famous for playing a ghoul hunter on TV. While Charley runs around trying in vain to convince the adults in his life that his neighborhood is in serious danger, Jerry sets his sights on Charley's girlfriend (Amanda Bearse), who bears an uncanny resemblance to his long-dead flame.
Brimming with energy and a genuine love for the more ridiculous, goopy, and erotic qualities of the vampire mythos, "Fright Night" is righteous '80s cheese in the best possible way. "Jerry Dandrich" is an objectively funny name for an ancient Romanian vampire, and if that doesn't tip you off to the goofy, vampy delights of Tom Holland's horror classic nothing will. A contagious mix of classic horror tropes and 1980s swagger, "Fright Night" is the ultimate midnight movie and a true delight for fans of the genre. A gruesome, practical effects-riddled tale of the boy who cried wolf, "Fright Night" boasts a 92% on Rotten Tomatoes.
Dracula (1931)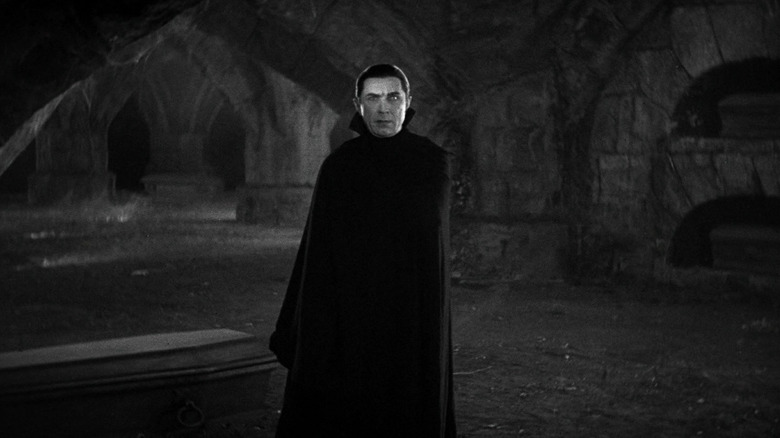 Universal Pictures
In yet another adaptation of Bram Stoker's novel, the ruthless (and suave has heck) Count Dracula (Bela Lugosi) arrives in London to prey on the city's young, virginal women. Standing in the fashionable ghoul's way is a group of concerned men led by enigmatic vampire hunter Dr. Abraham Van Helsing (Edward van Sloan).
Directed by Tod Browning, one of early cinema's finest genre pioneers, the 1931 pre-Code picture was the first sound film adaptation of Stoker's text. Returning to the role he originally inhabited on Broadway, Bela Lugosi cemented the iconography of the predatory Count as a charming, bloodthirsty aristocrat (a stark contrast to the pallid ghoul from Murnau's "Nosferatu" a decade earlier). The film's critical and commercial success opened the door for Universal to unleash its monstrous menagerie on the silver screen (mummies and werewolves and gilled men, oh my!). As the British Film Institute noted in February 2020, "Dracula" was largely responsible for the birth of the cinematic horror genre, cementing the "popular on-screen image of the vampire" and proving the commercial viability of things that go bump in the night. The film boasts an impressive 94% critical consensus on Rotten Tomatoes.
Nosferatu the Vampyre (1979)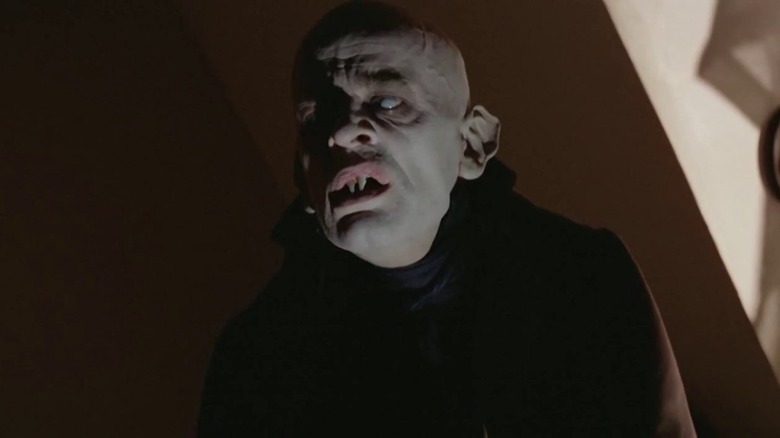 20th Century Fox
This by-the-book adaptation of Bram Stoker's text sees German estate agent Jonathan Harker (Bruno Ganz) travel to the distant property of Transylvanian nobleman Count Dracula (Klaus Kinski). Ignoring local superstitions surrounding Dracula's vampirism, Herker arrives at the Count's estate to find a pallid, rodent-like man. When the Count spies a portrait of Harker's young wife Lucy (Isabelle Adjani), he formalizes the proposed deal, purchasing property nearby to the young couple. After Harker falls under the vampire's spell, Dracula makes his way to the now plague-stricken Wismar to meet the beautiful Lucy.
Enchanted by F. W. Murnau's "Nosferatu" and eager to make his own version of the film, director Werner Herzog provided an intense, visually stunning remake that matched its predecessor in terms of quality. A haunting arthouse perspective on one of the most famous horror legends put to the silver screen, "Nosferatu the Vampyre" placed an icy focus on the vampire's tragic, if inevitable, loneliness. Herzog's film holds a 95% critical approval rating on Rotten Tomatoes.
A Girl Walks Home Alone at Night (2014)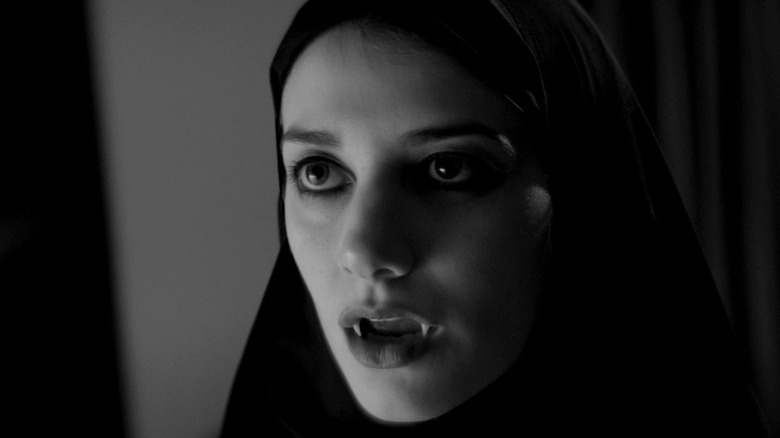 Kino Lorber
There is very little life in the Iranian town of Bad City. A parched riverbed hosts an ever-growing pile of bodies that go largely unnoticed. The only constant, besides despair, is the non-stop pounding of oil well machinery, sucking forth tar-like life-blood from beneath the earth's surface. A naive young man named Arash (Arash Marandi) is doing his best to sustain his dreams of a life beyond this dead-beat town. But everything comes into focus when he meets a young woman (Sheila Vand), a skateboarding, pop-music enjoying vampire. In each other, the pair find the perfect partner — warts, fangs, and all.
The feature film debut of Ana Lily Amirpour, "A Girl Walks Home Alone At Night" is a gorgeously photographed, deeply unconventional vampire tale with a pitch-black sense of humor. Less of a horror film than you might expect, this Iranian vampire Western boasts an unusual beauty and imaginatively-tweaked take on the traditional vampire mythos. The titular Girl trades Dracula's cape in for a jet black chador, roaming the streets freely without concern for her safety because she is the perpetrator, not the victim. Unique, visually stunning, and hard proof that the cinematic vampire hasn't lost its bite, "A Girl Walks Home Alone at Night" holds a stellar 96% on Rotten Tomatoes.
What We Do in the Shadows (2014)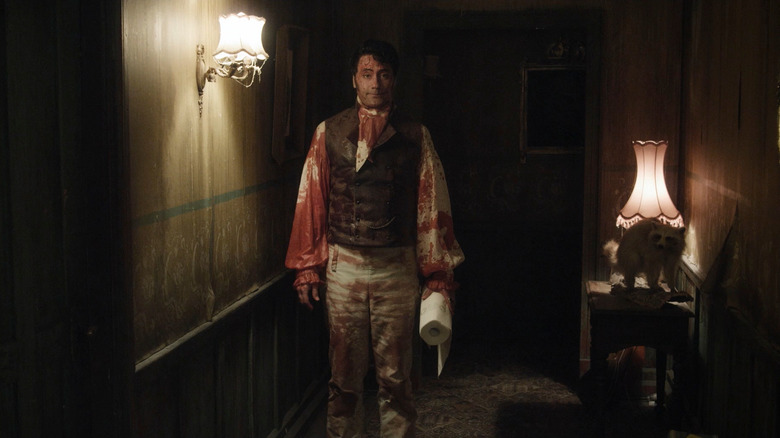 Paramount Pictures
Before it was a beloved TV show, this slacker hangout comedy made its stake as one of the best vampire movies of all time. Four bloodsucking roommates go about their business in their home in New Zealand; sucking locals dry, entertaining themselves with old memories, and entering into ultra-competitive bidding wars on the internet. 
While Viago (Taika Waititi), a hopeless romantic, pines for his lost love, the former warlord Vladislav (Jemaine Clement) does his best to relive the glory days of planting stakes down the throats of terrified victims. The Nosferatu-like Petyr (Ben Fransham) sulks in the closet, while the "Lost Boys"-reminiscent Deacon does what he can to uphold his bad boy image. But just when the mundane qualities of modern life (rent, getting into nightclubs, arguments over who has to do the dishes) threaten to harsh the group's mellow, an unexpected newcomer (Cori Gonzalez-Macuer) throws a wrench into their undead routine.
Smart, scrappy, and teeming with good vibes, "What We Do In the Shadows" is a bloody good time. Framed in a mockumentary format, the film takes a crazy idea (kiwi vampire roommates) and turns it into something special, bloody, and even heartfelt. Endlessly charming and consistently re-watchable, "What We Do in the Shadows" is unabashedly silly — the cinematic equivalent of a bowl of chicken noodle soup. Its 96% critical consensus on Rotten Tomatoes is well deserved.
Nosferatu (1922)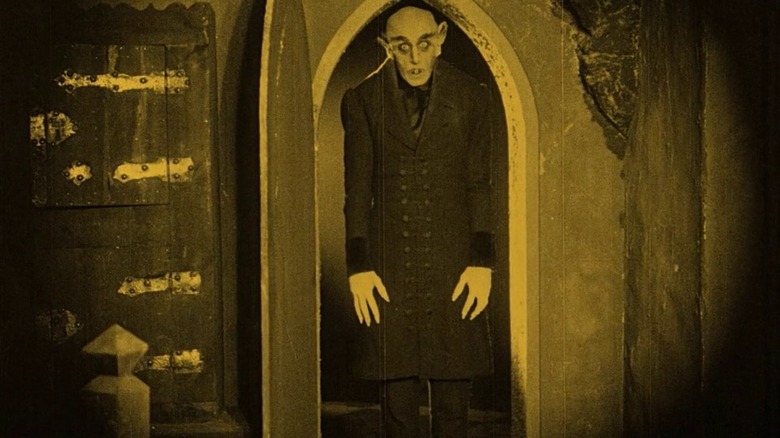 Film Arts Guild
What do you do when you can't secure the intellectual rights to the most famous vampire novel ever written? Easy: You shrug your shoulders and make the movie anyway, creating one of the best silent horror films of all time in the process. "Nosferatu" contains all the blood-coated bells and whistles of Bram Stoker's "Dracula." But it is the directing skills of F.W. Murnau that casts a dreamy, gothic, sumptuous spell, bringing this legend to quasi-life on the big screen. In the place of the suave Count, our hapless protagonist (Gustav von Wangenheim) stumbles unknowingly into the lair of Count Orlock (Max Schreck), a rat-faced, long-fingered ghoul; more of a primordial fear than a pop culture figure.
Undeniably powerful nearly a century later, "Nosferatu" transforms idyllic sunlight hills and sumptuous European vistas into the stuff of nightmares. Eerie and unsettling while employing little more (or less) than light and shadow, "Nosferatu" may be an unauthorized "Dracula" film, but its influence and persistent impact is undeniable; gliding across the annals of vampiric horror like the long, nefarious shadow of Count Orlock himself. A terrifying, phantasmagoric terror trip that continues to age like fine wine, "Nosferatu" holds a near-perfect critical consensus of 97% on Rotten Tomatoes.
Let the Right One In (2008)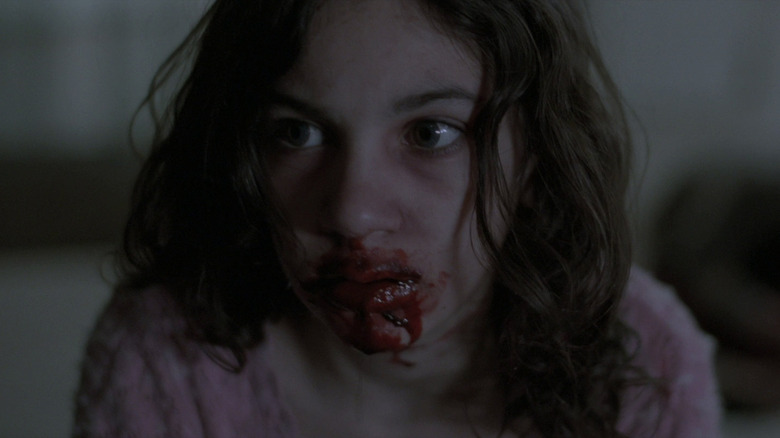 Sandrew Metronome
Transposing the vampire mythos to a suburb in the 1980s just outside of Stockholm, "Let the Right One In" tells the story of twelve-year old Oskar (Kåre Hedebrant), an outsider who dreams of one day exacting vengeance on the trio of bullies who torment him at school. Then, one day, he befriends his new next-door neighbor Eli (Lina Leandersson), a pallid, dark-haired enigma who only appears at night on the snow-coated playground outside their building. As their friendship blossoms, Eli lets Oskar in on her secret: she may look like a child, but she's been a child for over 200 years. She feasts on blood and is, ultimately, just as lonely as Oskar.
An existential coming-of-age drama couched in the gore and viscera of a horror film, Tomas Alfredson's 2008 film is heartwarming and heartbreaking in equal measure; a blood-chilling meditation on friendship, loneliness, and the power of "human" connection. Featuring compellingly icy performances from its two child leads, "Let the Right One In" is far from the traditional regurgitation of vampiric lore, and is all the better for it. Nearly achieving perfection, the film holds a stupendous 98% on Rotten Tomatoes.