These Are The Announced DC Projects That Appear To Be In Trouble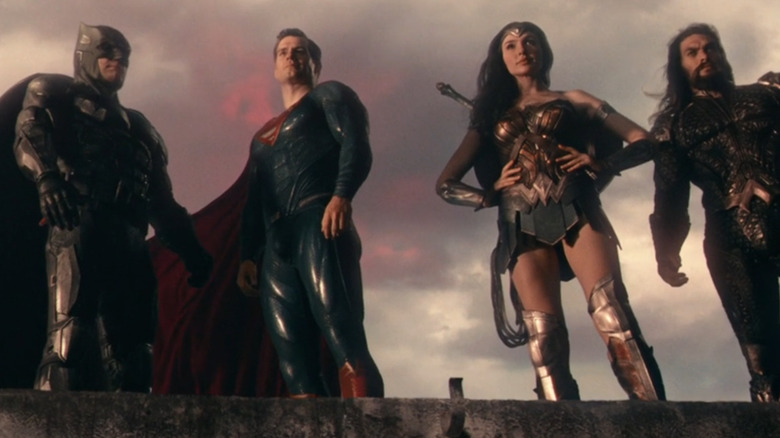 Warner Bros. Pictures
Considering that DC Comics has some of the most recognizable heroes, one might think that they would have a significantly bigger presence and market share than the Marvel Cinematic Universe. DC has been making movies way before Marvel even thought about getting into film, and performances from Michael Keaton as Batman and Christopher Reeves as Superman set the bar pretty high, bringing the genre into the greater viewing public's orbit. Unfortunately, DC has struggled over the past few years, and that doesn't seem likely to change without some serious growing pains.
Recently, DC's parent company, Warner Bros., merged with Discovery, which has caused some pretty major disruptions. Probably the most prominent has been the absolute shelving of "Batgirl," which, for all intents and purposes, was nearly finished. Chances are, "Batgirl" will never see the inside of a theater or find a home on a streaming service. Canning "Batgirl" so late in the game and comments from Warner Bros. Discovery CEO David Zaslav have certainly cast a grim pall on future DC projects, but what other movies have the potential to end up on the chopping block, sharing the same tragic fate?
Supergirl, Green Lantern Corps, Static Shock, and a J.J. Abrams Superman film have dubious futures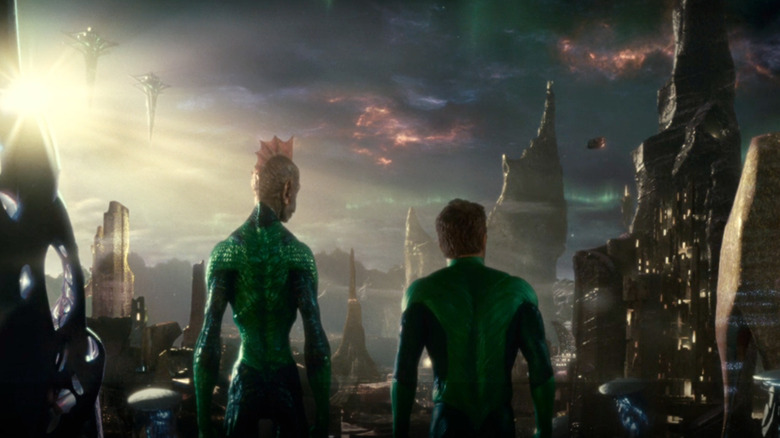 Warner Bros. Pictures
DC has made no attempts to hide its future plans, and it has quite a few upcoming movies, including the sequels to "Shazam," "Aquaman," "Joker," "Man of Steel," and "Wonder Woman," as well as some solo outings for legacy characters like Black Adam, the Flash, and Blue Beetle. Some of these movies are slam dunks for Warner Bros. Discovery, but it seems as if the future of others is definitely up in the air.
According to The Hollywood Reporter, the unceremonious dismissal of "Batgirl" has called into question the potential of ever seeing "Supergirl," "Green Lantern Corps," "Static Shock," and a J.J. Abrams-produced film featuring a Black Superman. Information points to production coming to a near standstill on these movies, and none of the aforementioned movies have tapped directors.
This means that these films are in the very earliest stages of production, and it would be easier for Warner Bros. Discovery to cut its losses now rather than let the films almost be finished and experience blowback, like what is currently happening with "Batgirl." Nobody wants to spend a year of their life making a movie that will never be seen.
Warner Bros. Discovery is shifting back to big theatrical releases and focusing on quality
Although fans will get a chance to see Supergirl (Sasha Calle) in the upcoming movie "The Flash," a solo outing featuring the Girl of Steel isn't looking good. "Green Lantern Corps" would probably require a significant investment from Warner Bros. Discovery, considering that heroes who don the mantle of a Green Lantern typically spend their days flying around space and using their power rings to project whatever is in their mind's eye (which sounds like it would probably be expensive). Although "Static Shock" would be a bit more grounded than "Supergirl" or "Green Lantern Corps," it would probably still require a decent amount of funding.
As reported by CNBC, CEO David Zaslav said of the decision to remove "Batgirl" from the upcoming slate of movies and Warner Bros. Discovery's new priorities, "We think that we could build a long-term, much stronger, sustainable growth business out of DC. And as part of that, we're going to focus on quality." Of course, he is referencing the previous shift to streaming movies during the COVID-19 pandemic, but it seems like this old philosophy has been kicked to the curb.
Zaslav added, "This idea of expensive films going direct to streaming, we cannot find an economic case for it. We can't find an economic value for it. And so we're making a strategic shift." One thing's for certain, though: Warner Bros. Discovery is definitely tightening its wallet after the merger, and it will be interesting to see which movies move forward and which ones will never get a chance to see the light of day.